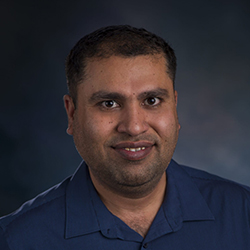 Dr. Mukesh Kumar, Tropical Medicine PhD alumnus, was selected for the Outstanding Junior Faculty Award in the College of Arts and Sciences at Georgia State University. Dr. Kumar is an Assistant Professor in Biology. The college presents awards to recognize faculty excellence in eight categories. Candidates were nominated by fellow faculty members, department chairs, staff colleagues, and students. The recipients were selected by a committee of peers. Dr. Kumar's recent research studies in mice have suggested that SARS-CoV-2 may enter the brain through infection of cells within the nasal turbinate, eye and olfactory bulb, resulting in neuroinvasion and encephalitis.
Here are some of Dr. Kumar's recent publications:
Rothan HA, Acharya A, Reid SP, Kumar M, Byrareddy SN. Molecular Aspects of COVID-19 Differential Pathogenesis. Pathogens. 2020 Jul 6;9(7):538. doi:10.3390/pathogens9070538. PMID: 32640525; PMCID: PMC7400297.
Rothan HA, Stone S, Natekar J, Kumari P, Arora K, Kumar M. The FDA-approved gold drug auranofin inhibits novel coronavirus (SARS-COV-2) replication and attenuates inflammation in human cells. Virology. 2020 Aug;547:7-11. doi:10.1016/j.virol.2020.05.002. Epub 2020 May 19. PMID: 32442105; PMCID:PMC7236683.
Kumari P, Rothan HA, Natekar JP, Stone S, Pathak H, Strate PG, Arora K, Brinton MA, Kumar M. Neuroinvasion and Encephalitis Following Intranasal Inoculation of SARS-CoV-2 in K18-hACE2 Mice. Viruses. 2021 Jan 19;13(1):132.
doi: 10.3390/v13010132. PMID: 33477869; PMCID: PMC7832889.
Rothan HA, Kumar M. Role of Endoplasmic Reticulum-Associated Proteins in Flavivirus Replication and Assembly Complexes. Pathogens. 2019 Sep 12;8(3):148. doi: 10.3390/pathogens8030148. PMID: 31547236; PMCID: PMC6789530.