What is One Health?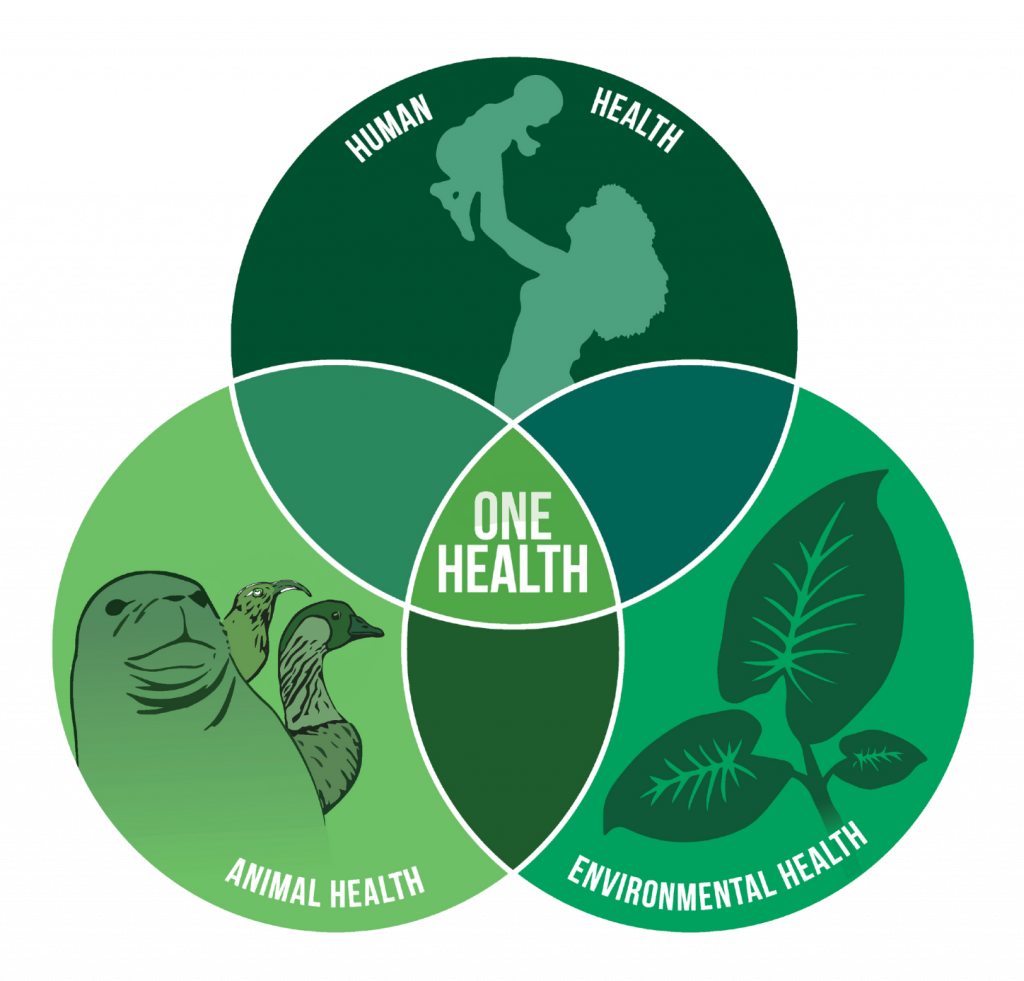 The One Health concept is rooted in the understanding of the interdependence of human and natural systems. It recognizes that the health of people is closely connected with the health of animals and the environment. It is in harmony with Mauli Ola, the Hawaiian concept of physical, spiritual and mental health and of social and cultural wellbeing and is deeply rooted in the indigenous belief that the health of the individual and the community are inextricably linked to the health of the environment. The importance of the One Health approach to addressing complex health problems is exemplified by the COVID-19 pandemic, which required transdisciplinary collaborations to effectively deal with this global health challenge.
Undergraduate One Health Interdisciplinary Certificate
The One Health Interdisciplinary Undergraduate Certificate Program at the University of Hawai'i prepares students with the skills and knowledge to work collaboratively across disciplines to solve real-world problems. Based in the UH Manoa Interdisciplinary Studies Program, it is a partnership of faculty from the John A. Burns School of Medicine (JABSOM), the Office of Public Health Studies (OPHS) in the Thompson School of Social Work and Public Health (TSSWPH), the Pacific Biosciences Research Center (PBRC) in the School of Ocean and Earth Science and Technology (SOEST), and the College of Tropical Agriculture and Human Resources (CTAHR). This One Health educational initiative was selected as a winner of the UH Manoa Provostʻs 2019-2020 Strategic Investment Competition for High-Impact Practices in Undergraduate Education.
The One Health certificate will benefit students pursuing a wide range of professions in human, animal or environmental health. Examples of career opportunities include professionals in human health (doctors, nurses, public health practitioners, epidemiologists, research scientists), animal health (veterinarians, veterinary technicians, agricultural workers), and environmental health (ecologists, wildlife experts). Other One Health-related careers include science writing, food safety, disaster preparedness, global disease surveillance, policy, and sustainability practices.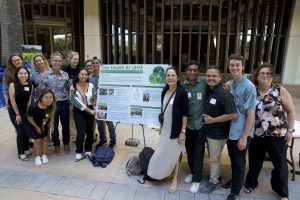 Dean's Certificate of Distinction in One Health
The Dean's Certificate of Distinction in One Health provides medical students with an opportunity to develop a knowledge base in One Health, to apply this knowledge to One Health issues and problems in their community, and to share their knowledge of One Health with their peers through curriculum development and research projects. See the Dean's Certificate of Distinction in One Health website for more information.
One Health Courses and Opportunities for Tropical Medicine Graduate Students
Tropical Medicine faculty have developed a "One Health and Pandemic Preparedness" course (TRMD 350/705) which provides an introduction to One Health concepts and uses the COVID-19 pandemic as a case study of a One Health challenge. This course, offered each Fall semester, is a stacked course which brings undergraduates and graduate students together to share their perspectives on this topic. For more information about these courses, please contact the course instructor, Dr. Jourdan McMillan (posnerj@hawaii.edu). Tropical Medicine graduate students also participate in One Health instruction for medical students and undergraduate students.
One Health Collaborations
Tropical Medicine faculty and students have collaborated with community organizations on One Health initiatives such as Governor Green's Proclamation of January 2023 as Hawaii One Health Month. They are also participating in One Health education and research partnerships with the Honolulu Zoo veterinarian and the US Geological Survey.
The University of Hawai'i at Manoa has established a formal collaboration with the Fukuoka Prefectural Assembly in Japan through a Memorandum of Understanding between the University of Hawaii and Fukuoka for the mutual promotion of One Health research education and human resource development.