---
Advancing Sustainability Goals:
The Power of Tools and Data
April 22, 2021 (Thursday, Earth Day)
---
Want to watch past symposium videos?
The past symposium videos are available only for newsletter subscribers. If you have signed up for our newsletter, you will receive the access code for past symposium videos in upcoming newsletters. If you're not yet subscribed, please sign up for our newsletter. Please contact MIRO if you have any questions.
---
To celebrate the 51st Earth Day and to support this year's theme "Restore Our Earth", Mānoa Institutional Research Office (MIRO) is pleased to host a free virtual symposium on data and a toolkit to advance personal, institutional, and global sustainability goals, and support personal and societal transformations. This symposium aims to provide a valuable learning opportunity on critical sustainability issues, introduce helpful data tools to the UH community, and encourage institutional researchers support their campus sustainability efforts using our survey and analytical skills.
---
12:30pm – 1:15pm: Unpacking the ESD for 2030 Toolkit
Led by sociologist and International Fellow for the US Partnership for Education for Sustainable Development (ESD) Dr. Kim Smith, this presentation unpacks UNESCO's newly released "ESD for 2030 Toolbox" and explores current research on how higher education can contribute to the Sustainable Development Goals (SDGs). Focused on 5 priority action areas: advancing policy; transforming learning environments; building capacities of educators; empowering and mobilizing youth; and accelerating local action, tools include core learning competencies, evolving resources, and key partnerships. Attendees will receive an overview of the Toolbox and discover how their work aligns with these promising individual and societal transformations.
1:15pm – 2pm: UHM Earth Day Survey: Design, Key Findings, and Data Tools
MIRO collaborated with the UH Sustainability Office over the past few years on an Earth Day Survey Project. MIRO staff will introduce the design and key findings of past surveys and demonstrate the innovative data tools that allow UH users to access actionable data in a timely and efficient way. UH faculty, staff, and students will learn how to access and use the Earth Day Survey data web app tools. Colleagues outside of the UH community may find the survey design and other shared resources helpful in designing their own surveys and conducting data analysis.
---
HONORED GUEST
"From the global to the local, Education for Sustainable Development (ESD) helps capture the transformative power of teaching and learning and opens up pathways for a sustainable future."
Kim Smith, Ph.D., Sociology Instructor, Portland Community College, and Co-Founder, GPSEN
---
SPEAKERS
Yang Zhang is the Director of Institutional Research at University of Hawai'i at Mānoa. She collaborated with the UH sustainability office and led the efforts of designing UHM's first Earth Day survey and the data dissemination web tools. Yang presented this project at the AASHE and AIR conferences, aiming to inspire more institutional researchers use their skills and talents in advancing the meaningful sustainability work.
---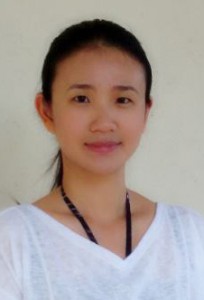 Kelly Jung-ts Lin is the IR Analyst at University of Hawai'i at Manoa. She has
supported the Earth Day Survey administration, analyzed survey data, and helped to design and implement the survey data web apps. She has expertise in both qualitative and quantitative analysis. Kelly has presented at national and regional conferences to demonstrate MIRO's innovative data tools and strategies for running a highly efficient IR office.
---
Bryson McFeeley is the IT specialist in the MIRO office at University of Hawai'i at Mānoa. He is instrumental in creating MIRO's data web app tools and transforming raw survey data to online reports that are customizable and easy to digest.
---
Melissa Martinez is the NSSE Coordinator and Graduate Assistant at the University of Hawai'i at Mānoa. She helped with the survey design, administration, and survey result presentation work. She also plays a key role in preparing video presentations to help MIRO efficiently communicate office projects with audiences both inside and outside of the Mānoa community.
---
RESOURCES
---
SYMPOSIUM PRESENTATIONS
Please sign up for our newsletter to stay updated with MIRO's latest reports, interactive data tools, and incoming virtual symposium.