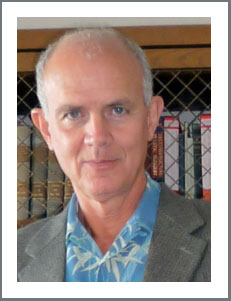 Adjunct Faculty
Department of Tropical Medicine, Medical Microbiology and Pharmacology
John A. Burns School of Medicine
651 Ilalo St BSB 320
Honolulu Hawaii 96813
Telephone: (808) 692-1629
E-mail : lepape@hawaii.edu
Website: http://www2.hawaii.edu/~lepape/
Education
University of Hawaii at Manoa, Ph.D.
University of Hawaii at Manoa, M.S.
California State University San Diego, B.S.
Personal Statement
Dr. Le Pape investigates how principles from computer sciences, cognitive sciences, and statistics inform the software architecture and design of Health Management Information Systems (HMIS), and the design of informatics interventions that most effectively drive health care workflows & outcomes, actionable insights, and decision making in public health.
Dr. Le Pape joined the School of Medicine in 2009 to implement the National Institute of Health (NIH) sponsored eagle-i initiative at the University of Hawaii under the leadership of Dr. Richard Yanagihara – an ongoing collaborative effort led by Harvard Medical School across forty research institutions.
Since 2011, Dr. Le Pape was successfully appointed Assistant Director of the Medical Informatics Core, Assistant Director of the Biostatistics Core, and Associate Director of the Pacific Center for Emerging Infectious Diseases Research's Bioinformatics Core.
In 2013, Dr. Le Pape developed the first Biomedical Informatics course at the John A. Burns School of Medicine, a graduate course that he teaches to medical and graduate students. This course aims to significantly enhance the training of medical and graduate students by offering them the opportunity to learn how informatics interventions are most effectively applied to public health delivery, research, and policy development.
Dr. Le Pape is an International Consultant on Health Informatics for the World Bank.