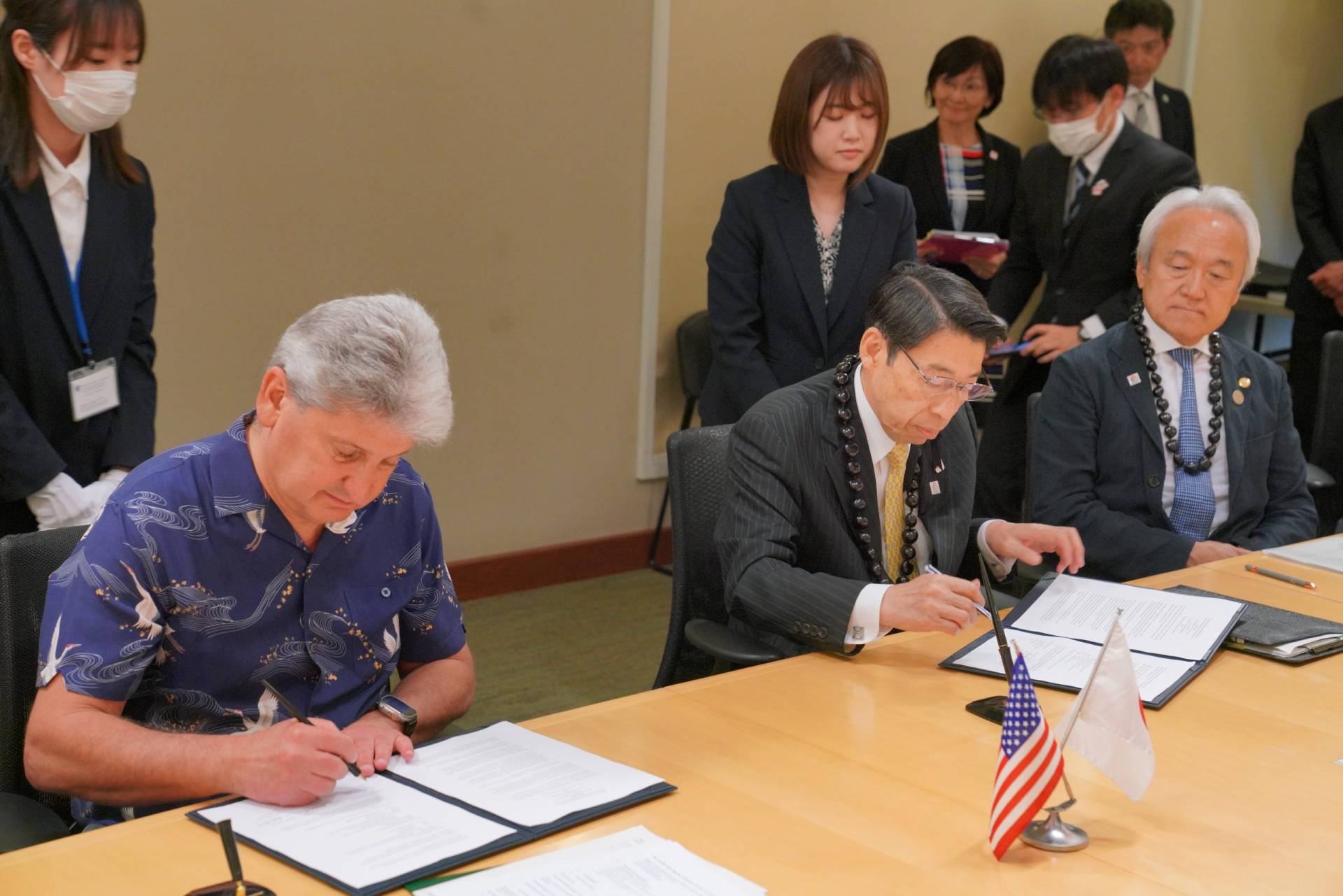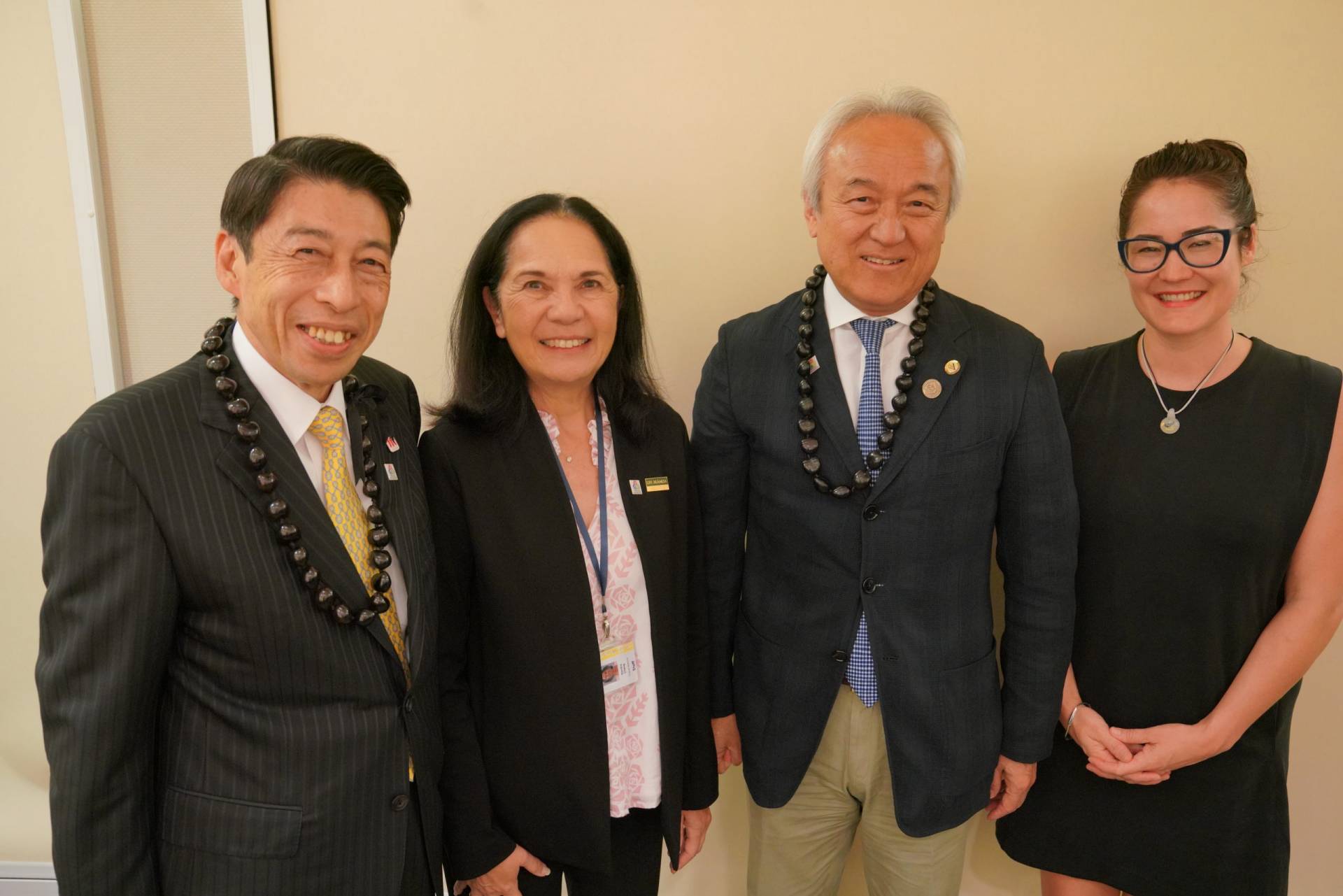 Image Slide 2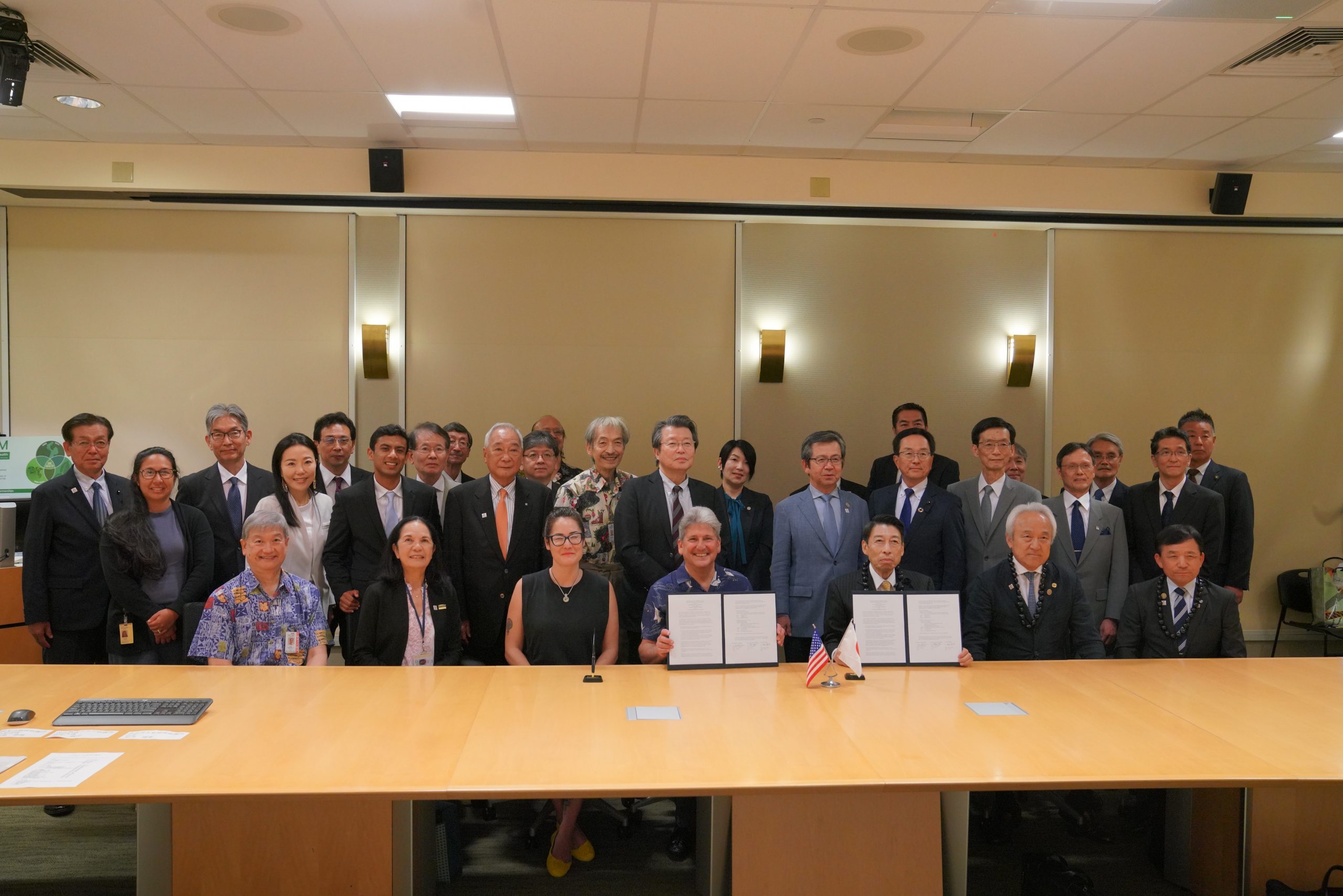 One Health MOU Signing Ceremony, April 21, 2023
Image Slide 1
UH President David Lassner & Fukuoka Governor Seitaro Hattori sign One Health MOU
Image Slide 3
Fukuoka Governor Seitaro Hattori, Professor Sandra Chang, Doctor Isao Kurauchi, and Assistant Provost for Global Engagement April Quinn
Image Slide 3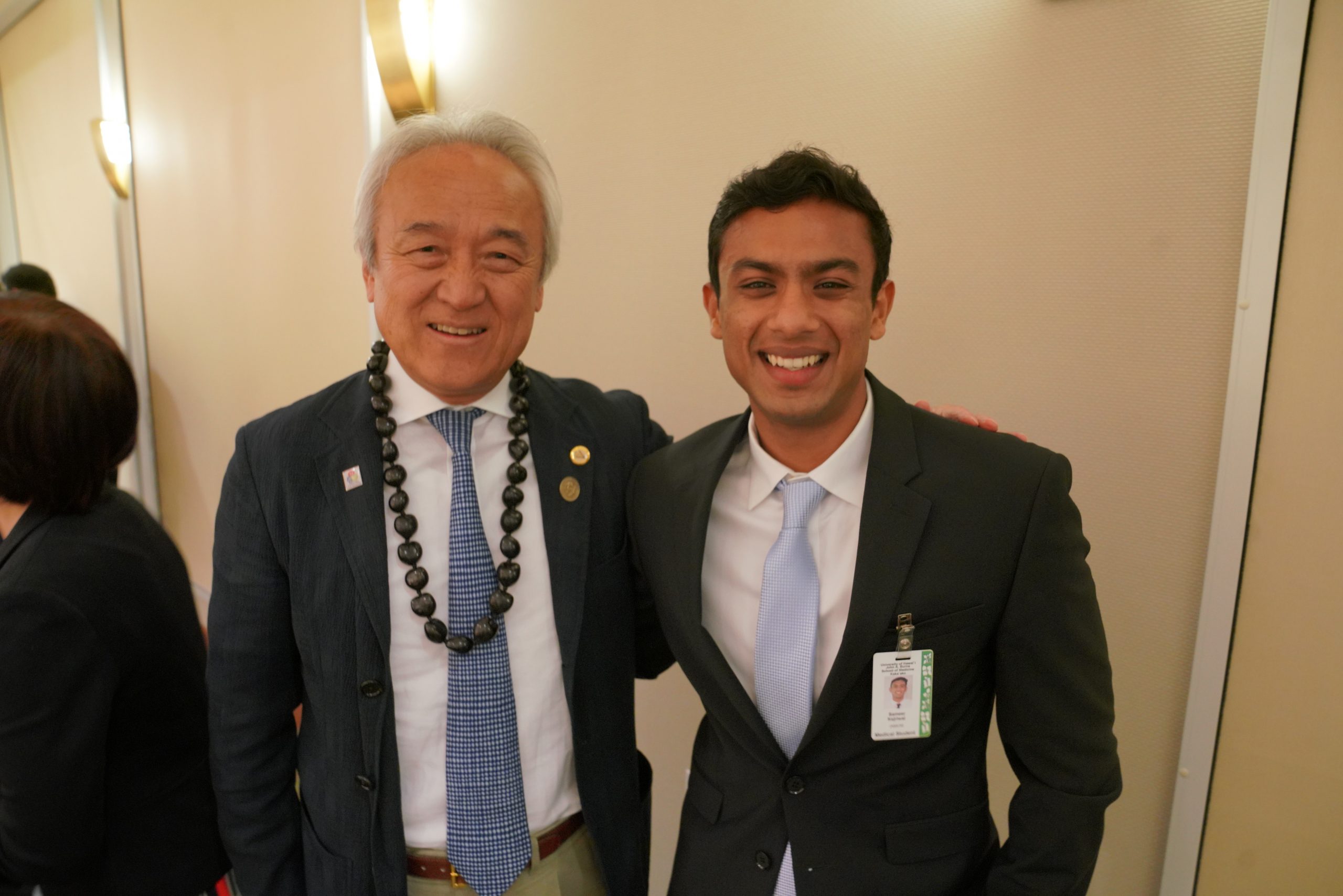 Dr. Isao Kurauchi, President of Japan Veterinary Medical Association and Sameer Kejriwal, JABSOM Medical Student.
University of Hawaii President David Lassner and Fukuoka Governor Seitaro Hattori signed a historic Memorandum of Understanding (MOU) for the mutual promotion of One Health research, education, and human resource development on April 21, 2023. Over 30 representatives from Fukuoka, Japan and Hawaii attended the signing ceremony held at John A Burns School of Medicine (JABSOM) in Kakaako. The MOU is the culmination of several months of discussions between JABSOM faculty and students, led by Dr. Sandra Chang, Professor, Department of Tropical Medicine, Medical Microbiology & Pharmacology, and members of the Fukuoka Prefectural Assembly and Fukuoka universities leadership, led by Dr. Isao Kurauchi, DVM, President of the Japan Veterinary Medical Association and also a member of the Prefectural Assembly.
Through this collaboration, both parties plan to carry out an exchange of teachers, researchers, and students between Fukuoka and Hawaii as well as cooperate in joint, international conferences on the theme of One Health. This partnership began in August, 2022 when members of the Fukuoka Prefectural Assembly met with JABSOM faculty and students to discuss shared interests in One Health. During this meeting, Dr. Chang and her colleagues described the UH Manoa One Health Interdisciplinary Undergraduate Certificate, JABSOMʻs Deanʻs Certificate of Distinction in One Health, and One Health research projects in several colleges at the university. In November, 2022, Dr. Chang and JABSOM student Sameer Kejriwal were invited to present UH Manoa One Health initiatives at the 21st Federation of Asian Veterinary Associations Congress held in Fukuoka. Representatives of the Fukuoka Prefectural Assembly returned to Hawaii in January, 2023 to discuss a formal One Health collaboration that ultimately led to implementation of the MOU.
In his address to the audience, President Lassner recalled the longstanding Hawaii-Fukuoka sister-state relationship initially signed by former Hawaii Governor George R. Ariyoshi in 1981 to promote goodwill and understanding between Hawaii and Fukuoka, and noted that a number of Hawai'i residents trace their family lineages to the area. This connection remains strong today, as both regions work to address similar contemporary issues. "I am struck by how both Hawaii and Japan are island communities and we share many common opportunities and challenges that we can address together through collaborations among our faculty and students. Areas of interest to us include broad multi-disciplinary matters of sustainability and the health of our people, environment and communities."