Civil Beat has an article about the important work being done by Lyon's own HRPP. Check it out on Civil Beat's website here.
Nestled in Manoa Valley is a 200-acre arboretum and botanical garden and what looks like small cottages that are actually laboratories storing hundreds of threatened and endangered plant species.
For years, Hawaii's native plants have been vulnerable to extinction due to invasive species and climate change. To help prevent that, researchers store samples of the rarest plant species in test tubes and seed banks kept at low temperatures at the Lyon Arboretum.
But keeping propagated plants in glass tubes is time-consuming and expensive. Instead, researchers in the coming months at the Micropropagation Laboratory and Seed Conservation Laboratory will use cryopreservation to protect at-risk plant species for the future.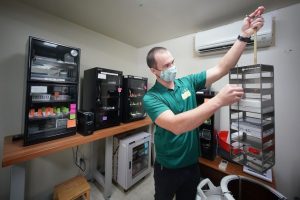 If you want to support the work we do at Lyon Arboretum, please consider making a donation