Lyon Arboretum offers a variety of tours to fit every visitor.
Have a look through our tour options below.
Self-Guided Tour – Explore on your own!
Explore and discover Lyon Arboretum at your own pace by embarking on a self-guided tour. Signing in is required at the Arboretum's Visitors Center, where you can receive our trail, bird, and garden guides and choose your route! Check for any upcoming Arboretum closures as well as the local weather report, or you may also call our Visitors Center at (808) 988-0456.
Reservations are currently required to visit the Arboretum. Please see our homepage for our current admissions policies. All visitors must sign in at the Visitors Center upon arrival.
Visit our Shop page to learn more about our self-guided resources for keiki and adults.
All organization-affiliated groups (church groups, clubs, home school groups, etc) with 10 or more people must coordinate their visit through the Education Department. This policy includes groups that will be self-guided. This allows us to accommodate your groups' space and other needs. Email the education department (LyonEdu@hawaii.edu) or call our office at (808) 988-0461
*Guided Tour – Explore with a guide! For families and individuals.
Our Docent-led guided tours are not currently available for the general public. We apologize for the inconvenience. Please check out our self-guided resources (above), or our Guided Group Tours information (below). Mahalo nui loa.
Guided Group Tours – Explore with your organization or team.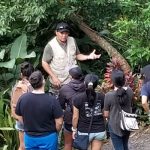 Guided Group tours for adults are available with advance reservations. The typical group tour cost is $12.00* per person, and the maximum group size is 30 people.
(*Please note that tour costs may differ depending on the group's special requests.)
To arrange for a guided group tour, please call the Education Office at (808) 988-0461 or email us at LyonEdu@hawaii.edu
School Tours – Explore with your school!
Lyon Arboretum offers several educational field trip programs for students in grades K-12. For more information visit our Field Trips page. For university-level students, please visit our University Instruction Page.
Any school or organized group that intends to bring minors to Lyon Arboretum MUST COORDINATE their visit through the Lyon Education Office. This is to ensure proper safety and etiquette protocols are followed, group information and forms are gathered, and logistics have been cleared.
Other tours and special requests?
If you are interested in booking a tour please contact the Lyon Arboretum Education Department at (808) 988-0461 or LyonEdu@hawaii.edu.*
(*This email address will replace our old email address educationlyonarboretum@gmail.com, effective 1/1/23. Beginning 1/1/23, please use LyonEdu@hawaii.edu.)
Mahalo nui loa!