Interested in seeing the Arboretum but can't make it in person? Here we have collected some ways to enjoy the Arboretum virtually.
Virtual Tours
Google Poly Tours
Lyon Arboretum's staff has created some virtual tours of our grounds. These tours have discrete stops where you can look around (click and drag or tap and drag), and there are icons that you can tap or click to make more information pop up on your screen.
More of these tours are being developed, so be sure to check back periodically to see what's new.
Spice Hill Tour (new)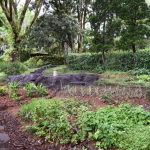 Have you ever wandered around Herb and Spice Hill and wanted to learn more about what you're seeing? Take our virtual tour of Herb and Spice Hill and learn more about the delicious herbs and spices from around the world that may have been featured in your own kitchen! This tour has 8 stops total and features an optional narration as you explore this fascinating and wonderful garden.
Blue Marble Loop Tour (new)
Our virtual Blue Marble Loop Tour takes you on a short journey through the rainforest here at Lyon Arboretum. There are 11 stops total. You can just enjoy the scenery, or you can check out the information we have included about adaptations plants may have in the rainforest.
Ethnobotanical Garden Tour
Our virtual tour of the Ethnobotanical Garden takes you through one of our specialty themed gardens. There are 20 stops, and we have included information about native plants and canoe plants of Hawaiʻi.
Trekker – Virtual tour of the Arboretum
The trekker tour of the Arboretum was created several years ago–some areas of the trail look considerably different now–but it is a fun way to visualize the Arboretum. The experience is more like Google's Street View and allows you to click or tap a point on the trail to navigate.
---
Other Resources
We periodically post videos sharing the sights and sounds of the Arboretum on our social media accounts. A few of them can be found below.
Sounds of Nature
Enjoy this montage of bird calls at Lyon Arboretum
ʻAihualama Waterfall is Lyon Arboretum's modest waterfall
Sounds of our stream
Rainy day at the Arboretum
Nature Views
Some of our videos feature scenes from the Arboretum set to music
Spinning Seeds video
Clouds at the Arboretum