2020 Spring Plant Sale
In order to allow our staff to focus resources on significant greenhouse renovations, Lyon Arboretum will not be hosting a Spring Plant Sale in 2020. However, we will continue to offer a selection of plants for sale at our Visitors Center and at a series of smaller, "pop up" plant sales at various community events throughout the year!
We will also be hosting our Holiday Plant & Craft Sale in November this year, where we'll have an assortment of new and interesting plants available for purchase.
Follow us on Facebook and Instagram for periodic updates on our greenhouse renovation project and notifications about where to find our "pop up" plant sales.
Questions regarding Lyon Arboretum plant sales can be directed to the Horticulture Department at (808) 988-0472 or at kroessig@hawaii.edu
Lyon Arboretum currently hosts two plant sale events each year: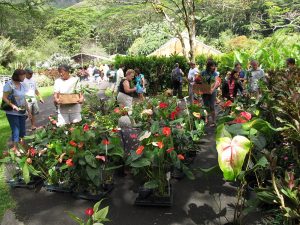 The Holiday Plant Sale (annually in November, the Saturday before Thanksgiving)
The Spring Plant Sale (month varies, typically April or May)
Time: 9am-2pm
Admission: FREE!
General Information: Our plant sales are free, public events that feature plants grown by our staff at Lyon Arboretum as well as plants from a range of other local nurseries.
Plants Featured: The selection of plants and crafts varies with each sale, but generally include many of the following:
Ti Leaf varieties
Heliconias
Gingers
Anthuriums
Native Hawaiian plants
Orchids
Succulents
Tillandsias
Herbs
Fruit trees
Floral arrangements, wreaths, lei, and oshibana crafts
Parking: Due to limited space, during plant sales public parking is along Manoa Road and the residential areas closest to the Arboretum. You can then walk up to the Arboretum, or enjoy our complimentary shuttle service. Shuttle pick up points are at the corner of Manoa Road and Po'elua Street, as well as the corner of Manoa Road and Nipo Street.
See map at right for parking and shuttle stop details.
Click to view a larger version of the map.