Directions
Map to Lyon Arboretum (opens in a new tab)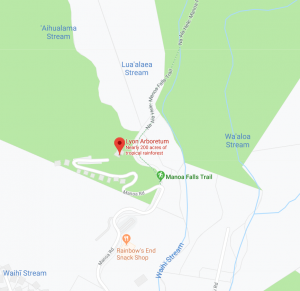 Click the above image to open a map in a new tab or click here to open a map in a new tab
Driving Directions: Coming from King Street (driving east)
Turn left on Punahou St., past Punahou School, take the left fork (Mānoa Road) and continue up the valley, staying on Mānoa Road until it ends just beyond Paradise Park. Entrance to the Lyon Arboretum is at the end of Mānoa Road.
Driving Directions: Coming from University Avenue
Drive up the valley (mauka) past the University of Hawaiʻi. University Avenue narrows at the top of the hill and turns into Oʻahu Avenue. Continue mauka on Oʻahu Avenue. At the five-way intersection of Lowry Avenue and Mānoa Road, continue on to Mānoa Road, following it to the Lyon Arboretum entrance, just beyond Paradise Park. Continue up to the Arboretum's driveway to the parking lot, adjacent to the Arboretum's Visitors Center.
Via Public Transit (TheBus)
Take the #5 bus into Mānoa valley, and get off at the last bus stop. From there, it's about a 0.6 mile walk up past Paradise Park to the Arboretum.
Call TheBus information center at (808) 848-5555 or visit the TheBus website for more information.
Parking
Lyon Arboretum offers free parking for arboretum visitors; however, there are a limited number of stalls and they fill up quickly. For your safety, please park in marked stalls only – do not park on the sides of the access road, in front of buildings, or any other designated areas.
Overflow parking is available at the Paradise Park lot down the road, for a fee ($7 general fee, $5 kamaʻaina/military) or you may park in the nearby Mānoa neighborhood. Walk up the access road past Mānoa Falls trail head, through our gates, and up to our Visitors Center to check-in (a ~7-10 minute walk.)
PLEASE NOTE: Due to occasional construction, projects, and state/federal holidays at the Arboretum, there are also intermittent closures – please check our main page for closure updates.