Aloha
Lyon Arboretum is part of the University of Hawaiʻi and a public botanical garden. We are nestled in the back of Mānoa Valley, just five miles from the bustle of Waikiki. Lyon Arboretum has over seven miles of hiking trails and boasts more than 6,000 taxa of tropical and sub-tropical plants on our nearly 200 acres.
Temporary closure announcement
August 8, 2020
Lyon Arboretum will be closed to the public starting August 10, 2020. We will remain closed at least until September 5, per the Mayor and Governor's decision to close parks and public botanical gardens. Information about reopening to the public will be available on this page closer to that date.
As always, the decision to close is not one that was made lightly, as we know many community members visit the Arboretum as their place of solace. The safety of all our visitors and our Lyon staff and ʻohana are of the utmost important to us. As a community, we must all do our part to slow the spread of the virus.
Rest assured that the Arboretum will open again to the public. We hope our reopening will be in the near future, but ultimately that date will be determined by the COVID-19 situation. This page will continue to be updated as the situation changes.
For COVID-19 updates as they pertain to the University of Hawaiʻi at Mānoa, we direct you to their official page: manoa.hawaii.edu/emergency/coronavirus-update/
Our thoughts go out to those impacted by the virus. We ask that everyone live aloha, as these are trying times. We are all in this together and if we work together, we can make things better! Please take care of yourself and we will be here, waiting for your return.We will be doing our best to continue with our mission to educate the public via posts on our Facebook and Instagram accounts. Thank you for your support and please aloha everyone during these trying times.
Pūpūkāhi i holomua: Unite to move forward
Fall Nature Camp Cancellation Announcement
August 28, 2020
We are sorry to say that we are not planning to host a Fall Break camp this year. This was not an easy decision to make, but it is for the safety of our community and our organization given our state's climbing COVID-19 numbers.
If the COVID-19 situation changes, we might be able to hold a modified camp after all (during the DOE Fall Break, October 5-9). If this happy situation comes to pass, that decision would likely be made in mid- to late September, leaving a relatively short time for families to sign up. Otherwise, the next Nature Camp session is planned for Spring Break (March 15-19, 2021).
You can sign up for our camp announcement email list by emailing educationlyonarboretum@gmail.com.
Be sure to check out our Virtual Tours page and our Facebook and Instagram accounts. We look forward to seeing you all at camp again!
---
Teacher and Student Resources available online
Aloha teachers! We are pleased to share our new Teacher and Student Resources page. We have collected a variety of resources from around the web–as well as some from our own office–to share with you.
---
Recent News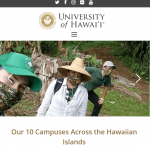 Lyon Education on UH Main Page
If you've visited the University of Hawaiʻi main page recently, you might have seen some familiar faces: Lyon Arboretum's own Education Department!
Connecting K-12 Teachers and Community Organizations to Create Meaningful Watershed Educational Experience (MWEE) Learning Journeys
Check out this blog post from Mānoa Heritage Center about creating MWEE (Meaningful Watershed Educational Experience) in conjunction with several organizations including Lyon Arboretum.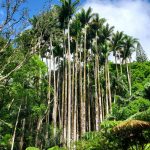 Honolulu Magazine: What It's Like at These 6 Popular Oahu Hikes and Gardens During the Pandemic
Critically endangered plant from Kahoolawe gets new life with more than 20 seedlings
Since April 14, 23 seeds from the Kanaloa kahoolawensis, a critically endangered legume that's extinct in the wild, have germinated on Maui.