Honors Faculty (Tenure in Honors)
"Who I am today is the result of the positive influence of higher education and teachers who believed in me."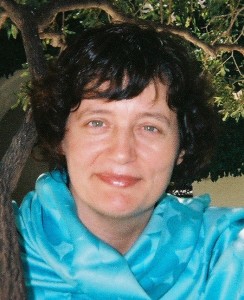 With the UHM Honors Program since 2014, Siobhán Ní Dhonacha is an Associate Faculty Specialist with the Honors Program and Regents and Presidential Scholars, and a Truth, Racial Healing and Transformation (TRHT) Fellow and member of the UHM TRHT Design Team. TRHT is a higher education W.K. Kellogg Foundation funded initiative housed in the office of the UHM Provost, Native Hawaiian Place of Learning Advancement Office. Indigenous Irish, Dr. Ní Dhonacha was born and raised in Ireland.
Education
Dr. Ní Dhonacha studied in New York and London, and then went on to earn a BA in Political Science and Politics of Theatre from Western Washington University, an MFA in Theatre/Playwriting at the University of Hawaiʻi at Mānoa (UHM), a PhD in Education from the College of Education at UHM with a focus on the Ethics of Care, Higher Education Policy/Philosophy, and Student Success Strategies, and a Graduate Certificate in Online Learning and Teaching (COLT) from the UHM College of Education. In August 2020, Dr. Ní Dhonacha earned a certificate from the Association for the Advancement of Computing in Education in Effective Strategies in Learning and Teaching Online.
Teaching & Advising Philosophy
Teaching since 1995, Dr. Ní Dhonacha has worked with students in Washington State, New York, and Hawaiʻi, and at UH since 2009. Her teaching and research are focused on Empowerment Advising©, experiential learning, resilience, critical thinking in the 21st Century, writing praxis, the philosophy and ethics of care in academic policy and praxis, high achieving students, mentoring as a tool for student success, under-represented student recruitment and retention, emotional intelligence, cognitive development, student persistence, diversity and equity, and actively supporting UH to be a Native Hawaiian place of learning through curriculum design and advising practice.
Dr. Ní Dhonacha is a First-Generation student, and has a depth of experience in a number of fields, including Engineering information systems consulting, medical scholarship, the hospitality industry in various capacities, writing, directing and producing in theatre and video, as well as large and small scale grant writing and management with the National Institutes of Health, the Robert Wood Johnson Foundation, W.K. Kellogg Foundation, the US Department of Education, and Kamehameha Schools, for example.
In practice, teaching and advising is a complex and sophisticated eco-system that plays a critical role in the student academic life cycle working with a wide range of cultures, circumstances, contexts, and rich perspectives. Respect, honesty, and clarity are vital. Often, one has to deftly jump from prescriptive to appreciative to empowerment models within the space of a few minutes.
Dr. Ní Dhonacha's personal teaching and advising philosophy developed over time, and which is flexible and responsive to change, is rooted in an Ethics of Care framework, Cultural Humility pedagogy, equity, Hawaiian and Irish Worldviews emphasizing collectivism, connection, and interconnectedness (the practice of pilina through the foundational premise of mo'oku'auhau), mindfulness, and action based shared responsibility (kuleana) through relationships such as kaikua'ana and kaikaina as taught and learned as a student in TRHT, and an Empowerment Advising© model that Dr. Ní Dhonacha is currently developing. This approach is fundamentally based on the vital experience of caring interventions in life that literally turned on the light in the middle of profound darkness, empowering the development of critical thinking, capacity building resilience, agency, and self-efficacy informing complex teaching and teaching praxis.
Courses
Dr. Ní Dhonacha created Honors 333 in 2015, and this course has since been developed into a real world learning loop complex and robust Honors 333 Writing Intensive (WI) Oral Communication (O) online course. This course focuses on Educational Psychology, real world skill building, enhanced and high impact formal writing skills, communication skills utilizing current media approaches such as Podcasts as well as presentations, information fluency, intentional scholarly reflection, Educational Psychology and Experiential Learning Theory, and student empowerment.
Dr. Ní Dhonacha was part of an Honors Program Faculty Team member that redesigned Honors 101 Introduction to Research Writing Intensive in Summer 2020. Honors students have the opportunity in Honors 101 to engage early and meaningfully with one another and the research pathway, and to start acquiring and practicing the tools and techniques needed to delve deeply into an issue or area of study.
Dr. Ní Dhonacha revised and submitted HON 340 Writing Intensive & Ethics From Ideas to Page: Learn the Publication Process in Fall 2022, and teaches this course in the Spring semester.
Dr. Ní Dhonacha became Editor of the ​Horizons Undergraduate Journal in July 2022.
Presentations, Productions, and Publications Examples
Dr. Ní Dhonacha has presented at peer reviewed conferences locally, nationally, and internationally at Council of Academic Advisors (CAA), Academic Advising & Transfer Network (AATN), National Academic Advising Association (NACADA), Association for the Study of Higher Education (ASHE), TRHT, Society for Information Technology & Teacher Education (SITE), Technology, Colleges, and Community, and National Collegiate Honors Council (NCHC) Conferences focused on areas such as "Equitable Advising, the Ethics of Care, and Cultural Humility in a Global World: A New Approach to Advising"; "Empowerment Advising: An Online Experiential Learning Theory Teaching Approach"; "Helping Diverse Students Build Bridges of Aloha from Experience to Theory (and Back Again)"; and "Experiential and Scholarly Engagement in an Honors Digital Environment". Dr. Ní Dhonacha has been nominated for the UHM Pakela Award (Outstanding Academic Advising) and the UHM Chancellor's Award.
As a playwright, screenplay writer, novelist, and poet, directing and producing, Dr. Ní Dhonacha believes in harnessing the power of language to transform, inform, and uplift, and teach students to do the same. Her plays "Love Squared," and "Declan" played to sold out houses in Honolulu and New York City. Dr. Ní Dhonacha was awarded the Diamond Head Theatre's Burnett/Selleck Scholarship, established by the Diamond Head Theatre Foundation in honor of Carol Burnett and Tom Selleck, was a UHM Page to Stage Essayist, selected from a competitive group of applicants for the 2010 UHM production of "Waiting for Godot," and was a quarterfinalist for the American Screenwriting Competition (Top 5% of entries received).
Programmatic Examples
Dr. Ní Dhonacha has produced the Honors Mentoring Program Resilience Series, open to the community, focusing on Resilience. Professionals from the world of business and medicine, and from within UH, have shared their personal stories of resilience and tips for getting through challenging times in: "Do You Bend or Break, Resilience," "Find Balance," "Does Culture Matter in Education," and "Resilience in the Undergraduate Pre-Medical Journey: Hawaiian World View."
To highlight the HP student experience and excellence in curriculum, research, and scholarship in a way that is easily accessible to prospective students and families, Dr. Ní Dhonacha proposed, created, directed, and implemented a video series to highlight Honors Program students. Dr. Ní Dhonacha sought and received funding for this project. The Honors UHM You Tube channel and the Honors website host videos. A local high school teacher discovered a video of a student she had once taught posted on the HP website, and was very moved to see the progress of this promising student. After sharing the video with current students, this teacher shared that students from this high school self-reported more easily visualizing themselves as UHM HP students after viewing the video.
Publications
Lipe, K.; Darrah, J., Lynch, M.K., Reilly, M., Zabala, S.; Stitt-Bergh, M., Litton, C., & Ní Dhonacha, S. (2020). Our Hawaiʻi-Grown Truth, Racial Healing & Transformation: Recommitting to Mother Earth. In T. McNair (Ed) We Hold These Truths: Dismantling Racial Hierarchies, Building Equitable Communities. Association of American Colleges and Universities Publishing.
Stitt-Bergh, M., Mangram, C., Leung Brekke, E., Plamann Wagoner, K., Chyba, M., Lipe, K., & Ní Dhonacha, S. (2021). Centering 'āina in assessment: Striving for equity and social justice. In G. Henning, N. Jankowski, A. Lundquist, G. Baker, & E. Montenegro (Eds.), Assessment as essential for equity in learning: Designing for transformation [manuscript in preparation]. Stylus Publishing.
LGBTQIA+ Advocacy
Dr. Ní Dhonacha has worked for equity, rights, protection, and inclusion of LGBTQI+ people in Ireland, London, Washington, New York, and Hawai'i. Working to support equality legislation in Hawai'i, Dr. Ní Dhonacha served on the Equality Hawai'i Foundation.
Service
Deeply committed to service, Dr. Ní Dhonacha was elected to and currently serves on the NCHC Teaching & Learning Committee, UHM Faculty Senate, was elected to the Council for Academic Advisors Board and served as Chair, is a member of the Honors Program Futures Committee, on the Editorial Board of the Mānoa Horizons Undergraduate Journal, Associated Students of the University of Hawaiʻi at Mānoa Scholarship Selection Committee Member and Reviewer, and has served on the UHM Learning Assistance Center Advisory Board, as Co-Chair for the General Education Committee Board: Foundations Board, Member on the Excellence in Academic Advising (EAA) Career Ladder Committee, Steering Committee Reviewing General Education at UHM, Reader and Reviewer for the NACADA Regional 9/10 Conference, NASPA National Conference, NASPA Multicultural Institute: Advancing Equity and Inclusive Practice, NASPA Western Regional Conference, and NACADA National Conference. Dr. Ní Dhonacha was part of the first cohort (2020) of the UHM Women Emerging: Leading, Empowering, Advocating and Developing (WeLEAD) Mentorship Program.
Dr. Ní Dhonacha was invited to be Keynote Speaker for a UH chapter of Golden Key International Honour Society inductee ceremony and is an Honorary Member, selected by the student board. Featured in an article in the UH publication "Kaleo" (Jan 2018), Dr. Ní Dhonacha believes that we are who we are today because someone invested and believed in us – this is a belief and experience that forms the foundation of Dr. Ní Dhonacha's work.
Contact
Email: dhonacha@hawaii.edu
Phone:  808.956.0756