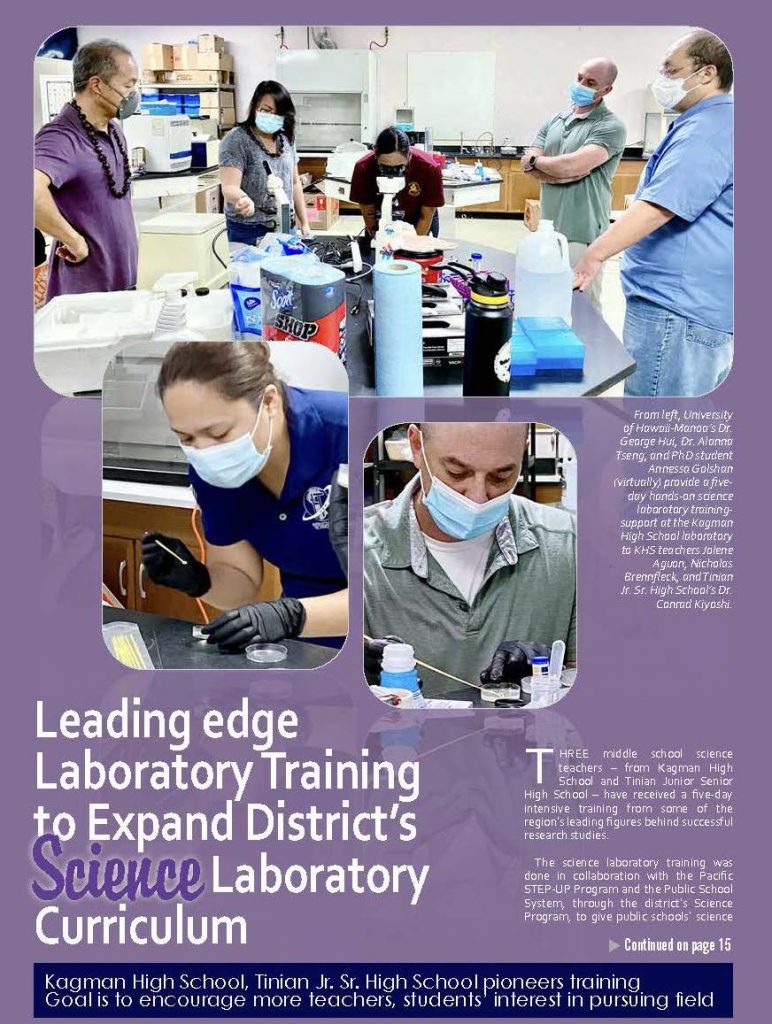 Published in CNMI Public School System "STUDENTS FIRST", February, 2022.
Three middle school science teachers – from Kagman High School and Tinian Junior Senior High School – have received a five-day intensive training from some of the region's leading figures behind successful research studies.
The science laboratory training was done in collaboration with the Pacific STEP-UP Program and the Public School System, through the district's Science Program, to give public schools' science teachers the opportunity to be trained in laboratory techniques, and, eventually, encourage for more students and teachers to pursue the field.
The training was held at Kagman High School's laboratory with three middle school classroom science teachers as pioneer trainees. They are KHS teachers Jolene Aguon, Nicholas Brennfleck, and Tinian Jr.-Sr. High School's Dr. Conrad Kiyoshi.
University of Hawaii at Manoa's Dr. George Hui, one of the leading figures in providing research training and mentoring to underrepresented minority and disadvantage high school students in Hawaii and the Pacific, through the Pacific STEP=UP Program, Dr. Alanna Tseng, and PhD student Annessa Golshan (virtually) provided five-day hands-on science laboratory training-support.
The PSS Science Coordinator Asapmar Ogumoro coordinated the teachers training and supported by Annette P. Sablan, because of her training on biomedical research.
Need in the Classrooms
In an interview with Students First, Kagman High School biology teacher Jolene Aguon told Students first that the training was needed:
"I expect to gain more skills to conduct different types of laboratory (techniques). Our students really need these labs to better understand learning in the classroom. Having this opportunity gives us more access… to future careers, to opportunities," Aguon explained.
The field of science deals more on investigative thinking, she said adding " laboratory work plays a big role on that. It gives you that hands-on experience."
"I am very honored and glad to be part of this training. To be able to give experience back to my students."
The 10th and 11th grade biology teacher said she looks forward that the school district will be able to attract more teachers and public schools that will offer science laboratory curriculum to students.
"I am really proud that KHS is helping pioneer this program. Hopefully, in the future we see more and more schools take on this opportunities…to see more students interested in the STEM field especially science because that is what we really need," she added.
Building the Science-Lab Curriculum
Dr. Hui, in a separate interview with Students First, disclosed that they help PSS pioneer the science laboratory training with the long-term goal of assisting the school district build its curriculum in this specific field of discipline.
"What we want basically is to increase the ability of the teachers to enhance their curriculum. Currently, as I understand, the biology science curriculum is very limited in terms of how the students are able to have hands-on laboratory experience," Dr. Hui said.
He added, "What we want is for them to build up the curriculum for additional classroom/laboratory experience."
The University of Hawaii's Pacific STEP-UP Program, he said has brought in laboratory equipment to PSS and the Northern Marianas College, helping both institutions establish their respective laboratories for teacher-student training and learning.
"And now we try collaborate with PSS. Hopefully, this is the kind of pilot experiment that we would like to see our students earn hands-on experience, retain their techniques and eventually will have the interest in pursuing science," Dr. Hui said.
Dr. Hui said through their partnership with PSS, he hopes to see a long-term success of developing the science laboratory program with more science teachers expressing interest.
"At the end of the day, the teachers are going to be driving this—not us. And this only is going to work if their interest is continuing. Hopefully, we will succeed here if the words gets out that more science teachers in other school will want to build up their curriculum and bring it to other schools."
The training is an extension of the Pacific STEP-UP Program, which is a summer program for high school students to be engaged in depth research project.
The school district has been participating with the STEP-UP Program since 2010.