Recognizing the dedication and service of UH Mānoa faculty, staff, and students committed to enhancing the University's mission of excellence.
---
---
An Awards message from UH President David Lassner
Regents' Medal for Excellence in Teaching
The Regents' Medal for Excellence in Teaching is awarded by the Board of Regents as tribute to faculty members who exhibit an extraordinary level of subject mastery and scholarship, teaching effectiveness and creativity, and personal values that benefit students.
Mark Branner
Mark Branner is an assistant professor of theatre and dance in the College of Arts, Languages & Letters. He approaches every professional task with vision, energy and compassion, "traits that define him as a superlative teacher," according to one of his colleagues. To Branner, the best teaching, theatrical directing and leadership all pose the question: "How can I benefit you and help you succeed?" and then offers everything it knows in service to that. Students view him as the heart and soul of Theater for Young Audiences and they strive to meet the challenges he sets, earning many awards, fellowships and positions in the profession. A colleague stated Branner creates bonds that allow students to trust him implicitly, an essential trait to creating great art. "He rallies others around an idea and vision, with great strength of conviction, tempered by a true caring of people. His students then go forward to create their own stellar projects, unhindered by the obstacles they face. This is the epitome of why he is an outstanding teacher."
Jane Jaeeun Chung-Do
Jane Jaeeun Chung-Do is an associate professor in the Office of Public Health Studies in the Thompson School of Social Work & Public Health. She begins her work with students from the classroom leading up to their extensive community practicums by co-developing a Brave Space Agreement. These set the terms of engagement regarding equitability, accountability, intentionality, confidentiality, compassion, critical thought and cultural adeptness, all tenets that flow continuously between classroom and community. A medical professional colleague observes that Chung-Do ensures student education is "not solely theory-based, rather it centers on the needs of Hawaiʻi's communities and true community-based approaches to disparities work. She leads by example, inspiring those around her to impact the health of Hawaiʻi's communities." A former student writes she "was only able to take one class with Dr. Chung-Do. Yet, this class was the most iconic course of my master's in public health journey. At completion of the course, she suggested publishing our group project and continued to guide me through that process until it was published."
Derrick Higginbotham
Derrick Higginbotham is an associate professor in the Department of English in the College of Arts, Languages & Letters. His classroom atmosphere is described as one of intellectual vigor that enables students to excel as readers and thinkers, in a spectrum of course topics from Shakespeare, medieval literature, early modern British literature, African literature and queer theory. Higginbotham's teaching philosophy is rooted in the power of intellectual surprises born of the need to present a complex, globalized, premodern history as legible to students, no matter the student's background. Students speak of his agility in engaging them with texts distant temporally, linguistically and culturally from a modern-day mindset. Higginbotham collaborated with UH Mānoa librarians and created opportunities for students to navigate the conventions of the university and Wikipedia, doing independent research and collaborating with editors outside the academy. Colleagues refer to him as having a "highly affirmative pedagogy," absolutely convinced that "the department has in Professor Higginbotham a master teacher."
Wendy Meguro
Wendy Meguro is an assistant professor in the School of Architecture. She returned to her alma mater equipped with experience working in New York City as an associate for Atelier Ten, one of the world's premier environmental design consultants. Her unique joint appointment—75% School of Architecture, 25% Sea Grant—indicates her distinctive value to the university. She approaches architecture education with an urgent sense of purpose and optimism. A colleague remarked that Meguro's ARCH 690 Urban Adaptation to Coastal Flooding course is "a most rewarding course, directly informing the City and County of Honolulu's guidelines on adapting built environment to flooding and sea-level rise projections." Another colleague writes, "Professor Meguro's congenial demeanor belies the urgency of her purpose. Her instruction exhibits impeccable preparation, deeply thought content and rigorous analysis based on empirical data and firsthand experience of case studies. But her deeper mission is moral. She ensures our students have everything they need to steer the world safely clear of the dire consequences of past environmental hubris."
Mary Mostafanezhad
Mary Mostafanezhad is an assistant professor of geography in the College of Social Sciences. She teaches courses central to undergraduate and graduate departmental curriculum, which serve as electives for others. She builds her courses to maximize value to students who may or may not have professional interest in the topic by focusing on theoretical insights, and weaving together classic texts, neo-theoretical contributions and examples of innovative methodologies. Mostafanezhad commits to developing cultural competency among her students, teaching students to connect formal learning in the classroom with informal and experiential knowledge outside the classroom. Mostafanezhad provides opportunities to students through practices of informed mentorship, including: co-organizing annual student research symposiums; seeking student publication opportunities; co-publishing with students; and teaching the peer review process. One student said, "her seminars are more widely applicable than most; students are introduced to broad theoretical schools which can inform dissertation chapters and journal articles. It is a testament to her subject mastery—and her commitment to interdisciplinarity—that she can build such widely-useful reading lists."
Scott Rowland
Scott Rowland is a faculty member in the Department of Earth Sciences in the School of Ocean and Earth Science and Technology. Among his colleagues, Rowland is viewed as being "the one faculty that all our students know and love, who leads by far the most field trips, a local born-and-raised bridge to the Native Hawaiian community." In his ERTH 104 course, he provides students opportunities to create a stone implement according to ancient Hawaiian methods while learning about stones from a western geological perspective. He strives to motivate each student, sparking their desire to learn on their own and pass on their knowledge. His work ethic and unique teaching methods have inspired a recent student to become a teacher in the community upon graduating from UH. He described Rowland as going above and beyond the call as a college professor by visiting high schools to lead Earthquake Labs. Rowland is described as "truly the beating heart of the department's undergraduate program while maintaining a strong research profile."
Regents' Medal for Excellence in Research
The Regents' Medal for Excellence in Research is awarded by the University of Hawaiʻi Board of Regents in recognition of scholarly contributions that expand the boundaries of knowledge and enrich the lives of students and the community.
Bruce F. Houghton is the Gordon A. Macdonald Professor of volcanology in the School of Ocean and Earth Science and Technology. He is also Hawaiʻi's state volcanologist and science director for the National Disaster Preparedness Training Center at UH Mānoa. His research specialty, and that of his students and postdoctoral fellows, is the eruption dynamics of explosive eruptions, particularly at Kīlauea and Stromboli volcanoes. Houghton played a leading role in collaboration with the Hawaiian Volcano Observatory in the science response during the 2018 eruption of Kīlauea. He works across the interface between volcanoes and society, collaborating with world leading disaster psychologists and sociologists. He has published 267 papers in international journals, including four papers in Nature in the first four months of 2021, and received 13,700 citations. Described by his colleagues as a "giant of volcanology," Houghton was a 2017 recipient of the highest accolade from the International Association of Volcanology and Chemistry of the Earth's Interior, the Thorarinsson Medal, as only the ninth recipient of the medal in the 100-year history of the association.
Fei-Fei Jin is a professor of atmospheric sciences in the School of Ocean and Earth Science and Technology. He made seminal contributions to advance our understanding of many important climate phenomena, including EI Nino-Southern Oscillation, tropical climate variability, and large-scale atmosphere and ocean circulation variability. During his 28 years with the university, he brought in $6 million in grants and advised several dozen PhD students and postdoctoral fellows. He has published 240 peer-reviewed papers, with more than 24,000 citations. In 2020, he was recognized as Web of Science's Highly Cited Researcher, ranking in the top 1% of citations in the field. Jin has also received a number of prestigious honors, including his elections as a fellow of American Geophysical Union, a fellow of American Meteorological Society (AMS) and recipient of AMS Sverdrup Gold medal. His service to the research community at large include serving as a co-convener of sessions in the American Geophysical Union, European Geosciences Union and serving as co-chair for Science Advisory Committee of Open Lab of Nation Climate Center of China.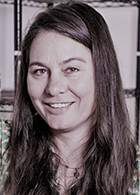 Angelicque E. White is an associate professor of oceanography in the School of Ocean and Earth Science and Technology. She joined UH Mānoa's Center for Microbial Oceanography: Research and Education in 2018. White's research focuses on plankton biodiversity, productivity and elemental cycling in upper ocean ecosystems. She is currently the lead principal investigator for the Hawaiʻi Ocean Time-series (HOT) program and is passionate about spreading the gospel of HOT and the need for sustained ocean observations. Her 2020 TED talk at the National Academy of Sciences was deemed one of the 20 most popular TED talks in 2020. White has participated in more than 40 oceanographic research expeditions to sites spanning the subtropics to the Antarctic, received research grants totaling over $18 million, and published nearly 80 articles in the peer-reviewed scientific literature. She was a recipient of the Alfred P. Sloan fellowship, the American Geophysical Union Ocean Sciences Early Career Award, and the Association of the Sciences of Limnology and Oceanography Yentsch-Schindler Early Career Award.
Frances Davis Award for Excellence in Undergraduate Teaching
The Frances Davis Award for Excellence in Undergraduate Teaching for a faculty and a graduate assistant recognizes dedication and demonstrated excellence as teachers of undergraduate students. It was established as a memorial to the late Frances Davis, who taught mathematics at Leeward Community College and the University of Hawaiʻi at Mānoa for 19 years.
A Zachary Trimble
A Zachary Trimble is an associate professor in the Department of Mechanical Engineering in the College of Engineering. He is an inspiration to his students to whom he has been an extraordinary mentor and teacher. A colleague shared, "In truth, I wish we could 3D print a dozen more Zacs. Such is the inspiring effect that he has had on faculty and staff alike." A student wrote, "Professor Trimble's course reminded me why I wanted to be an engineer and raised my own expectations for the quality of my work," validating a core value in Trimble's teaching that students discover for themselves a lasting desire to explore a subject on their own. He acts as chief technology officer of an engineering company and treats students as newly hired engineers. Students report on their current progress, which requires them to take ownership of their projects, transitioning to defining their own tasks and really understanding their significance in the context of each project.
Frances Davis Award for Excellence in Undergraduate Teaching for Graduate Teaching Assistants
Heewon Kwon
Heewon Kwon is a social and cultural psychology PhD student in the College of Social Sciences. Kwon has extended her passion in statistics to teaching introductory statistics courses in the psychology department. Her teaching starts from understanding the difficulty many students face when they first learn statistics. Therefore, she focuses on clarity in content, expectations and educational goals. Her class materials are full of illustrations and demonstrations explaining theories and calculation processes. These processes are embedded in larger real-life research questions so that students find themselves thinking about how to use these tools in research. She hopes that students will find statistics is not an obstacle to overcome, but is a useful tool that will help them become researchers. Kwon is interested in culture and multicultural individuals and plans to extend her research by combining her research interest with advanced statistical techniques. She hopes to continue sharing her excitement about and dedication to research with students through teaching.
Robert W. Clopton Award for Distinguished Community Service
The Robert W. Clopton Award for Distinguished Community Service recognizes a University of Hawaiʻi at Mānoa faculty member for playing a socially significant role by applying intellectual leadership and academic expertise to the improvement of the community. The award was established as a memorial to longtime UH Mānoa College of Education Professor Robert Clopton and first awarded in 1977.
Thomas Jackson
Thomas Jackson is a specialist in the Department of Philosophy and serves as executive director of UH Mānoa's Uehiro Academy for Philosophy and Ethics in Education. Jackson has been recognized for his sustained commitment to education and a unique regard for the integration of his academic life's work with local and global communities. He is regarded by community teachers as "an educator in the truest sense, eliciting the magic of authentic learning." Since 1984, Jackson has been passionately committed to the development of the Philosophy for Children movement (P4C) in Hawaiʻi and around the world. P4C has transformed lives on a core premise that philosophy could be and should be taught to children if presented in a different way than in its current academic form. Jackson's work with P4C has created transformational long-term outcomes that have thrived and multiplied in settings from an early Hawaiʻi Island experiment to the deeply rooted Waikīkī Elementary School and Kailua High School programs to the university's Uehiro Academy.
Presidential Citation for Meritorious Teaching
The Presidential Citation for Meritorious Teaching recognizes University of Hawaiʻi at Mānoa faculty members who have made significant contributions to teaching and student learning.
Kasey Barton
Kasey Barton is an associate professor of botany in the School of Life Sciences. Barton observes that most students pursue biology out of fascination with the process of scientific discovery, or inspiration to contribute to human health or conservation of natural places. That awareness is exemplified in her teaching students to: read and write critically; be agile with data analysis and interpretation; think deeply about and make links between the processes of the natural world; predict how these processes will change in the future; and perform and assess the scientific process. She said, "Diversity can be measured in many ways, and all of these ways matter in the classroom. Respect for students' backgrounds and differences is essential to ensure that they feel safe and can succeed in my classes." One student wrote, "Regardless of the class size, Dr. Barton possesses the rare and astonishing ability to create a learning environment in which each student feels noticed and respected, skillfully weaving foundational scientific literature with current research taking place in Hawaiʻi."
Sonia Ghumman
Sonia Ghumman is an associate professor of management in Shidler College of Business. Ghumman relies on varied teaching techniques including group whiteboarding, class debates and even a simulated climbing of Mount Everest to illustrate the properties of individual behavior and group dynamics. A student wrote, "She is the most inspiring professor, set apart by her mutual passion for teaching to and learning from her students. This two-way street creates an environment where students think big and share bold ideas." "Leadership and Team Simulation: Everest V2," is a multiplayer simulation exercise designed to help groups learn about improving leadership and team effectiveness. Within a few hours of their virtual climb of Mount Everest, groups come to understand communication patterns and abilities of fellow team members. Ghumman said "Students learn important lessons on communication, trust and shared accountability, essential values in our study of teams and leadership dynamics." Students said "Her unique ability to relate to students and ensure a safe, respectful space for learning is next to none."
Elizabeth Gilliland
Elizabeth (Betsy) Gilliland is an assistant professor of second language studies in the College of Arts, Languages & Letters. Gilliland's passion and abilities as a teacher of future language teachers is fueled by bringing pedagogical enthusiasm and inspired mentoring to the widely varied goals and careers sought-after by students at the BA, MA and PhD levels. A colleague reflects, "She has a gift for breaking down coding practices and analytical frameworks in ways that move conceptual discussions into practice." A student who feels fortunate to have collaborated with Professor Gilliland in creating and teaching a graduate level class lauded Gilliland's consideration of a full range of teaching backgrounds and research experience amongst the students when sequencing activities and creating peer groups. Colleagues credit her with going above and beyond, to create "those magical moments when a student who didn't think they belonged in the academy makes a connection or is inspired to pursue teaching or a Fulbright."
Kristi Govella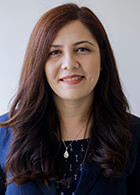 Kristi Govella is an assistant professor of the Asian studies department in the College of Arts, Languages & Letters. Govella is committed to engaging students through mentorship and supervision of independent research. Each semester begins with students writing a personal letter of introduction, allowing her to refine her teaching methods with sensitivity to cultural, ethnic and gender differences to better engage, support and customize lectures to incorporate students' interests. A student wrote, "before you know it, her classroom becomes a learning village with students asking questions of one another as well as of Professor Govella." This creates an enlightening space for learning in a discipline that tackles controversial current issues in ethnic and cultural studies, geopolitics, economics and security. Colleagues find testament to her teaching excellence in the burgeoning numbers of students on her wait-listed courses, her many grants and publications, her poise and professionalism, and her dedication to cultivating excellence among her colleagues as well as her students.
Pratibha Nerurkar
Pratibha Nerurkar is an associate professor in the Department of Molecular Biosciences and Bioengineering in the College of Tropical Agriculture and Human Resources. Nerurkar has a vision for students of a holistic approach empowered by knowledge, critical thought and compassion. Colleagues recognize her teaching load as the heaviest departmentally, including her mentoring more than a hundred research students. A colleague observed, "She communicates content using different modalities and extemporaneously elaborates content seamlessly, using a story-like method of instruction, particularly effective with students." Nerurkar has mentored 57 undergrads; many who went on to receive unit awards and research funding, participated and presented at local and national meetings, written honors theses, co-authored publications with her, and reached high positions in their professional or academic careers. Students expressed, "As a future physician, I hope to be able to connect with my patients as Dr. Nerurkar connects with her students," and, "I can attribute my areas of studies and interest in my graduate program to be a result of being inspired by her teachings."
Sladjana Prisic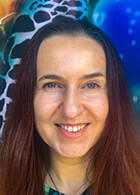 Sladjana Prisic is an assistant professor of microbiology in the School of Life Sciences. Prisic successfully mentors many students in the lab setting through a concept she developed called "exponential growth" in which graduate students supervise undergraduate students who in turn mentor high school students. Her National Science Foundation grant provides students with initial training from the UH Biological Safety Office, the Environmental Health & Safety Office, and from Prisic, who closely monitors their progress through weekly meetings and frequent reports. She strives to do more than help students learn microbiology; she supports them to learn who they are and where they want to be. A former student shared, "I would not be a student at the University of California San Francisco School of Dentistry without Professor Prisic's guidance and help. All the lessons and teachings she provided have impacted other areas of academic studies." Another said, "her respect for original student ideas was inspirational. I had not realized it then, but her method of teaching had eventually developed me into an independent scientist."
Presidential Award for Outstanding Service
The Presidential Award for Outstanding Service honors a UH Mānoa staff member who demonstrates outstanding work performance, service and leadership.
Administrative, Professional, and Technical
Lyn Nakagawa is Head Athletics Trainer with Intercollegiate Athletics. She is  responsible for planning and directing the sports medicine program and a team of certified athletic trainers providing healthcare services to 450+ student-athletes participating in 21 sports, and serving as certified trainer to assigned sports. Nakagawa is recognized for her diligence, commitment and efforts to address COVID-19 issues including reinventing how athletics training services are provided, coordinating 10,000+ tests for UH student-athletes and visiting teams, and creating relationships with test providers resulting in the program's low positivity rate. The administrators of the Big West Conference and Mountain West Conference also recognized her exceptional leadership and instrumental role with committees that provided a framework and guidance to safely conduct sports competitions during this past year and make student athletics possible. Viewed as highly competent, an active listener, an effective problem solver, and a strong communicator, her leadership amongst her colleagues nationally, has strengthened the athletics training operations, which keep our student-athletes, coaches and visiting teams safe during all sports training and competition.
Buildings and Grounds Management
Yosuke Jo is a maintenance and repair supervisor with Buildings and Grounds Management. He manages 4,000 documented trees and palms on the Mānoa campus, refuse collection and recycling, sprinkler systems, landscape renovation, chemical treatment and rodent infestation. The safety of our campus community is his number one priority, including keeping his direct reports safe and the campus trees flourishing for years to come. In recent years, the homeless issue affecting campus has increased.  The situation surrounding the parking structure and the Center for Hawaiian Studies has been impacted by an overgrown forest of Hau trees that grew into an inter-tangled mass of branches that covered approximately 200 feet of stream bank, causing potential dam hazard and flooding. In an effort to save nearly $300,000 to clear the area, Jo rallied his workers to complete the work at a significantly lesser amount, and with appreciation of neighbors, students, faculty and staff who use the buildings, structure and surrounding areas. His genuine pride of our campus and care for our community is apparent to all he has worked with.
Civil Service
Lisa Kam is a secretary with the Department of Natural Resources and Environmental Management in the College of Tropical Agriculture and Human Resources. Her professionalism, integrity and customer service extend beyond her department to the broader university and community. She exudes a warm and welcoming attitude that sets the office tone, and promotes an inviting and supportive environment for students, faculty and staff. Kam is recognized for her Sherman Laboratory building coordinator role. The laboratory houses departmental instructional and meeting rooms, offices and research laboratories, the UH Agricultural and Diagnostic Service Center, and other unit faculty and laboratories. This past year, the laboratory underwent a significant building-wide renovation of the interior HVAC system and the decommissioning and rebuilding of two research and instruction laboratories. Her diligence, leadership and troubleshooting provided a key point of contract to ensure issues were addressed and progress was made. She also stepped up to help with fiscal tasks due to staffing loss, and provided a seamless transition all in the best interest of the university.
Faculty Specialist
Barbara Bruno is a specialist with the Hawaiʻi Institute of Geophysics and Planetology in the School of Ocean and Earth Science and Technology (SOEST). She provides extraordinary service so the scientific learning community in SOEST, the university and beyond have enhanced access to STEM research and classroom opportunities. Bruno's nominators stated "her efforts have changed lives" which advance our students and campus community. Her contributions include numerous publications, cross-campus efforts such as establishing a STEM Summer Bridge program from Kapiʻolani Community College to UH Mānoa, leadership with undergraduate research programs including scholars, and professional development for staff, graduate students and postdocs. She supports herself and other faculty, staff and students through extramural grants, and served as co-PI for EPSCOR and CMORE. Bruno spearheads the effort to bring place-based educational methods to SOEST and across the system. Her vision, empathy and drive have fostered collaborations, mentored students, improved student success, championed diversity and inclusion, and broadened participation among underrepresented students, particularly women and Native Hawaiians, and continues to inspire and train the next generation of scientists.
Dr. Amefil "Amy" Agbayani Faculty Diversity Enhancement Award
The Dr. Amefil "Amy" Agbayani Faculty Diversity Enhancement Award from the University of Hawaiʻi at Mānoa Commission on Inclusion and Diversity recognizes a faculty member who has demonstrated an ongoing commitment to enhancing diversity. The award was established to recognize Agbayani's lifetime commitment to diversity and social justice in Hawaiʻi. For more than 40 years, she served as the founder and director of the Office of Student Equity, Excellence and Diversity.
Jennifer Engels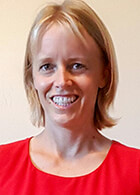 Jennifer (Jenny) Engels is a research affiliate with the Hawaiʻi Institute of Geophysics and Planetology in the School of Ocean and Earth Science and Technology (SOEST). Engels has been a visionary and compassionate leader in diversity, equity and inclusion (DEI) initiatives at UH Mānoa for more than 20 years. She was the driving force behind bringing the Search Advocate Program to UH Mānoa: a hiring framework for DEI that is proving to be transformational for the campus climate. In addition, she is spearheading a new campuswide Hawaiian Place of Learning-focused proposal and DEI strategic plan for the university. She was fundamental to the creation of SOEST's interim director for DEI position and is working to enhance it. As a result of her efforts, SOEST has the highest increase in rates of hiring women and underrepresented minorities of any UH Mānoa college. Engels addresses structural change through intersectional and proactive initiatives that have great impact at the department and college level, and benefit the entire UH Mānoa community.
Peter V. Garrod Distinguished Graduate Mentoring Award
Established by the University of Hawaiʻi at Mānoa Graduate Division in 2005, the Peter V. Garrod Distinguished Graduate Mentoring Award allows graduate students to nominate faculty for excellent mentoring, one of the foundations of outstanding graduate education.
Lois A. Yamauchi
Lois A. Yamauchi is a professor and graduate chair in the Department of Educational Psychology in the College of Education. Hired in 1993, she focuses her research on sociocultural influences on learning and the educational experiences of students, families and teachers from Indigenous and other minority groups. Yamauchi leads the Center for Research on Education, Diversity and Excellence and provides professional development for educators to improve their instruction for culturally diverse learners. She has mentored 21 doctoral and 28 master's students and served on 41 doctoral and master's committees. Yamauchi believes that good mentoring involves listening to students to understand their interests, building communities in which students can participate in research experiences, and supporting students to develop requisite skills in educational psychology. One of her former doctoral students noted that Yamauchi "models and guides mentees by co-publishing, co-presenting and co-teaching with them." This is reflected in her co-authoring 26 of her 36 papers and 33 of her 39 national and international presentations with students or former students.
Outstanding Academic Advisor and Advising Unit of the Year
The Council of Academic Advisors recognizes an individual or unit who, over the past two years, has demonstrated excellence and/or innovation in advising, and/or has made a significant contribution to the advising community.
Pakela Individual Advisor Award
Kēhau Newhouse is the Maui program coordinator/transfer specialist from the UH Mānoa Transfer Coordination Center. Newhouse serves distance education students on Maui and the neighbor islands. She facilitates transfer admissions, academic advising and support for students who plan to continue their education at UH Mānoa. Newhouse strives for equitable access and student services for neighbor island transfer and distance students, going "above and beyond" to meet their needs. She was instrumental in creating the UH Transfer Fair, a semesterly event focused on UH community college students transferring to one of the four-year UH campuses. The event blossomed into UH Transfer Awareness Month and UH Transfer Days. With support from the UH System, resources were provided to all Community College (CC) campuses to hold additional fairs, offer workshops and ultimately facilitate a seamless transfer of many CC students to UH Mānoa.
'Oikela Advising Unit Award
The College of Natural Sciences Student Academic Success Center spent more than six years developing and improving a comprehensive Academic Actions Mandatory Advising (AcAc MA) curriculum with "advising as teaching" as the foundation. The team is led by Interim Director of Advising Stephanie Kraft-Terry and staffed by advisors Max Lee,Solimar Carrasquillo Ho, Reynold Kajiwara and Julia Wente, and peer advisors Pamela Toh, Germaine Lindsay, Euguene Tunac Marquez and Sherylynne Andrada. All advisors in the office engaged in defining student learning outcomes. They employed backwards design to develop a curriculum that ensures that student learning, not institutional research metrics, are the markers of success. The newly-created curriculum takes into account both financial and personnel resource limitations, and leverages technology to employ flipped advising in addition to individual advising appointments. To ensure regular curriculum improvement, yearly assessments of student learning are conducted. Direct and indirect learning evidence suggests regular assessment cycles have improved student learning in the AcAc MA curriculum. Advisors became more engaged in curriculum design, ensuring advisor buy-in for successful implementation and execution, and therefore enhancing student learning opportunities.
Faculty Award for Excellence in Mentoring Undergraduate Research & Creative Work
The Faculty Award for Excellence in Mentoring Undergraduate Research and Creative Work was created in 2020 by the Undergraduate Research Opportunities Program in the Office of the Vice Chancellor for Research at the University of Hawaiʻi at Mānoa. The award recognizes up to two tenured/tenure-track faculty mentors each academic year (one from a STEM discipline, and one from a non-STEM discipline) who have shown dedicated and sustained excellence in faculty mentoring of undergraduate students in their research and creative work endeavors.
Lisette Marie Flanary
Lisette Marie Flanary is an associate professor of digital cinema in the Academy for Creative Media. She teaches courses in screenwriting, producing, critical studies and Indigenous filmmaking. As the director and producer of Lehua Films, Flanary creates documentaries that celebrate a modern renaissance of hula and Hawaiian culture. Her award-winning films, American Aloha: Hula Beyond Hawaiʻi, Nā Kamalei: The Men of Hula,and One Voice have broadcast nationally on public television and shown at film festivals around the world. Her latest film, Tokyo Hula, the final film in a trilogy of hula documentaries exploring the explosive popularity of hula in Japan, premiered at the Hawaiʻi International Film Festival in November 2019. Tokyo Hula was awarded the Best Moana Whārahi Films From the Pacific Award at the Doc Edge Film Festival in New Zealand and was the winner of Best Feature Film at the Made in Hawaiʻi Film Festival in 2021.
Megan Porter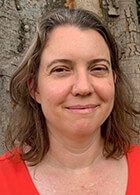 Megan Porter is an associate professor of biology in the School of Life Sciences. Stemming from the quote "Every person takes the limits of their own field of vision for the limits of the world" (adapted from Arthur Schopenhauer), her mentoring philosophy is to challenge students to view the world from different perspectives by studying how different animals see their environment. Porter regards independent research as a critical component of undergraduate education, and often a transformative experience for students. She has fostered research opportunities for undergraduate students in multiple contexts, including individual projects in both the field and the lab and course-based research experiences. She works closely with students at each step of their project to help them develop their individual interests and explore opportunities for the next steps of their career paths.
Student Excellence in Research Award
The Student Excellence in Research Award is given by the Office of the Vice Chancellor for Research in recognition of outstanding scholarly research endeavors by students while they pursue a degree at the doctoral, master's or bachelor's level.
Travis Berger
Travis Berger is a PhD student at the Institute for Astronomy, which he joined in 2015. Berger's research focuses on planets outside our solar system (exoplanets). By combining space-based observations with data obtained using Maunakea telescopes, Berger studies how the demographics of exoplanets depend on the properties of their host stars, which informs theories of planet formation. Berger has led five first-author publications that have received more than 200 citations in peer-reviewed literature, and presented his research at major international conferences. He was named a Future Investigator in NASA Earth and Space Science and Technology in 2019 and received an ARCS Scholar award in 2020. Berger is passionate about teaching and public outreach, and has worked as a mentor in the Maunakea scholars and IfA's Research Experience for Undergraduates programs.
Viet Sang Doan
Viet Sang Doan is currently a master's student in the Department of Mechanical Engineering at the College of Engineering. Doan's research focuses on understanding the dynamics of micro/nanoscale particles in complex microenvironments. Doan uses microscale fabrication, manipulation and imaging tools to control, visualize and analyze the motion of therapeutic nanoparticles and bacterial cells in microscopic settings that are relevant to naturally existing systems, such as human tissues and soil matrix. His research has been published in high-profile journals, in two peer-reviewed papers, one first-authored and one co-authored. Doan believes that his research can potentially contribute to improving the quality of life through various aspects such as cancer treatment and environmental remediation.
Victor Kilonzo
Victor Kilonzo is a senior double majoring in molecular cell biology and psychology. Kilonzo investigates morphological and molecular alterations in the inferior colliculus of postmortem schizophrenia subjects. The inferior colliculus is a critical processing station of the auditory pathway, through which all ascending acoustic information is routed. He was the lead author on the first publication to detail abnormalities of a deficit of gamma-aminobutyric acid-ergic (GABAergic) inhibition, within this key auditory brain structure in schizophrenia. Kilonzo has been selected for a prestigious post-baccalaureate intramural research training award at the National Institutes of Health. His long-term goal is to become a physician-scientist conducting research related to neuropsychiatric disorders.
Student Employee of the Year Award
The Student Employee of the Year Program was created in 1986 by the Mānoa Career Center to recognize and highlight the achievements and contributions of student employees on the UH Mānoa campus.
Kaylie Hayashida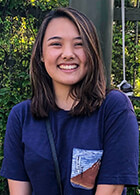 Kaylie Hayashida is a student assistant at the University Scheduler's office in the Office of Undergraduate Education. A Japanese studies major, she has worked with the University Scheduler for more than two years. Due to COVID-19, the office revamped the fall 2020 course schedule twice over the summer, reassigned classrooms for social distancing in fall and in spring 2021, and converted all operations from paper to digital procedures. Hayashida adeptly switched gears to digital tracking forms and helped teach departments how to use the new process. She precisely entered new information into the database to change 3,000 course formats and locations, twice. Without her help, the fall 2020 course schedule would not have been completed in time for the semester to begin. Hayashida is the 2021 Hawaiʻi State Winner of the Western Association of Student Employment Administrators.