Recognizing the dedication and service of UH Mānoa faculty, staff, and students committed to enhancing the University's mission of excellence.
---
---
Aloha! Congratulations to our 2020 University of Hawaiʻi at Mānoa awardees—our colleagues, mentors, friends and family members—for their distinguished achievements. Usually, I am honored to stand with you in person to honor your achievements. But this year is unlike any we have faced together.
Words like "catastrophic" and "devastating" are used frequently when describing the pandemic and its impact. But words like "amazing," "committed," "resilient," "collaborative," "innovative," and "compassionate" are what I use frequently to describe what our faculty, staff and students have accomplished during this crisis.
So it is more appropriate than ever to honor the excellence around us every day.
While I cannot do so in person at the usual UH Mānoa Awards Ceremony, I want to take this opportunity to applaud each and every one of you for your accomplishments—a culmination of many months and years of diligent work and tenacity.
We thank you for your outstanding performance in your respective fields, specialties and jobs. You make a meaningful difference in the educational and research success and reputation of UH Mānoa, the flagship of Hawaiʻi's statewide public higher education system.
Our recipients represent every sector of our diverse institution, and we should all be proud of their accomplishments. To name a few:
Establishing a Center for Excellence in Native Hawaiian Law and creating opportunities for students to participate in community-based learning, service and research.
Providing high cleaning standards in maintaining state-of-the-art facilities.
Combining data from NASA space missions with observations using telescopes in

Hawaiʻi

to further advance the study of stars and exoplanets.
Conducting research that focuses on improving health systems for community members including those in poverty, and those with chronic disability or severe mental illness.
Encouraging students to apply and hone their storytelling skills by creating films and researching new applications for animation that are beyond the scope of the curriculum.
Serving all incoming transfer students, resulting in improved retention and graduation rates for UH Mānoa's transfer-student population.
And there's so much more. I invite you to read and learn about each of our honorees and the remarkable results they are achieving in their areas.
We all have been challenged in this semester like no other, and the future is far from clear. But with your stellar work advancing UH Mānoa every day, I know that we will make it through these trying times stronger and wiser.
Again to our honorees, enjoy your well-deserved recognition. You are what makes UH Mānoa great every single day. And I hope to have the chance to congratulate you in person in the future as well.
E mālama pono,
David Lassner
Regents' Medal for Excellence in Teaching
The Regents' Medal for Excellence in Teaching is awarded by the Board of Regents as tribute to faculty members who exhibit an extraordinary level of subject mastery and scholarship, teaching effectiveness and creativity and personal values that benefit students.
Roger Babcock
Roger Babcock is a professor in Civil and Environmental Engineering in the College of Engineering. Since 1995, he has been teaching at the college with a joint-appointment in the Water Resources Research Center. He is very proud to be called an educator of the next generation of civil engineers. Students appreciate his innovative approaches to teaching, including flipped classroom and design thinking models of instruction. He brings his expertise as a licensed professional engineer to the role of educator through his eight-week review course. Students review his conference presentations to stimulate questions and interest. Babcock's sponsorship of three Native Hawaiian students to attend a national conference focused on introducing future leaders to the field led to all three entering this field of engineering. A recent graduate working in the community writes: "It is not hyperbolic to say that no singular person has as much effect on the future of civil engineering in Hawaiʻi as Dr. Roger Babcock."
Charlotte Frambaugh-Kritzer
Charlotte Frambaugh-Kritzer is a professor of Secondary Education in Reading in the College of Education. She strives to present a balance of theory, research and practice in engaging and innovative ways. Her pedagogy incorporates social justice standards and literacy strategies that include: rich discussion, critical thinking and writing, media, applicable assignments and technology. One of Frambaugh-Kritzer's strengths is the ability to bridge the gap between theory and practice. A student describes her as "a visual designer of learning experiences." A colleague observes her teaching is based on "a foundation of discipline and hard work, a fine-tuned perception of people, a keen intelligence and a passion for teaching." She sets very high expectations for herself as director, teacher and researcher and then leads by example. Graduate students say, "She showed me what respect looks like in education," and "She curates a culture and climate in which everyone learns from one another, all collaborating in the co-creation of new knowledge. The community developed in our ITE401 transformed the student experience."
Alexander Mawyer
Alexander Mawyer is an associate professor in the Center for Pacific Island Studies in the School of Pacific and Asian Studies. He is known by colleagues as a gifted scholar and teacher with an international reputation for academic excellence. His publication, Islands of French Speaking Oceania (2019), brings together academics across French-speaking Pacific to create a student-centered digital text to be downloaded freely anywhere Pacific Island Studies are taught. His work with graduate students in nine departments on campus also extends globally. He is described as having a sweeping, intellectual grasp on biocultural diversity that melds science, history, anthropology and linguistics. At the heart of his teaching is the belief that learning is generated in conversation with others—through essaying, charting, comparing and critiquing—to cultivate a conversational, productive pedagogy in contrast to an adversarial, consumer one. A student writes, "Professor Mawyer's teaching ethos and praxis is radical trust, empathy and transparency. He builds vivacious learning communities, fosters bold and ethical research and empowers students to become self-actualized versions of themselves."
Alison Nugent
Alison Nugent is an associate professor in the Department of Atmospheric Sciences in the School of Ocean and Earth Science and Technology. She teaches a writing-intensive ATMO 305 course in which three elements align—experimental design, computer coding and writing. Students speak of gaining "a sense of community and collaborative learning, instead of competition." Through that spirit, she treats students as her equals, which allows her genuine excitement and interest in atmospheric science to shine through. Nugent uses collaborative coursework as preliminary results for grant proposals, with attribution of all appropriate credit to students for their contributions, an advantage in navigating future professional paths. Another connection to student scholarship is demonstrated through Nugent's creation of an Open Educational Resource textbook for the ATMO 200 course, a free text to students and the public with the draft written by students under her guidance. An undergraduate student rates her course as one of: "the most influential classes I have ever taken in my 4.5 years of study."
Kathleen Sands
Kathleen Sands a professor in American Studies in the College of Arts and Humanities. She is described by a colleague as uniquely gifted in teaching and mentoring students with "her razor-sharp intellect, deep ethical engagements and exceptional generosity of spirit." She teaches theology and its intersections with law, ethics and gender in America. Students experience religion as amenable to scholarly study as other dimensions of culture and that to learn about religions in an academic context requires complex, multi-layer thinking. Through this, students feel enriched and become empowered. Every assignment by Sands is an exercise in "perspective-taking," or as one undergraduate student describes it, like "playing a solitary game of Devil's advocate." A colleague observes that Sands teaching: "furthers the potential for respectful public dialogue and a meaningful public life." It is not unusual for students to feel like "I did not want this class to end… everyone was completely into the subject and discussions [were] like I have never experienced."
Grieg Steward
Grieg Steward is a professor in the Department of Oceanography in the School of Ocean and Earth Science and Technology. He considers it a joy and privilege to be able to make a living as a perpetual student. His undergraduate course, Science of the Sea, requires access to local and global communities and engages with interests outside of the sciences. Aware of inspiration that marine life provides to artists, architects and musicians, Steward imbues his teaching with "unexpected confluences among viruses, the perception of beauty and the growth and collapse of an economic bubble." A graduate student writes, "He brings an undeniably high affect and thus sets the tone for his lectures." His pedagogical approach towards the presentation of material is a form of theatre that incorporates audio, static and moving images, interactive graphs, live demonstrations and his moving through the lecture hall bridging distances between himself and students. An undergraduate student writes, "When I look back on my college years and my professors, I will remember him."
Regents' Medal for Excellence in Research
The Regents' Medal for Excellence in Research is awarded by the University of Hawaiʻi Board of Regents in recognition of scholarly contributions that expand the boundaries of knowledge and enrich the lives of students and the community.
Daniel Huber
Daniel Huber is an assistant astronomer at the University of Hawaiʻi at Mānoa Institute for Astronomy. He joined UH in 2017, following positions at NASA's Ames Research Center in Silicon Valley and the University of Sydney, Australia. Huber is a world leader in the study of stars and exoplanets, combining data from NASA space missions with observations using ground-based telescopes in Hawaiʻi. He has been an author on more than 200 peer-reviewed publications and was included in the 2019 Highly Cited Researchers list by Web of Science, which recognizes the world's most influential researchers with multiple highly-cited papers that rank in the top 1 percent by citations. Since arriving at UH Mānoa, Huber has been the principal investigator on 12 extramural grants totaling more than $1.6 million of research funding, and has advised two postdoctoral researchers as well as 10 graduate students. In 2019, Huber was the recipient of the prestigious Sloan Research Fellowship.
Qing Li
Qing Li is a professor in the Department of Molecular Biosciences and Bioengineering in the College of Tropical Agriculture and Human Resources. Li's research addresses fundamental issues in agricultural chemistry and has greatly advanced understanding of the field. He has maintained an active research program that has been supported with $19 million in extramural grants in the past 24 years. His work has resulted in about 400 peer-reviewed publications and 20 patent applications and technology disclosures. As of February 2020, Li is ranked as the 4th most prolific author in the UH system in SciFinder. His scholarship has been recognized by numerous awards such as American Chemical Society AGRO Award for Innovation in Chemistry of Agriculture and AGRO International Award for Research in Agrochemicals. He has served as associate editor for the Journal of Agricultural and Food Chemistry since 2015. He has mentored many students, fellows, junior researchers and visiting scientists who serve in leadership positions around the world.
Mari Yoshihara
Mari Yoshihara is professor and chair in the Department of American Studies in the College of Arts and Humanities. She is a scholar and writer specializing in U.S. cultural history, U.S.-Asia relations, Asian American studies, women's/gender/sexuality studies, literary and cultural studies. Much of her scholarship examines the politics of cultural encounters between the United States and East Asia, especially how the relations of race, gender, sexuality and class shape the dynamics of those encounters and how they are expressed through cultural practices and representations. She is the author of Embracing the East: White Women and American Orientalism, Musicians from a Different Shore: Asians and Asian Americans in Classical Music and Dearest Lenny: Letters from Japan and the Making of the World Maestro. Yoshihara played a leading role in bringing American Quarterly, the journal of the American Studies Association, to UH Mānoa and has served as editor since 2014.
Frances Davis Award for Excellence in Undergraduate Teaching
The Frances Davis Award for Excellence in Undergraduate Teaching for a faculty and a graduate assistant recognizes dedication and demonstrated excellence as teachers of undergraduate students. It was established as a memorial to the late Frances Davis, who taught mathematics at Leeward Community College and the University of Hawaiʻi at Mānoa for 19 years.
Jason Higa
Jason Higa is an assistant professor in the Department of Anatomy, Biochemistry and Physiology at the John A. Burns School of Medicine. He teaches in a field involving volumes of information taught to hundreds of students in mass lectures, with potential long-term life-or-death implications. He augments the lecture and magnifies prerequisite knowledge through strategies of analogy, mnemonics, physical engagement and incorporation of local and Hawaiian terminology. To complement cross-sectional images of a text, Higa organizes students to rise from their seats and collectively represent elements of a process, such as the heart muscle cells pumping blood through various stages of normal to abnormal. Animating these stages of life-to-death simultaneously enlivens intellectual growth and memorializes the solemn responsibilities of future healthcare professionals. A student reflects, "I wonder if I would be where I am today, the same person I've become, had it not been for Dr. Jason Higa."
Frances Davis Award for Excellence in Undergraduate Teaching for Graduate Teaching Assistants
Sabrina Diemert
Sabrina Diemert is a civil and environmental engineering (CEE) PhD student set to graduate in summer 2020. She taught laboratory-based courses in CEE and microbiology. Diemert's passionate teaching approach involves the use of active learning techniques, flipped lectures (recorded and posted online with in-class time for example problems and questions), a deep enthusiasm for core concepts ("the science behind the science") and connections to real-life applications and research. She sought additional training by participating in a workshop series on Hawaiian engineering education, and incorporated considerations of local learning responses into her lesson plans. Diemert believes that effective teaching extends beyond the classroom into public science communication. She has been heavily involved in community outreach through Graduate Women in Science Hawaiʻi, and was the 2019 winner of the UH Graduate Division Three Minute Thesis competition.
Robert W. Clopton Award for Distinguished Community Service
The Robert W. Clopton Award for Distinguished Community Service recognizes a UH Mānoa faculty member for playing a socially significant role by applying intellectual leadership and academic expertise to the improvement of the community. The award was established as a memorial to longtime UH Mānoa College of Education Professor Robert Clopton and first awarded in 1977.
Melody Kapilialoha MacKenzie
Melody Kapilialoha MacKenzie is a professor in the William S. Richardson School of Law. Nominations by colleagues, and current and former students make evident that she has set a distinguished standard and defined a path towards an integration of academics and local community. MacKenzie leaves a legacy to Hawaiʻi as a creative force and expert in the distinct area of Native Hawaiian law by illuminating culture as a living embodiment of how Maoli culture provides the very foundation for Hawaiʻi law. Through her establishment of Ka Huli Ao Center for Excellence in Native Hawaiian Law, innumerable opportunities have been created for students to participate in community-based learning, service and research. A former student writes, "Soft-spoken and humble, she paved the way for myself and my colleagues to continue our work in the name of lāhui." A colleague writes that MacKenzie is "a pono life personified, whose footsteps are guiding and inspiring new generations of attorneys, educators, elected officials, jurists and community leaders to serve and seek justice always and for everyone."
Presidential Citation for Meritorious Teaching
The Presidential Citation for Meritorious Teaching recognizes Mānoa faculty members who have made significant contributions to teaching and student learning.
Katie Drager
Katie Drager is an associate professor in the Department of Linguistics in the College of Languages, Linguistics & Literature. She teaches in the area of sociolinguistics and phonetics, uniquely combining experimental and ethnographic methods. Her pedagogy is grounded in a constructivist method of guiding students towards command of their own learning and a research-based method guiding students to engage directly with linguistic theory through problem-solving and research. In her Pidgin and Creole languages course, native speaking students connect their own histories to scholarly learning, engendering critical and independent learning. Drager's colleagues recognize her dedication to the department and that her inspired teaching influences many to shift to sociophonetics, followed by a subsequent expanding workload to serve increasing numbers of students. A student writes, "When Professor Drager responds to your work, you feel the unique kind of confidence that comes from having a strong, successful, sincere source of support," leading to outcomes for undergraduate students whose work is published or who become co-authors on papers at prestigious conference presentations.
Anna Feuerstein
Anna Feuerstein is an associate professor in the Department of English in the College of Languages, Linguistics & Literature. She provides students with a deep awareness of literary traditions while analyzing cultural productions—novels, films, paintings—within their social, historical and political contexts. Since arriving at UH Mānoa in 2014, she has expanded her repertoire to texts representative of the Pacific. She provides historical contexts, grounds the discussions in the texts while using a wide range of creative multimedia. Feuerstein demonstrates her investment in each student's growth, generating a sense of self-worth and pride, encouraging them to sustain their learning. A colleague speaks of the department entrusting Feuerstein to mentor first-year graduate teaching assistants to prepare them to teach their own introductory literature courses. Rather than seeking to master the art of teaching, Feuerstein strives to master the ability to continually develop her teaching, to develop courses that are more creative, relevant and reflective of developments in the fields of literary and cultural studies.
Howard Shen
Howard Shen is an instructor in the Department of Microbiology in the College of Natural Sciences. Shen's students relish his spirited use of analogies, props, personal anecdotes and jokes. They demonstrate great ease and comfort asking questions, approaching him as a mentor or coach in their learning. They write that, "Dr. Shen makes going to lecture something I look forward to." A teaching intern observes his practice of learning student names each time they ask a question or they interact, thereafter using their names and "giving each student their own individuality and importance." His teaching philosophy involves working as much with department colleagues, college administrators, KOKUA Program and academic advisors to create and strengthen cohesive curriculum, bridges between programs and pathways for student success. An advisor writes, "Not all faculty are willing to assume such responsibilities and even fewer enhance their knowledge." A student writes that "Dr. Shen's dedication to science spreads across the classroom, and his lessons remain learned for life."
Karla Sierralta
Karla Sierralta is an assistant professor in the School of Architecture. She arrived at Mānoa in 2016 to teach design studios in "a Hawaiian Place of Learning, offering me opportunities to reflect on my pedagogy and practice, to become a student again." For three years she continued studies at Halau Hula O Maiki, learning about "where I live that ultimately informs my teaching and my work." A teaching assistant writes, "she embodies aʻo aku, aʻo mai," in which teacher and students engage in reciprocal teaching-learning. Sierralta approaches each course as she would a new design project through research, analysis, synthesis and testing unfolding in multiple iterations and adjustments for each new grouping of students. Her studio teaching frequently expands spectacularly into community projects, providing her students opportunities to contribute to their communities. A senior colleague taking a long view of the teaching enterprise writes "Few teachers with whom I've worked exhibit more insight into this highly critical, inaugural moment in the noble arc of professional education than Professor Karla Sierralta."
Noenoe Silva
Noenoe Silva is a professor in the Department of Political Science in the College of Social Sciences. Her teaching is centered in Kanaka intellectual history and thought. Silva offers courses in Hawaiian language, and contributes greatly to the university's mission as an indigenous-serving institution. A colleague provides examples of her mentorship of graduate students in applying for and presenting papers at conferences, and co-leading writing retreats with PhD students during the proposal writing. A profound outcome of her mentorship has been in directing and participating in dissertations written entirely in ʻōlelo Hawaiʻi. A student refers to her as kumu, "a source, a foundation, a teacher and a mentor, as well as the trunk of a tree, whose lālā, or branches, can reach new heights because of the foundation and support they provide as the trunk. The branches stemming from her are plentiful, and they continue to grow and sprout new branches of their own, exemplifying the sharing and spreading of knowledge that lies at the heart of this university."
Amber Wright
Amber Wright is an assistant professor in the Department of Biology in the College of Natural Sciences. With a focus on ecology, she is committed to building quantitative literacy and fostering student engagement by creating relevance to real-world situations and to life in the Hawaiian Islands. She transformed her undergraduate teaching, increased student engagement, decreased the density of lecture material by emphasizing key skills and concepts, and connected material to student interests. A colleague observes, "Under Dr. Wright's lead, a cross-listed undergraduate course incorporating both animal and plant ecology concepts has increased from 20 to over 100 students per semester. Reflecting current thinking on organizing biology conceptually rather than taxonomically, Wright reached out to other departments to merge courses, reducing redundancy and increasing course availability. For graduate students, she focuses on the role of theory and models, hands-on computer programming, discussing primary literature and collaborating in small group discussions. A graduate student writes, "I cannot overstate how much I have taken away from this course, it was incredibly eye-opening and empowering."
Presidential Award for Outstanding Service
The Presidential Award for Outstanding Service honors a UH Mānoa staff member who demonstrates outstanding work performance, service and leadership.
Angel Asuncion (Civil Service)
Angel Asuncion is a janitor supervisor with Building Services. She has served the university for 30 years and currently leads a janitorial team of more than 50, advising her managers on projects based on her long-standing expertise. Her assigned area includes Ewa campus, high-use, historical and administration buildings such as University High School, Sinclair, QLC, Bachman and Hawaiʻi Hall. Described as a "model of consistency," Asuncion's love and dedication to UH Mānoa is "second to none." She believes in a high standard of cleanliness and customer service and instills that same approach in her team. From conducting regular inspections and team trainings, representing building services and leading by example, her genuine spirit is reflected in all that she does. She advocates for her team, and has been open to new ideas, like the successful use of ozonated water at Edmonson's Fish Lab, to improve the working environment and safety for her team and tenants. Asuncion's intelligence, genuine heart and unwavering dedication are highly recognized by her administrators, her team and those she impacts through her leadership.
James Potemra (Faculty Specialist)
James Potemra is a specialist with the Hawaiʻi Institute of Geophysics and Planetology in the School of Ocean and Earth Science and Technology. He has been instrumental in developing programs and addressing key challenges in physical oceanography data application at national and international levels. Potemra's work includes contributing to the development and management of the Asia-Pacific Data Research Center; providing environmental data to the worldwide community, which was recognized by the Japan Agency for Marine-Earth Science and Technology; and assisting Japanese leadership with post-2011 East Japan tsunami data modeling. He helped build the data management system for the Pacific Islands Ocean Observing System (PacIOOS) from scratch into an application used for optimum cargo ship routing and ocean rescue; acted as co-principal investigator with colleagues on the Hawaiʻi Ocean Time Series and the Aloha Cabled Observatory program; and maintained the Pacific El Niño/Southern Oscillation (ENSO) Applications Center in an advisory role to NOAA. Potemra continues to be a leader in his discipline and actively engaged in campus and community initiatives through the faculty senate executive committee and other advisory roles.
Loree Shiroma (BGM)
Loree Shiroma is a janitor on the Buildings and Grounds Management (BGM) team. She is assigned to the third floor of Webster and Spalding Halls. Shiroma is described as conscientious, detail oriented and efficient, and "every nook and cranny" receives her thorough attention and perseverance. Her high cleaning standards are described like "pristine hospital conditions," and she anticipates problems and initiates remedies before users notice. Nothing stops her from ensuring her assigned areas are ready to serve students and employees, including working diligently for months through ant infestations to avoid impacting student education or infesting multi-million dollar equipment. Shiroma takes pride in the university and the work she provides, with the same high level of proactiveness and excellence whether it's maintaining a state-of-the-art simulation center or the older graduate division offices. She displays the utmost positive attitude, with a warm smile and helpful hand. Shiroma is a "shining light" to those on her team with her dedication, passion, work ethic and kindness. She garners respect and admiration from those she serves.
William Unruh (APT)
William "Bill" Unruh is the physical plant manager for UH Mānoa's Institute for Astronomy (IfA). He manages the day-to-day operations of the facilities and oversees the implementation of initiatives with care and effective communication. He also serves as the safety officer, addressing audits and concerns to make IfA Mānoa an exemplary facility. Unruh is described as providing "unparalleled service, demonstrating tireless efforts to IfA's safety and comfort." He serves IfA and the external community with passion, dedication and a high level of customer service, ensuring facilities are in top working condition to support activities including nighttime remote observation and community events. His meticulous attention to facility details support IfA's expertise, professionalism, innovation and overall success in service to the campus and the state. With the respect and admiration of the institution and its employees, Unruh's pride in the institute coupled with his tireless dedication to support the teaching and research mission is commendable.
Dr. Amefil "Amy" Agbayani Faculty Diversity Enhancement Award
The Dr. Amefil "Amy" Agbayani Faculty Diversity Enhancement Award from the University of Hawaiʻi at Mānoa Commission on Inclusion and Diversity recognizes a faculty member who has demonstrated an ongoing commitment to enhancing diversity. The award was established to recognize Agbayani's lifetime commitment to diversity and social justice in Hawaiʻi. For more than 40 years, she served as the founder and director of the Office of Student Equity, Excellence and Diversity.
Deborah Zuercher
Deborah Zuercher is professor and director of the PACMED program in curriculum studies in the College of Education. The program is an online, 2-year, cohorted track for Pacific Island educators. Zuercher is a STEM educator and mentor who is also a champion of social justice and diversity across the Pacific, She works tirelessly to address health inequities, climate change and the empowerment of local leaders in Micronesia and Polynesia. Zuercher has established effective place-based pedagogies that honor local traditions and has made significant achievements in recruiting, retaining and graduating diverse groups of students from Hawaiʻi, American Samoa and the Republic of Marshall Islands. Many of these Pacific graduates have emerged as leaders and have been hired as teaching assistants, graduate assistants, lecturers and instructors with the program. A student said, "Dr. Zuercher pours her heart and soul into paving the way for her students to realize their strengths and full potential. She provided opportunities for all her students to grow and be empowered, so that we would become what she affectionately calls ʻAgents of Change'."
Peter V. Garrod Distinguished Graduate Mentoring Award
Established by the University of Hawaiʻi at Mānoa Graduate Division in 2005, the Peter V. Garrod Distinguished Graduate Mentoring Award allows graduate students to nominate faculty for excellent mentoring, one of the foundations of outstanding graduate education.
Jairus Victor Grove
Jairus Victor Grove is the director of the Hawaiʻi Research Center for Futures Studies and graduate chair of the political science department. He has been at UH Mānoa since 2011. Grove teaches courses on political futures, geopolitics and political theory. His book, Savage Ecology: War and Geopolitics at the End of the World, was published in 2019. He is also an associate editor for the journal Security Dialogue. His research focuses on the role of war and technology in the contemporary world. In addition to his academic research, he also collaborates internationally on public policy and security foresight throughout Asia, Europe and North America. He is a three time co-recipient of the Carnegie Endowment of Peace Innovation Grant and the 2018 recipient of the International Studies Association Catalyst Grant. Grove has mentored 15 PhD students and 14 MA students. He is currently serving on 24 dissertation committees, of which he is serving as chair on 14. Grove also serves as the university representative for dissertations in the departments of educational foundations, philosophy and sociology.
Outstanding Academic Advisor and Advising Unit of the Year
The Council of Academic Advisors recognizes an individual or unit who, over the past two years, has demonstrated excellence and/or innovation in advising, and/or has made a significant contribution to the advising community.
Pakela Individual Advisor Award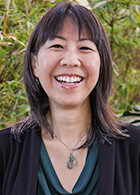 Megumi Makino-Kanehiro is the director of the Mānoa Advising Center, the first advising stop for students searching for a major that best fits their interests and goals. Makino-Kanehiro dedicates time each week to meet with students and advisors to provide support and guidance. She mentors advisors across campus through UH Mānoa's GUIDE Program, providing tenure and promotion workshops, collaborating on conference proposals and serving on committees and task forces. Her passion is equity and diversity, which is evident in both her advising philosophy and in her work and service as an advisor. In her various roles such as co-chair of the Equity, Diversity and Inclusion Committee for Excellence in Academic Advising and serving on the National Academic Advising Association (NACADA) Task Force on Race, Ethnicity and Inclusion, Makino-Kanehiro is continually growing, learning and sharing her knowledge and experience with fellow advisors. She was elected as the incoming vice president of the NACADA in 2020–2021. As one colleague said, "Our advising community is fortunate to have Megumi's great leadership. Her care, compassion and commitment for advisors is amazing."
'Oikela

Advising Unit Award
The Mānoa Transfer Coordination Center (MTCC) was established in 2014 to implement and manage the Kaʻieʻie Degree Pathway Program, a dual-admission, dual-enrollment partnership between the UH Community Colleges and UH Mānoa to assist with transfer of students between the campuses. From its beginning as a partnership between Kapiʻolani CC and UH Mānoa, the Kaʻieʻie Program has expanded to encompass all UH Community Colleges, due in large part to the efforts of the MTCC team. Led by Chair Jennifer Brown and staffed by Transfer Specialists Melissa Jones, Kehau Newhouse, Lauren Prepose-Forsen, Shauna Sibonga and Amy McKee. MTCC has worked tirelessly to improve and expand both the Kaʻieʻie Program and the reach of MTCC services. As a result, the support of the transfer specialists — as transfer guides, advisors and advocates — has expanded to serve all incoming transfer students, both from within the UH System and from other institutions, resulting in improved retention and graduation rates for UH Mānoa's transfer-student population.
Faculty Award for Excellence in Mentoring Undergraduate Research & Creative Work
The Faculty Award for Excellence in Mentoring Undergraduate Research and Creative Work was created in 2020 by the Undergraduate Research Opportunities Program in the Office of the Vice Chancellor for Research at the University of Hawaiʻi at Mānoa. The award recognizes up to two tenured/tenure-track faculty mentors each academic year (one from a STEM discipline, and one from a non-STEM discipline) who have shown dedicated and sustained excellence in faculty mentoring of undergraduate students in their research and creative work endeavors.
Brittany Biggs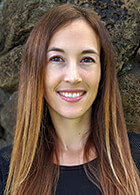 Brittany Biggs is an assistant professor of animation with the Academy for Creative Media. Her feature film credits include Trolls, Kung Fu Panda 2, Kung Fu Panda 3 and Turbo. Biggs creates hands-on, practical mentorship projects that help students excel in their academic studies and prepare them for future careers. Her students apply and hone their animation, filmmaking and storytelling skills by creating films and/or researching new applications for animation that are beyond the scope of the curriculum. Their resulting work is critical material for demo reels, portfolios and resumes for graduate school admission and/or professional work. Student works have been recognized in local media, film festivals, the prestigious SIGGRAPH conference and have been used to support research within the UH community. Biggs served as an advisor to nearly 90 students in the animation track. A student shared, "The structure and quality of my work has greatly improved since she began teaching me, and I feel like I am better prepared to join the animation workforce after graduation."
Pratibha Nerurkar
Pratibha Nerurkar is an associate professor in the Department of Molecular Biosciences and Bioengineering in the College of Tropical Agriculture and Human Resources. She regards undergraduate research and mentoring as a "high impact practice in higher education" and considers it as one of the most rewarding activities of her teaching career. Her teaching philosophy is inspired by Dr. Martin Luther King, Jr. "Intelligence plus character, that is the goal of true education." She recognizes that her role as a mentor is not only to transfer knowledge, but to empower students to think logically, scientifically and critically. The foundation of her mentoring principles are built upon trust, mutual respect, compassion and above all her love for teaching. Nerurkar believes that being a perpetual student of life, enables her to become a better teacher. A student wrote, "I desire to be a physician who is able to balance scientific knowledge and emotionality in a way where patients feel heard, just as Dr. Nerurkar is able to do with her students."
Student Excellence in Research Award
The Student Excellence in Research Award is awarded by the Office of the Vice Chancellor for Research in recognition of outstanding scholarly research endeavors by students while they pursue a degree at the doctoral, master's or bachelor's level.
Zhoujian Zhang
Zhoujian (ZJ) Zhang joined the Institute for Astronomy as a PhD student in 2015. Zhang's research focuses on gas-giant planets and brown dwarfs (higher-mass versions of planets) that are orbiting other stars. Using telescopes on Maunakea and Haleakalā, he has conducted the largest search to date of these objects. Zhang is using his discoveries to characterize their atmospheres and demographics in order to understand the wide diversity of exoplanetary systems. His work has spawned several scientific publications and been recognized with university and national-level prizes. Zhang is passionate about outreach and sharing his knowledge of the wonders of the universe with the public.
Joy Agner
Joy Agner is a doctoral student in psychology in the Community and Cultural and Developmental program. Agner's research focuses on improving health systems and policy for marginalized populations, such as people in poverty, and those with chronic disability or severe mental illness. For her dissertation, she is using a community-based participatory approach to identify aspects of mental health clubhouses that promote well-being. She has published six peer-reviewed articles, four of which feature her as first author. Agner has received numerous research and merit awards, including the UH Mānoa Board of Regents Graduate Student Merit Award for Mentorship, the Ford Family Foundation Scholarship and is a Fulbright Scholar. Her long-term goal is to establish a rigorous community-engaged research trajectory in pursuit of more efficient, equitable health systems.
Marley Aiu
Marley Aiu (they/them or she/her) is a junior majoring in English and dance with honors. Aiu is a literary editor, researcher, choreographer, dancer, poet, educator and advocate. Aiu's research aims to understand how embodiment, dance and queerness (LGBTQIA+ identities) inform one another, exposing the ways in which singularly and collectively the body is part of movements (both political and in dance) that change our world. Aiu uses their creative research (choreography, creative writing, film and photography) to both educate and empower local and global communities, as well as question past, present and future ideologies, systems and platforms. Aiu has received recognition for their work as the recipient of the Edward A. Langhans award for Excellence in Western Theater and Dance History, Literature and Theory in 2019, among others.
Student Employee of the Year Award
The Student Employee of the Year Program was created in 1986 by the Mānoa Career Center to recognize and highlight the achievements and contributions of student employees on the UH Mānoa campus.
Lindsey Bull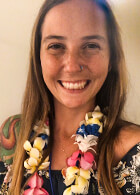 Lindsey Bull is a student assistant at the Joint Institute for Marine and Atmospheric Research in the School of Ocean and Earth Science and Technology. A senior majoring in marine biology, Bull has worked with the marine turtle biology and assessment program for more than three years and has conducted research examining the effects of sea turtle nest incubation temperature upon hatching success. She gained new data analysis and modeling skills to complement her data collection in the field. Bull received a People's Choice Award and Best Oral Presentation award at two different conferences at which she has presented. She has made an impact with her enthusiasm for sea turtle conservation and by working seamlessly as part of a team. Bull is a recipient of the 2020 Hawaiʻi State Winner of the Western Association of Student Employment Administrators.