The Early Years
The University of Hawaiʻi at Mānoa was founded in 1907 under the Morrill Act as a land-grant college of agriculture and mechanic arts. Regular classes began the following year with President John Gilmore at the helm and five freshmen, five preparatory students, and 13 faculty in temporary quarters near Honolulu's Thomas Square. In 1912 the newly-named College of Hawaiʻi relocated to Mānoa Valley and the first permanent building—known today as Hawaiʻi Hall—was erected amid pig farms and kiawe groves.
Growth and Expansion
The college became the University of Hawaiʻi in 1920 with the addition of a College of Arts and Sciences. The Territorial Normal and Training School (now the College of Education) joined the University in 1931.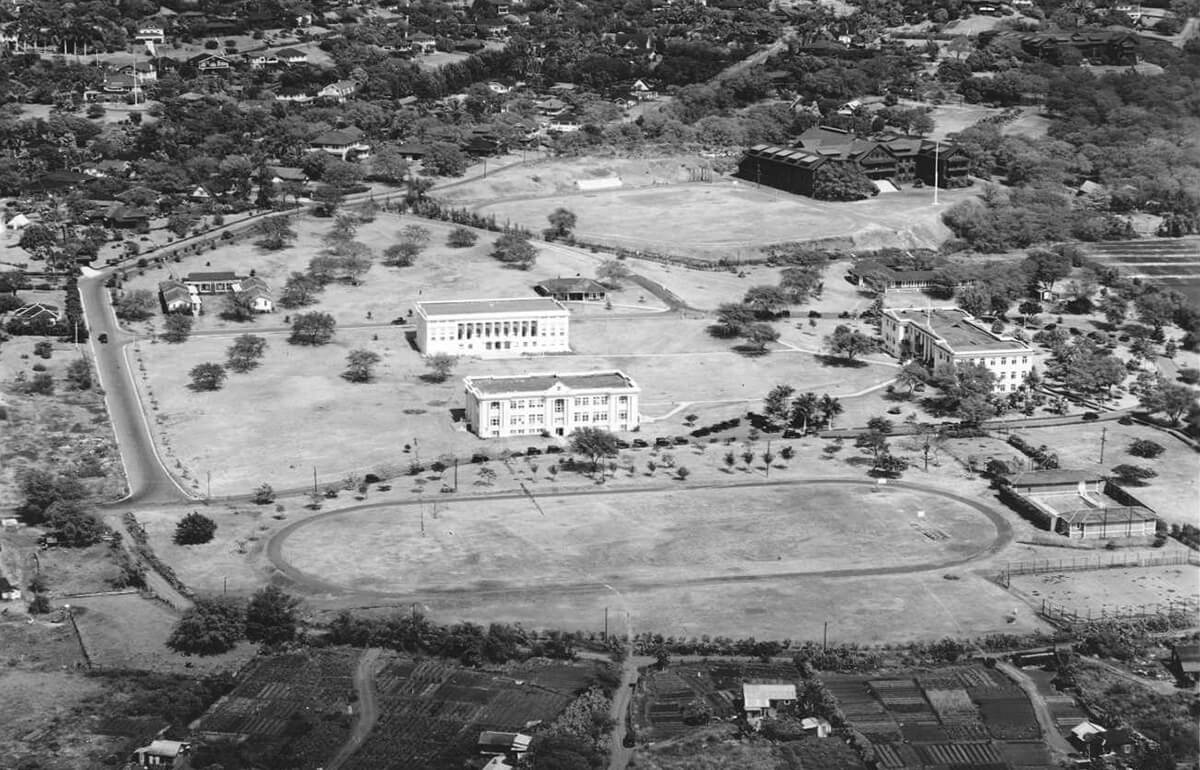 The university continued to grow throughout the 1930s. The Oriental Institute, forerunner of the East-West Center, was founded in 1935, bolstering the university's mounting prominence in Asia-Pacific studies. In 1939, the first student union building was erected through financial contributions from the community.
World War II
World War II came to Hawaiʻi with the attack on Pearl Harbor in December 1941. Classes were suspended for two months and gas masks became part of commencement apparel. In 1942, students of Japanese ancestry formed the Varsity Victory Volunteers and many later joined the 442nd Regiment and 100th Infantry Battalion.
UH Mānoa Emerges
The university continued to expand throughout the second half of the century and in 1972 was renamed the University of Hawaiʻi at Mānoa to distinguish it from the other campuses in the growing University of Hawaiʻi System.
UH Mānoa's School of Law opened in temporary buildings in 1973. The Center for Hawaiian Studies was established in 1977 followed by the School of Architecture in 1980. The School of Ocean and Earth Sciences and Technology was founded eight years later and in 2005 the John A. Burns School of Medicine moved to its present location in Honolulu's Kakaʻako district.
Into the 21st Century
In 2019, the UH Board of Regents approved the creation of a new position, the UH Mānoa provost, to replace the UH Mānoa chancellor. The provost serves as a full chief academic officer for the campus and deputy to the UH System president in leading UH Mānoa as the flagship campus of the flourishing 10-campus UH System.
Today UH Mānoa is a research university of international standing offering a comprehensive array of undergraduate, graduate, and professional degrees.