Each year, the Chancellor recognizes the leadership and service of UH Mānoa faculty, staff, and students committed to enhancing the University's mission of excellence.
The 2017 Awards ceremony was held on Monday, May 1 at 4:00 p.m. in the Orvis Auditorium.
You can see photos of the ceremony on our Flickr page.
UH Mānoa faculty and staff have also received other awards for their achievements. See the Helpful Links (top right of this page) for previous recipients.
Board of Regents' Medal for Excellence in Teaching
The Regents' Medal for Excellence in Teaching is awarded by the Board of Regents as tribute to faculty members who exhibit an extraordinary level of subject mastery and scholarship, teaching effectiveness and creativity and personal values that benefit students.
Albert S. Kim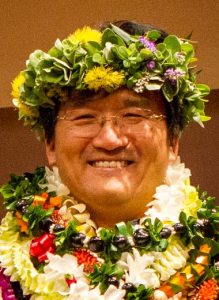 Albert S. Kim is an associate professor in the civil and environmental engineering department in the College of Engineering. He is described by a student as a "once-in-a-generation mentor, professor and teacher, inspiring the next generation of engineers and leaders" and as "instrumental in unlocking my potential and finding my calling." He makes the complex field of engineering accessible and fun, creating a sense of community and belonging in the classroom. He attends, with greater focus, to students who are initially lagging, with a goal to produce academically mature students who are able to face and tackle complex practical problems with technological honesty, sincerity and creativity. Kim has developed his own text for one course, and his blog and ample external resources are tremendous additions to this program.
Kenneth L. Lawson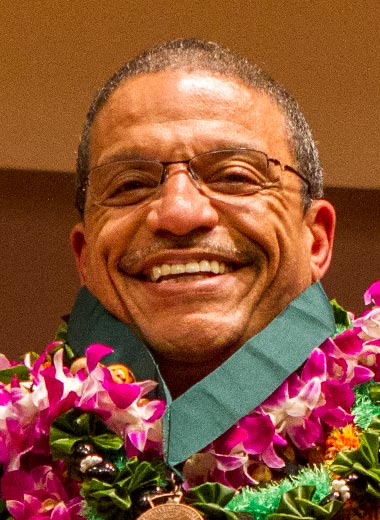 Kenneth Lawson is an associate faculty specialist and co-director of the Hawaiʻi Innocence Project (HIP) at the William S. Richardson School of Law. He brings what his colleagues describe as "extraordinary gifts" and "strength of character" directly into the classroom, and in so doing is "truly inspirational to his colleagues as well as his students." Even more impressive is the passionate engagement of his students with praise that resonates for all his diverse, substantial teaching load of courses. He is also credited for his innovations that have transformed HIP to a place where law students learn to conduct intake, investigate claims of innocence, evaluate cases and advocate on behalf of inmates with strong factual evidence of actual innocence. He encourages students to regard HIP as a teaching law firm with exceptionally high standards.
Winona K. Lee
Winona K. Lee is an assistant professor in the Department of Native Hawaiian Health at the John A. Burns School of Medicine. She envisions herself as hale ipukukui or lighthouse, in direct lineage from her great-grandfather 70 years ago, the lighthouse keeper at Kalaupapa. Teaching in the ʻImi Hoʻōla program with students from disadvantaged backgrounds, she applies adaptive learning practices, tailoring instruction and curricula to meet students' individual learning styles based on each student's foundational knowledge, strengths, individual learning styles, motivations and challenges. This innovative and progressive medical professional curriculum has been a part of the ʻImi Hoʻōla Program curriculum and evaluation since 2007. Lee's mission is to teach complex biological concepts and processes to students whose weakest areas prior to ʻImi Hoʻōla were the sciences. Every year Lee provides her students an exceptional service-learning project by traveling to Kalaupapa, a once-in-a-lifetime opportunity that impacts deeply on their future professional work.
Michelle A. Manes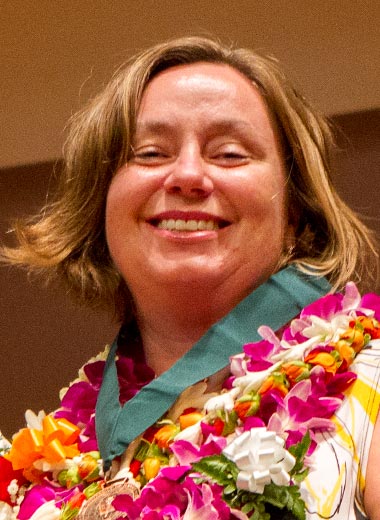 Associate Professor Michelle Manes in the Department of Mathematics believes the teaching of mathematics can develop persistence and determination with the problem-solving process through collaboration, partial progress, incremental success and revisions. She feels strongly that her students gain confidence in their mathematical abilities through animated, engaging problems rather than skill drills. Manes inspires and assists graduate students who describe her as having an immense impact on their careers as they journey on their paths toward becoming educators. She extends her teaching beyond the campus through collaboration with another Mānoa colleague on projects and grants to support K-12 mathematics education, including the development of an electronic mathematics textbook. These efforts have created a trajectory for high school graduates who are better prepared for their academic journeys at UH Mānoa.
Tara B. O'Neill
Associate Professor Tara O'Neill has a teaching philosophy rooted in equity and social justice that has become fortified during her eight years at UH Mānoa. She has worked with pre-service teachers and their Department of Education teaching mentors, in educational partnerships with the Polynesian Voyaging Society and ʻOhana Waʻa, and has represented the College of Education as a crew member on Leg 9 of Hōkūleʻa's Worldwide Voyage. These impacts on her commitment to education in teaching STEM-based courses have resulted in her development of a new educational construct called STEMS2, the first four letters indicating science, technology, engineering and mathematics to which she has added social studies and sense of place. She credits the Hawaiian reciprocal process of aʻo, that is, to teach and to learn, as guiding her and her students through "self-reflection and supporting productive and critical science argumentation, while working together through moments of cognitive dissonance and conflict that emerge from democratic exchange." Her approaches inspire students and colleagues alike.
Scott C. Sinnett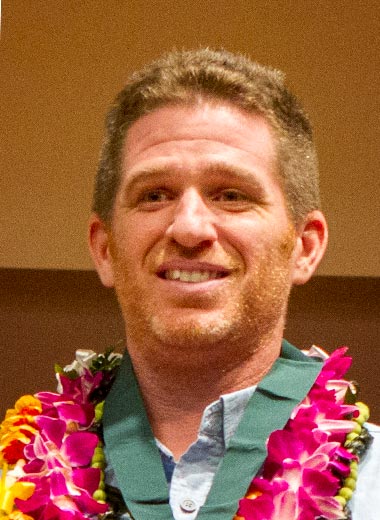 Scott Sinnett is an associate professor in the Department of Psychology who is known for his rigor in teaching some of the more difficult courses in cognitive science and memory. Described as being easy to approach and supportive of student learning, he is known for delivering exemplary lectures, expanding his pedagogical methods to visual demonstrations that are mindful and diverse, and utilizing current social trends, humor and intriguing research to encourage class participation, even in the largest of classes. He elevates energy levels and fosters highly collaborative learning environments. He also provides an extensive network of support and guidance on how to develop class projects and activities, effectively run a classroom, deal with unexpected obstacles and develop a course of one's own from the ground up.
Board of Regents' Medal for Excellence in Research
The Regents' Medal for Excellence in Research is awarded by the Board of Regents in recognition of scholarly contributions that expand the boundaries of knowledge and enrich the lives of students and the community.
Christoph J. Baranec
Christoph Baranec is an assistant astronomer at the University of Hawaiʻi Institute for Astronomy. He designs, builds and uses adaptive optics systems—instruments that overcome the blurring effects of the Earth's atmosphere. Baranec won an Alfred P. Sloan Research Fellowship in 2014 for leading the development of the world's first automated adaptive optic system, Robo-AO. Observations from this system appear in 30 scientific publications, with many more in preparation. These include several of the largest number count adaptive optics surveys ever performed: all of the several thousands of Kepler candidate exoplanet hosts and all known stars within 80 light years observable from the northern hemisphere. Baranec currently leads the effort to deploy an upgraded version of Robo-AO to the University of Hawaiʻi 2.2-m telescope, which will achieve resolutions approaching that of the Hubble Space Telescope.
James Dean Brown
James Dean "JD" Brown has made outstanding contributions to the field of applied linguistics in the areas of language testing, language curriculum design, language research methods and teaching of connected speech. Since joining the Department of Second Language Studies, he has trained hundreds of graduate students and served on 44 doctoral committees. His 370 publications include 25 books, 23 monographs, 51 peer-reviewed articles, 74 book chapters and more, all of which have garnered nearly 12,000 citations. As a speaker, he has delivered 60 invited plenary/keynote speeches, 56 peer-reviewed conference presentations and more than 300 other invited lectures and workshops. This Fulbright Senior Scholar has earned the prestigious Duke of Edinburgh Award; the International Language Testing Association Samuel Messick Award; and the College of Languages, Linguistics and Literature Excellence in Scholarship and Research Award.
Jeffrey R. Kuhn
Jeff Kuhn is an astronomer with the Institute for Astronomy. He is a physicist who joined UH in 1998 to study the sun. He is internationally recognized for improving our understanding of the global properties of the sun, its mean structure, rotation and the physics of its variability. On Haleakalā, he built a telescope that measures the weak magnetism of the sun's outer atmosphere. This unusual instrument demonstrates how the Daniel K. Inouye Solar Telescope, now under construction on Haleakalā, will revolutionize our understanding of the inconstant sun's effect on the Earth. He currently works on optical concepts that may someday enable large, next-generation instruments to detect signatures of life on nearby exoplanets. He is also a vocal advocate for university efforts to engage non-academic partners with academic researchers in order to create useful technologies.
Frances Davis Award for Excellence in Undergraduate Teaching
The Frances Davis Award for Excellence in Undergraduate Teaching for a faculty and a graduate assistant recognizes dedication and demonstrated excellence as teachers of undergraduate students. It was established as a memorial to the late Frances Davis, who taught mathematics at Leeward Community College and UH Mānoa for 19 years.
Denise Nelson-Hurwitz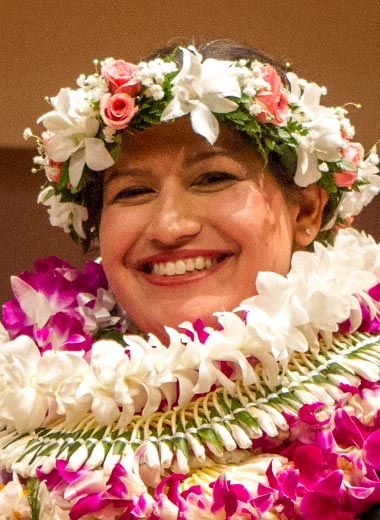 Denise Nelson-Hurwitz is an assistant professor with the Office of Public Health Studies. Her path to UH Mānoa was a circuitous yet purposeful journey that also led her back to her roots. As a graduate research assistant mentored by Mānoa faculty, Nelson-Hurwitz discovered her love for teaching. She is described as an excellent teacher with a deep knowledge and compassion for students and their learning. She is credited with the development of the newly instituted undergraduate public health program in 2014 and the capstone series in which students present quality projects on community-based service learning and research. She seeks innovative approaches that allow her students to experience their education through evidence-based student engagement and team-based experiential learning techniques. The influence and impact of her inspired teaching extends beyond the Mānoa campus and into local and national communities, conferences and institutions, including interest from other universities seeking to replicate the models she created for introductory and capstone courses in public health studies.
Frances Davis Award for Excellence in Undergraduate Teaching for a Graduate Assistant
Nyle S. Kauweloa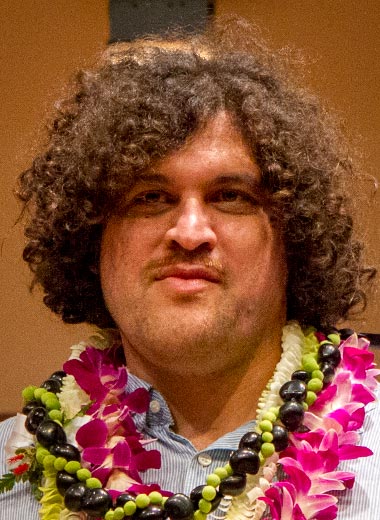 Nyle "Sky" Kauweloa's approach to academic and intellectual curiosity is matched by his concern and interest in the stories of students. A PhD student in the communication and information sciences program, his interest is in digital communications and gaming. He enjoys challenging students to think about how technologies will shape the future. Students who have taken his course at the School of Communications describe him as open, caring and inquisitive while being intellectually provocative and imaginative. Colleagues admire his ability to marry diverse topics in the field of information and communication technologies to everyday concerns related to privacy, security and digital surveillance. In the end, it's about crafting knowledge and teaching that becomes meaningful. As one student noted, "When Sky related current events and articles, it gave the subject matter context. This was nice because it showed that the concepts we were learning are important and not just theory."
Mark A.J. Wilding
Mark "Maleko" Wilding is a PhD student in the Department of Second Language Studies, where he has taught a variety of undergraduate courses over the last 5 years. His achievements as a teacher stem from a real passion for language learning, a genuine empathy for his students, and a vocation for helping others learn in a fun and ʻohana-like environment. His Department Chair shared, "We are not sure if he is fluent in as many as 12, but he certainly spends time practicing and extending his command of more languages than there are professors in the Department of Second Languages." Mark regularly corresponds with other polyglots and takes a new language course every semester here at UH, which gives him a deeper insight into the many challenges faced by language learners and teachers at different stages. With glowing course feedback every semester, many students consider him a role model teacher.
Robert W. Clopton Award for Distinguished Service to the Community
The Robert W. Clopton Award for Outstanding Service to the Community recognizes a UH Mānoa faculty member for playing a socially significant role by applying intellectual leadership and academic expertise to the improvement of the community. The award was established as a memorial to longtime Mānoa College of Education Professor Robert Clopton and first awarded in 1977.
James H. Pietsch
Throughout his career, Professor James Pietsch of the William S. Richardson School of Law has focused his efforts on assisting our state's elderly and disabled, disenfranchised, abused, and socially and economically needy residents. Known as "Mr. Elder Law" for inaugurating this specialized field of law in Hawaiʻi, his stellar reputation in the medical, social work and legal community places him at the nexus for legal and ethics consultation on the multiple and complex issues that arise at the end of life. Committed to building programs and partnerships with a national and global reach, he helped establish a Rule of Law Complex for the safety of all involved in trial under Iraqi law, worked on the first Legal Aid Clinic for detainees, and authored an operational manual directly based on his experience in the Elder Law Clinic. Graduates view him as a truly unique member of the university, epitomizing a dedicated university professor's life-long commitment to the community.
Mānoa Chancellor's Citation for Meritorious Teaching
The University of Hawai'i at Mānoa Chancellor's Citation for Meritorious Teaching recognizes Mānoa faculty members who have made significant contributions to teaching and student learning.
Michael Cheang
Over the past 20 years, Associate Professor Michael Cheang of the Department of Family and Consumer Sciences has evolved his role as an educator from that of a teacher, to that of a facilitator and learning partner. His teaching is grounded in learning theories and aligned with research on best practices across the nation. As a result, student learning has become not only more meaningful, but empowering. Cheang also takes his teaching into the community. One of his most popular talks is titled, "What are we going to do about mom?" Using humor, he effectively helps audiences relate to the difficult issues of caring for an aging family member. His colleagues recognize him as having achieved significant hallmarks of transformational learning in his students: critical changes in student thinking, problem solving, written and oral communication with interpersonal skills, and enhancements in social and emotional IQ competencies. Wrote one, "He is a shining example of a renaissance professor making a difference in the lives of our students, conducting research and scholarship that matters, and contributing to improving the quality of life for our most vulnerable citizens."
Gretchenjan Gavero
Gretchenjan Gavero, an assistant professor at the John A. Burns School of Medicine, is director of medical student education in the Department of Psychiatry and chair of the JABSOM clerkship education committee. Her teaching philosophy is built on four tenets: an attitude of gratitude for opportunities to learn and to give back; a strength-based approach toward each and every learner; being attentive to the dynamic nature of learning and the generation gap between teachers and learning, technology and media, and sociocultural issues, among others; and the inherently collaborative nature of learning. Gavero spearheaded a transformation of the residency training curriculum from primarily lecture-based to problem-based learning for advanced learners, implemented a successful interviewing skills seminar for beginning residents, designed sessions for medical students at different phases of development, and has led the exponential growth of psychiatry as a specialty above national averages. Her efforts have improved the experience of students, faculty, staff and residents, and led to her selection as the recipient of the Departmental Excellence in Teaching Award.
Jennifer Griswold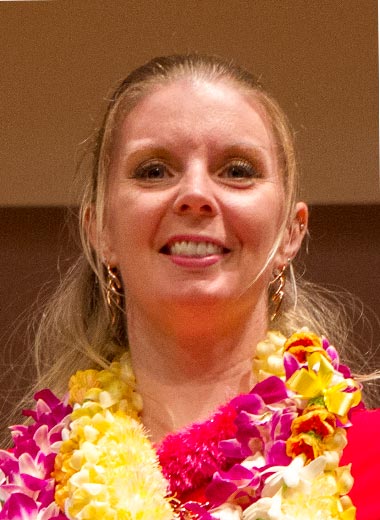 Jennifer Griswold, an assistant professor of atmospheric sciences in the School of Ocean and Earth Science and Technology, strives to engage students through innovative labs, challenging problem-solving projects, peer-to-peer interaction and real-world examples of the principles of the field. In a world filled with tweets and texts and multi-media bombardment, Griswold began incorporating multi-media into her introduction to meteorology courses to encourage small group problem-solving on exams, assignments and lecture summaries. She has developed two new courses in atmospheric sciences, one that merges weather and climate information with the cultures of the Pacific Islands and another that teaches satellite data acquisition and analysis techniques. She is recognized by her students as a remarkable professor and advisor whose influence draws students from disciplines outside of science to study the atmospheric sciences. Her commitment to teaching extends to those who are underrepresented in STEM (Science, Technology, Engineering and Mathematics) fields by founding Expanding Your Horizons, a community outreach program that exposes young women in 6-8 grades to opportunities in STEM.
Daniel E. Harris-McCoy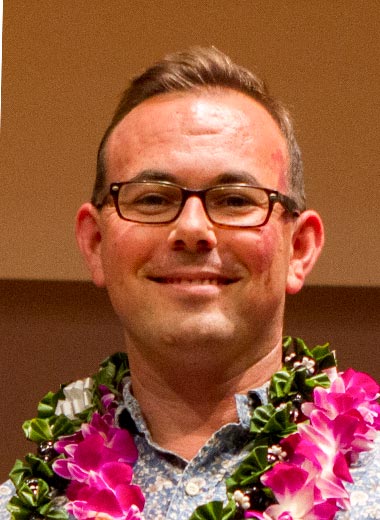 Assistant Professor Daniel Harris-McCoy is described as an innovative teacher who has inspired a renewed interest among students for studying the classics. Utilizing his own unique, lively teaching style, his students are immersed in the language and culture of the ancients. His goal is for students to develop an ability to see contemporary society as the product of a long and often fractious social, intellectual and aesthetic history; and that they develop the habit of questioning personal beliefs through exposure to world views very different from their own. Among the diverse devices in his pedagogical portfolio are the practice of calligraphy to enhance manuscript writing and textual transmissions; production of comic book versions of various mythic stories; and listening to Greek Beats and Toga Beats, a hip-hop based method for learning Greek and Latin created by Harris-McCoy and an undergraduate student to help students grasp the intricacies of Greek and Latin grammar.
Scott T. Kikiloi
Scott (Kekuewa) Kikiloi, assistant professor at the Hawaiʻinuiākea School of Hawaiian Knowledge, adeptly draws from many schools of thought from ancient, sacred, contemporary and disciplinary canons to engage students in critical teaching and learning in Hawaiian Studies. He believes that a critical pedagogy of place is the impetus for a progressive teaching and mentoring approach that creates an authentic experience for students, one that shapes higher learning outcomes across knowledge, values, attitudes and behaviors. To this end, he uses site visits, service learning, community engagement, field training schools and internships with sponsor organizations to provide students with experience-based and contextualized learning environments. The volume and diversity of classes he has taught over the past four years is a testament to his scholarly mastery that enables him to teach four foundational courses and most of the mālama ʻāina disciplinary courses at the BA and MA levels. He also continues to develop courses with hybrid potential such as Hawaiian archeology field courses.
Vickery K. Lebbin
In her role as a teaching librarian at Hamilton Library, Vicky Lebbin's goal is for students to gain an understanding of what sources are, why they matter and how to use them ethically and convincingly. Her pedagogy is student-centered with an emphasis on active learning, incorporating student perspectives into course content, using hand-on activities to provide experiential learning, and engaging in social media and educational technology. She has built a highly successful program within the library to serve undergraduate and graduate students in a range of disciplines, and thus plays a direct and critical role in educating and influencing hundreds of students every year. Because Lebbin's role requires her to effectively teach students in courses that span the curriculum, she tailors the themes of her teaching and real world examples to an immense diversity of academic disciplines. Her Mānoa library colleagues speak glowingly of her reputation for building the finest undergraduate library instruction program in the State of Hawaiʻi, and she is recognized nationally as an innovative thinker and practitioner of library instruction.
Mānoa Chancellor's Award for Outstanding Service
The University of Hawaiʻi at Mānoa Chancellor's Award for Outstanding Service honors Mānoa staff members who demonstrate outstanding work performance, service and leadership. Criteria include a record of competence and efficiency, exceptional contribution to the attainment of program objectives, creative solutions to difficult problems, integrity and dedication to the mission of the program.
Tae Song Ku (Buildings and Grounds)
Tae Song Ku has been with UH Mānoa's landscaping department for 21 years. He is currently the tree trimmer for the entire Mānoa campus, including the Waʻahila area, the Institute for Astronomy, UH Press and the Magoon Research facility. He also responds to emergency situations in faculty and student housing. Ku works hard to ensure campus safety, especially during severe weather where trees fell into Mānoa Stream and posed a threat to UH Mānoa facilities. He also manages the campus' unique collection of more than 5,000 trees and was instrumental in the department achieving the Tree Campus USA award from the Arbor Day Foundation. Ku also played a significant role in UH Mānoa being named an accredited arboretum by the Morton Arboretum ArbNet. He continuously provides tree assessment reports to improve maintenance and to prevent catastrophic tree failure, and his efforts ensure that the campus provides a safe learning environment for faculty, students and staff.
Trent Hata (APT)
Trent Hata, a 30-year employee, serves as assistant to the administrator for the Hawaiʻi County Plant and Environmental Protection Sciences (PEPS) program under the College of Tropical Agriculture and Human Resources. His nominator says that "Trent consistently performed above and beyond the scope of his job description and has upheld the reputation of UH Mānoa as the premier research, education and extension institution in the Pacific." He oversees the operations of eight experiment stations, three office complexes and more than 50 vehicles and farm equipment. Hata has served six county administrators and provides invaluable stability and continuity to PEPS with his uncompromising integrity, strong management skills and attention to detail. Additionally, he supervises farm managers and building maintenance staff and oversees agricultural technicians, student assistants, volunteers and private contractors. Hata was instrumental in the relocation of three facilities and oversaw the $19.7 million renovations of the Komohana Research and Extension Center. He is also known for his research, authoring more than 78 publications on Hawaiʻi's export floriculture industry.
Laurie Onizuka (Civil Service)
Laurie Onizuka has been with UH Mānoa for 10 years and has served in her current position as the department secretary for the political science department since 2007. She provides support to 21 full-time faculty members, nearly 350 undergraduate and graduate students, nine teaching assistants and 6 to 12 lecturers each semester. In 2014, the department's other APT employee left and the position was never filled due to budget issues. Onizuka took on those additional duties and has managed to keep the office running efficiently while maintaining a cheerful and friendly demeanor. Her nominator notes that Onizuka makes it possible for the department to meet its objectives and commends her many talents and qualities. She always acts with the best interests of the department in mind and serves with integrity and dedication to UH Mānoa. Her colleagues conclude that, "Laurie has gone above and beyond the level of service that could be expected beyond her job description. Recognizing her for this award would be an important way to acknowledge her extraordinary contribution to our university."
Allyson Tanouye (Faculty Specialist)
Allyson Tanouye is a faculty specialist and director of the Student Affairs Counseling and Student Development Center (CDSC), a position she has held for more than 20 years. She also serves as director of Mental Health and Wellness for the UH System. CDSC provides a multitude of on-campus support services to students ranging from career counseling, support of distressed students and delivery of mental health services. She developed and maintains the nationally accredited doctoral psychology internship program and continues to grow the Counselor-in-Residence (CIR) program. Under her leadership, CDSC has increased its staff to include additional full- and part-time psychologists, resulting in more access to mental health services for the university student population. The CIR program has also grown to a team of five therapists that rotate on-call coverage weekly for crisis situations. Recently, the program was honored by the National Association of Student Personnel Administrators Region VI with the 2016 Innovative Program Award. Her colleagues note that "Allyson's experience, expertise and work literally saves lives. She is a servant leader and an amazing example of a state employee dedicated to the wellness and success of others."
Faculty Diversity Enhancement Award
The Faculty Diversity Enhancement Award from the UH Mānoa Commission on Inclusion and Diversity recognizes a faculty member who has demonstrated an ongoing commitment to enhancing diversity.
Barbara Bruno
In her 20-year tenure, Barbara Bruno, a faculty specialist with the Hawaiʻi Institute of Geophysics and Planetology, has served in a variety of roles, including co-creation of the minority-focused C-MORE (Center for Microbial Oceanography: Research and Education) scholars program that provides cutting-edge research and educational opportunities to students, with 71 percent being underrepresented minorities. As co-principal investigator of ʻIke Wai, she obtained a $20-million National Science Foundation Experimental Program to Stimulate Competitive Research grant to secure Hawaiʻi's water future. She is the project director and co-founder of the School of Ocean and Earth Science and Technology Maile Mentoring Bridge programs that inspire Native Hawaiian, kamaʻāina and individuals of other underrepresented ethnicities to pursue ocean, Earth and environmental science professions. These programs create unique mentoring relationships that offer support, encouragement and the sharing of knowledge. Her strategic vision, empathy and drive have enriched the lives of students and faculty throughout the UH System.
Peter V. Garrod Distinguished Graduate Mentoring Award
Established by the University of Hawai'i at Mānoa Graduate Division in 2005, the Distinguished Graduate Mentoring Award allows graduate students to nominate faculty for excellent mentoring, one of the foundations of outstanding graduate education.
Jon-Paul Bingham
Upon joining the Department of Molecular Biosciences and Bioengineering (MBBE) in 2007, Jon-Paul Bingham first led a charge to redesign the biochemistry core teaching in an effort to provide professional development courses for MBBE graduate students. His dedication to students earned him the reputation as a "get the job done" professor. Having worked with more than 30 graduate research students, he now serves as departmental graduate chair, enhancing one of UH Mānoa's largest graduate programs. He has engaged MBBE graduate students to take responsibility for planning their future careers and professional goals, thus empowering them to prosper from their UH Mānoa education. But as Bingham will stress, "This is not just one person's efforts, but the endeavors of dedicated faculty and motivated students wishing to improve their graduate experience at UHM." Bingham says he just provided the map, the compass, and raised the bar a few notches.
Cooperative Education Student of the Year
Integrating classroom study with planned and supervised work, the Mānoa Career Center recognizes an outstanding Cooperative Education student who has made significant contributions in their Co-op placements, campus and community.
Melissa Henry
Melissa Henry, an undergraduate student in the School of Nursing who graduates this semester, is described as an avid learner who always asks excellent questions. Her co-op was with the Straub Medical Center's Emergency Department. Henry's commitment to her co-op is evidenced by her high quality work. Her nominator noted, "In the last few months of her Co-op, Melissa worked her way up to coordinating care for two to three patients while maintaining a calm demeanor and building respectful rapport with patients and their families."
Outstanding Academic Advisor / Advising Unit Award
The Council of Academic Advisors recognizes an individual or unit who, over the past two years, has demonstrated excellence and/or innovation in advising, and/or has made a significant contribution to the advising community.
Garrett Clanin (Pakela Award)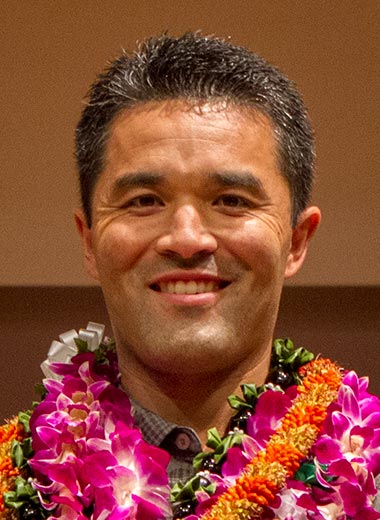 Garrett Clanin is a junior specialist academic advisor with Student-Athlete Academic Services (SAAS). He is the primary liaison for GradesFirst, a web-based system designed to increase student engagement, improve communication and identify at-risk students for early intervention. Clanin ensures that the system operates effectively and works with other advising units to determine if GradesFirst will serve their students' needs. Additionally, he serves as SAAS's eligibility coordinator and as liaison to the Athletics Compliance Department and advising units across campus regarding NCAA academic eligibility and certification. His work in this capacity ensures that student-athletes meet both UH Mānoa and NCAA requirements in order to be successful in both arenas. Clanin also plays a lead role in the annual orientation for new student-athletes and has worked hard at keeping the program engaging for students. He is described by colleagues as having an excellent rapport with his students and other advisors, and is an invaluable resource for students and colleagues alike.
Advising Center for the Colleges of Arts & Humanities and Languages, Linguistics & Literature (ʻOikela Award)
The Advising Center for the Colleges of Arts and Humanities and Languages, Linguistics and Literature was established in 2015 as part of the reorganization of the Colleges of Arts and Sciences (CAS) Student Academic Services. The Advising Center provides services to its students and other arts and sciences majors (particularly in the physical sciences) without interruption. The creation of "tiered access to advising" and the coordinated efforts of the new eight-person team led by Ruth O. Bingham has improved student access to advising and alleviated long wait lines. The team also includes Kay S. Hamada, Nanette C. Miles, Craig Mitchell, Julie Terlaje, David Yeo, Heather Young and Carolina Asiatico. Additionally, the Advising Center worked collaboratively to create new academic advising programs designed to help students stay focused and on track. The Advising Center has developed and implemented new and innovative methods to improve its services and to provide students with the support they need to be successful.
Student Excellence in Research (Doctoral Level)
The Student Excellence in Research Award is awarded by the Office of the Vice Chancellor for Research in recognition of outstanding scholarly research endeavors by students while they pursue a degree at the doctoral, master's or bachelor's level.
Mapuana Antonio
Mapuana Antonio is a Native Hawaiian doctoral student dedicated to advancing the health of indigenous people. Her research explores associations involving stress, coping, obesity, diabetes and general health among Native Hawaiians, especially those residing on Hawaiian Homestead Lands. For her dissertation, she validated a tool to measure resilience among Native Hawaiians and demonstrated a significant relationship between resilience and health. During her doctoral program, she served as co-investigator of the Papakōlea Hawaiian Homestead Community Health Survey and as a research assistant for the National Institutes of Health-funded PILI ʻOhana Program. Antonio also has gained international research experience as a scholar in the Māhina International Indigenous Health Research Training Program. To date, her publications catalog successful public health programs addressing the mental and physical health of indigenous adolescents and explore associations between perceived racism, obesity and overall health.
William M. Best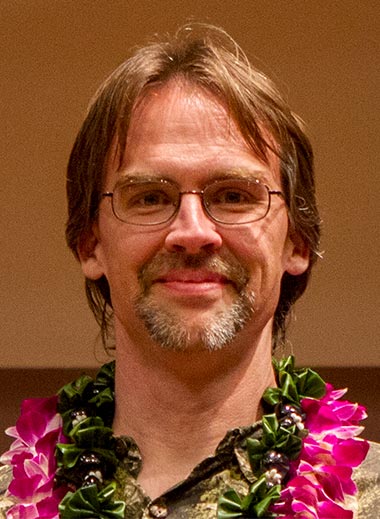 Following a 15-year career teaching math, physics and counseling at Punahou School, William Best joined UH Mānoa to pursue a doctorate in his lifelong passion for astronomy. He studies the properties of brown dwarfs (faint gaseous bodies with masses in between planets and stars) that reside in our neighborhood of the galaxy. He does this using the exceptional ground-based telescopes in Hawaiʻi, especially the Pan-STARRS wide-field survey telescope, which is producing a digital multi-color movie of the sky. His dissertation work is yielding new insights about how and when nearby brown dwarfs formed and also how they change over time. Best brings intellect, diligence and enthusiasm to his research and has been recognized as the 2017 ARCS (Advancing Science in America) Scholar in astronomy.
Glen M. Chew
Glen Chew has a high affinity for science and technology and brings novel constructive ideas to his PhD research project in the Department of Tropical Medicine, Medical Microbiology and Pharmacology at the John A. Burns School of Medicine. His research focuses on understanding mechanisms driving immune dysfunction during chronic viral infections. As a PhD candidate, he has published a first-authored, peer-reviewed scientific manuscript on his research and also contributed to nine co-authored publications. He received the 2016 Koenig Award in Medicine from the ARCS foundation (Honolulu Chapter) and the 2015 and 2016 Chancellor Virginia S. Hinshaw Biomedical Research Scholarships for his research. Chew also presented his research at the Conference on Retroviruses and Opportunistic Infections in 2014 and 2017 and at the International AIDS Society in 2015. His research will lead to ways to harness the immune system to prevent, control or eliminate HIV infection and optimize quality of life outcomes.
Student Employee of the Year Award
The Student Employee of the Year Program was created in 1986 by the Mānoa Career Center to recognize and highlight the achievements and contributions of student employees on the UH Mānoa campus.
Tyler Lum
Tyler Lum of the Sea Grant College Program's Hanauma Bay Education Program is a junior majoring in biology. This program assistant skillfully combines the knowledge he has gained through the UH marine biology program with effective education and outreach activities geared toward the nearly 800,000 visitors annually at the popular nature preserve. He has grown professionally and personally while in this position, evidenced by his selection as the 2017 Hawaiʻi State Winner of the Western Association of Student Employment Administrators.