Each year, the Chancellor recognizes the leadership and service of UH Mānoa faculty, staff, and students committed to enhancing the University's mission of excellence.
The 2014 Awards ceremony was held on April 30 in Orvis Auditorium — you can see photos of the ceremony on our Flickr page.
UH Mānoa faculty and staff have also received other awards for their achievements. Visit UH System's Faculty & Staff Awards for previous recipients.
Regents' Medal for Excellence in Teaching
The Regents' Medal for Excellence in Teaching is awarded by the Board of Regents as tribute to faculty members who exhibit an extraordinary level of subject mastery and scholarship, teaching effectiveness and creativity and personal values that benefit students.
Paul Lavy
Paul Lavy, who specializes in Southeast Asian Art History in the Department of Art and Art History, College of Arts and Humanities, is described as fair, respectful and a rigorous grader with high expectations. This Assistant Professor challenges students to own their learning process, and demonstrates a genuine interest and enthusiasm for their work by speaking to them "as a fellow researcher rather than a student working to find the right answer." His course load consists of ten distinctly different undergraduate and graduate courses in his area of expertise, for which he has created entirely original curricula in each case. He and a colleague collaborated in taking the lead to transform how the department's global survey course was taught. His colleagues also recognize his transformative work as Art History Program Graduate Director, as well as for "exceptional teaching ability, engaged pedagogy, impeccable organization, and skilled finesse in directing student seminar presentations by seamlessly interjecting content."
Hyoung-June Park
Associate Professor Hyoung-June Park of the School of Architecture draws inspiration from the idea of reflection in action as a method of teaching tacit or technical knowledge to students instead of mere skills, thus enabling them to grow as practitioners and researchers. He believes that design capability can be maximized when study is properly conceptualized with a balance between design knowledge and technology. In his specialty of Computer-Aided Architectural Design, this axiom reveals itself in student success at national and international competitions. He finds it exhilarating and encouraging that student progress and mutual trust are built through the feedback and dialogue process in the design studio. He has significantly impacted the curriculum of the School through evoking academic interest and encouraging learning based on scientific thought within twelve different courses he has developed. Both colleagues and students describe him as talented, resourceful, personable and passionate as a teacher, researcher, practitioner and life-long mentor to many.
Kavita Rao
Assistant Professor Kavita Rao of the College of Education's Department of Special Education uses a systematic instructional process of analysis, design, development, implementation and evaluation to determine a range of options based on how students learn and demonstrate new knowledge. This creative process leads to the application of universal design principles throughout all aspects of her instruction, assignments and course materials. Her teaching conveys an understanding of the depth and complexity of learning challenges facing students, and generates creative thought and practice to overcome those challenges. This empathetic teacher sets high standards, consistently modeling excellent teaching strategies and conveying a sense of purpose and passion both for the course and student learning. Colleagues describe how both faculty and students benefit from her knowledge, collaboration and research, and credit her contributions to the field of Special Education as a significant factor in positioning the University and her department on the cutting edge of online educational program delivery.
D. Kapuaʻala Sproat
Dana Sproat, an Assistant Professor at the William S. Richardson School of Law, does more than teach Native Hawaiian and Environmental Law, Indigenous Rights, and Legal Research and Writing. Her instructional talents infuse Native Hawaiian values and the concepts of kuleana (responsibility and privilege), social and cultural context, critical thinking, integrated advocacy, and high-level research and writing into her teaching. She recognizes that some things cannot be absorbed in a classroom, so her courses include a service-learning component. In her Environmental Law Clinic, for example, students work with actual clients in rural, neighbor island communities, enabling them to interact with people from a range of cultural and socioeconomic backgrounds. Her teaching philosophy, described as life-changing, is why a senior colleague at the Law School describes her as an extraordinary, once-in-a-generation educator. By continually challenging her students with insight that comes through combined academic and real-world expertise, she ensures future Law School graduates can become highly competent, knowledgeable and effective attorneys.
Alice Tse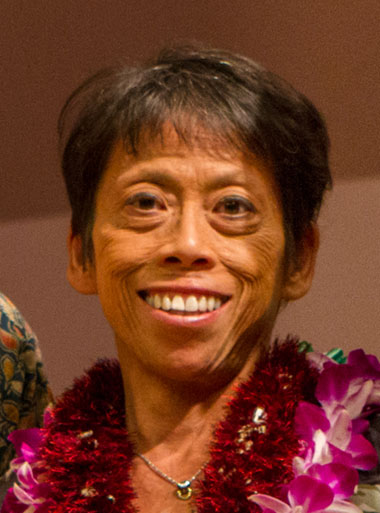 Associate Professor Alice Tse of the School of Nursing and Dental Hygiene believes teaching can be a transformative experience. At the core of her pedagogical philosophy are the principles of empowerment and praxis, through facilitation, reciprocal learning and dialog. She has been described by one student as "an enlightened sensei able to convey the meaning of extraordinarily complex ideas with a few succinct words and concepts." A colleague observing her in a large class of students with varying competencies and knowledge identifies her success as residing in that most compelling quality of the truly gifted teacher: "As I observed the participants, it became clear that each felt that Professor Tse was speaking just to them." Her courses on community action research and exploration of health and healing practices are significantly informed by professional expertise in Native Hawaiian and Pacific Islander health and a long association with Native Hawaiian Health Care Systems such as Ke Ola Mamo.
Annette Kuʻuipolani Wong
Annette Wong takes inspiration from an entry in ʻOlelo Noʻeau by Mary K. Pukui: "All knowledge is not taught in the same school." Native to Niʻihau, the Assistant Professor in the Hawaiʻinuiākea School of Hawaiian Knowledge recognizes the depth and significance of this proverb and, as such, involves herself, her students and colleagues in learning that extends beyond the classroom. She founded and coordinates Kaulakahi Aloha, a professional development opportunity for Kawaihuelani faculty and graduate students to participate in a Hawaiian immersion camp on Kauaʻi, including a trip to Niʻihau. She created La Manaleo or Native Speaker Day, at which invited native speakers of Hawaiian present to and interact with all Hawaiian language students and faculty. The Manaleo Office that she oversees is open daily for students to spend time and talk story with native speakers. Inside the classroom, students value the interesting, engaged, deeply relevant quality of her classes, and the comfortable environment and confidence she creates, so favorable and fundamental to second language acquisition.
Regents' Medal for Excellence in Research
The Regents' Medal for Excellence in Research is awarded by the Board of Regents in recognition of scholarly contributions that expand the boundaries of knowledge and enrich the lives of students and the community.
Ruth D. Gates
Ruth Gates is a tenured researcher at the Hawaii Institute of Marine Biology. She capitalizes on the combination of close proximity to living coral reefs and world-class research infrastructure to address questions on how corals and reefs function. Her work crosses spatial scales from molecules to ecosystems; it employs tools from the fields of molecular, cell and computational biology, biochemistry, physiology and ecology. Her goal is to build human, biological and educational capacity to slow and stop declines in reef integrity, and to improve the prognosis for coral reefs in the face of intensifying impacts from climate change and human use. She mentors postdoctoral fellows, graduate students and undergraduates, and works with a diversity of national and international collaborators that encompass biologists, engineers, writers and artists.
Andrew Howard
Andrew Howard is an Assistant Astronomer at the Institute for Astronomy. This modern-day explorer has discovered dozens of planets orbiting stars other than the Sun in our Milky Way galaxy. Using telescopes in Hawai'i and in space, he explores the chemical compositions, formation histories, and diversity of these extrasolar planets. His research team was the first to show that an Earth-size extrasolar planet is made of rock and iron like our Earth, and that temperate, Earth-size planets are common in our galaxy. The latter study was recognized by the 2013 Cozzarelli Prize for the top paper in the physical and natural sciences in the Proceedings of the National Academy of Sciences. He is enabling future discoveries by developing the next generation of planet-finding instruments for telescopes on Mauna Kea.
Nick Kaiser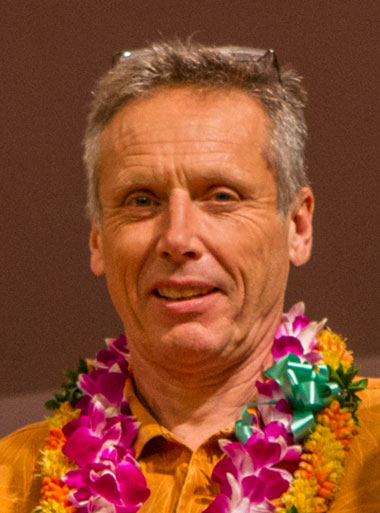 Nicholas Kaiser, an Astronomer at the Institute for Astronomy, has performed research mostly in the field of Observational Cosmology. His first contributions, at a time of revolution in the subject, was on theoretical interpretation of fluctuations in the cosmic microwave background. He played a significant role in developing what is now the standard model for cosmological structure formation, having elucidated the phenomenon of "biased galaxy clustering" and other effects. He then went on to advance several other essential probes of cosmology, including cosmic flows, galaxy clustering and gravitational lensing. After arriving at the UHM campus in 1997, his focus moved to developing wide-field telescopes, and he has been the Principal Investigator of the University's Pan-STARRS project. He has been recognized with several awards and is a Fellow of the Royal Society.
Frances Davis Award for Excellence in Undergraduate Teaching
The Frances Davis Award for Excellence in Undergraduate Teaching recognizes dedication and demonstrated excellence as teachers of undergraduate students. It was established as a memorial to the late Frances Davis, who taught mathematics at Leeward Community College and UH Mānoa for 19 years.
David Garmire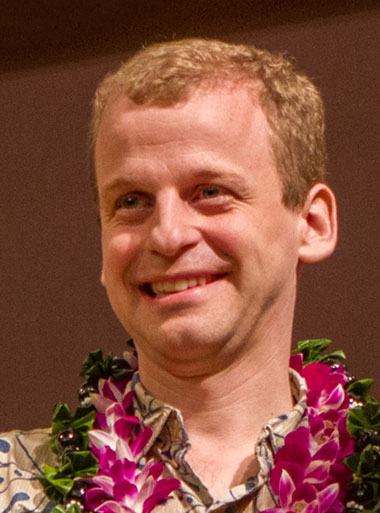 David Garmire in the College of Engineering's Department of Electrical Engineering generates student engagement by teaching with exceptional enthusiasm, clarity and humor. Under this Assistant Professor's mentorship, student strengths and aptitudes surface that prepare them to enter the industry. Rather than sitting in an office behind a closed door, he locates his desk in the lab within five feet of his students. They credit him with having a keen eye for finding their hidden potential, and for motivating them in research projects. As a result, many students are encouraged to find their own professional paths in graduate studies or to work in the local renewable energy industry. A former student describes his impact as making it possible "to navigate between opportunities that will benefit not only me, but my community. I can give back what has been given: innovative creativity." He displays a mutual and deep respect for students, for their "incredibly diverse backgrounds, flexibility of thought and imagination."
Frances Davis Award for Excellence in Undergraduate Teaching for a Graduate Assistant
Angela Haeusler
Angela Haeusler, a Graduate Assistant in the Second Language Studies (SLS) program in the College of Languages, Linguistics and Literature, assists in the office of the Hawaii Language Roadmap and Program. She teaches upper division SLS courses for undergraduate students and has taught English Language Institute (ELI) courses for both undergraduate and graduate students. Among her major achievements has been development of a new undergraduate course, with faculty input, which ended with a public mini-conference where students presented creative projects. Comments shared across evaluations for three SLS courses and an ELI course highlight her ability to make the material interesting and relevant, being knowledgeable and providing good feedback, and relating and communicating concepts so they are easily understood. Examples of her course preparation work include creating a curricular unit on American academic writing for international graduate students, coordinating and offering a networking opportunity with alumni teaching abroad via an information session for a class, and having micro-teaching opportunities for students.
Jacob Terrell
Jacob Terrell is an instructor and doctoral candidate in the College of Languages, Linguistics and Literature, leads the Unit Mastery classes in the Department of Linguistics. He has contributed to readers used in the Department and, in fact, created and edited a reader that includes chapters from other graduate students. The reader is now specifically used by all sections of Linguistics 102; he also contributed to one being used in Linguistics 105. He created and implemented an undergraduate course, with some faculty supervision, which focuses on addressing the many languages of the world that are at risk for endangerment. Through his work on the course, enrollment has increased from 36 in its first offering to well over 100. In the Unit Mastery program, he revamped course materials and updated and used online materials to provide more accessibility. In a sense, he has successfully helped to transform courses merely taken to fulfill general education requirements to ones in which students acknowledge the importance of languages and culture.
Robert W. Clopton Award for Distinguished Service to the Community
The Robert W. Clopton Award for Distinguished Service to the Community recognizes a UH Mānoa faculty member for playing a socially significant role by applying intellectual leadership and academic expertise to the improvement of the community. The award was established as a memorial to longtime Mānoa College of Education Professor Robert Clopton and first awarded in 1977.
Colette Browne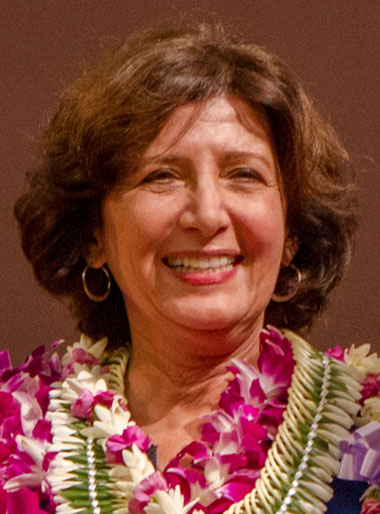 Professor Colette Browne of the Myron B. Thompson School of Social Work is described as an outstanding teacher, researcher and public advocate in one of the most urgent challenges of our time: global aging and its impact on local, national and international communities. She lives by the philosophy that professional knowledge and skills must be directed to the actual needs of the place where we live, and her more than 25 years of dedicated community service is evidence of that. Three governors appointed her to the State Policy Advisory Board for Elderly Affairs. Notes a colleague, "It is to her great credit that she chooses to tackle difficult problems with seemingly impossible resolutions and does not get discouraged when ready solutions do not materialize." She was a founding and sustaining member of the Hawai'i Pacific Gerontological Society, where her contributions include serving as President and Conference Chair.
Chancellor's Citation for Meritorious Teaching
The University of Hawaiʻi at Mānoa Chancellor's Citation for Meritorious Teaching recognizes Mānoa faculty members who have made significant contributions to teaching and student learning.
Aurelio Agcaoili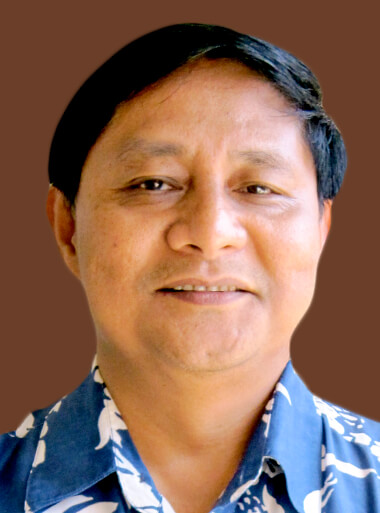 Aurelio Agcaoili is an Associate Professor of Ilokano in the Department of Indo-Pacific Languages and Literatures, College of Languages, Linguistics and Literature. This internationally recognized scholar, linguist, author and teacher is considered a world expert on Ilokano education. At the forefront of the mother language education movement in the Philippines, he has worked to create an international consortium of Ilokano and Amianan Studies. He draws inspiration for teaching as his vocation from the sentiment that a teacher affects eternity. Writes one supporter: "As I grow both in my personal and my professional life, I recognize and appreciate more and more the influence Dr. Agcaoili has had on my development." His scholarly research includes publications on language, lexicography, Ilokano and Philippine literature, popular culture, and issues related to heritage language and language education.
Dominic Chow
John A. Burns School of Medicine Professor Dominic Chow is an outstanding, inspiring educator, with "a wonderful personality and ability to simplify complicated medical knowledge to fit each learner." This respected physician continues to be requested by patients, as he supervises medical residents. He discovered early in his professional career that he wanted to move away from traditional teaching methods, so he could develop his own approach to motivating students as they tackle critical-thinking challenges. This approach, consistent with JABSOM's Problem-Based Learning, is a key to his commitment to develop students as independent learners. Couple this strength with his extensive knowledge of Internal Medicine, and it's not surprising that a third of JABSOM students select this field of specialization. His tireless advocacy through community service includes directorship of the Clint Spencer (HIV) Clinic.
Priyam Das
Assistant Professor Priyam Das of the Department of Urban and Regional Planning, College of Social Sciences, is a humble, knowledgeable and joyful teacher and mentor. She promotes a "learning-exploring" environment, and respects diverse opinions. Her colleagues credit her innovative approaches to a suite of courses for graduate students, for initiating a short course on tools for urban design for students and practicing professionals, and for being a superb advisor while excelling in the delivery of an introductory course in planning for undergraduates. She motivates students to internalize the important lessons of recipient participation in the planning and implementation process. Outside the classroom, in a Site Planning studio-style course and service learning client-based project with Kailapa Community Association on Hawaiʻi Island, her students contributed in creating a participatory community process and developed site plans for a community resource center.
Roderick Labrador
Roderick Labrador, an Ethnic Studies Assistant Professor in the College of Social Sciences, challenges students to develop their own critical questions on complex issues dealing with race, class, gender and sexuality in the Filipino community and beyond. He is gifted at establishing profound connections with his students. One of his innovative teaching practices is his Inside the Ethnic Studies Studio, bridging the gap between the university and the community by bringing performing artists to visit and engage with students in powerful ways. As part of the UCLA Hawaiʻi Travel Study program during the summer, he invites students from outside the state to contemplate issues of local immigration by using qualitative research methods. This anthropologist engages students in participatory research and engaged learning. Says a grateful colleague, "We are all better people because of him."
Loriena Yancura
Loriena Yancura's teaching philosophy can be aptly described in one world: synergistic. For the Associate Professor in the College of Tropical Agriculture and Human Resources' Department of Family and Consumer Sciences, that synergy integrates several things: an impressive research agenda, strong presence in gerontology and campus communities, acknowledged experience with programs and policies for student engagement and retention, capable mentoring practices, and diverse pedagogical approaches in the classroom. She has deep respect for students that manifest in eager enrollment for her interesting and engaging courses, including Research Methods, the most challenging for many in this field of study. Her success is attributed to being both rigorous and fair, as she provides multiple avenues of translating difficult concepts with enthusiasm, devotion, patience and reassurance. Her colleagues acknowledge her profound and sustained impact on generations of alumni.
Chancellor's Award for Outstanding Service
The University of Hawaiʻi at Mānoa Chancellor's Award for Outstanding Service honors Mānoa staff members who demonstrate outstanding work performance, service and leadership. Criteria include record of competence and efficiency, exceptional contribution in the attainment of program objectives, creative solutions to difficult problems, integrity and dedication to the mission of a program.
Edward C. Cashman Jr. (APT)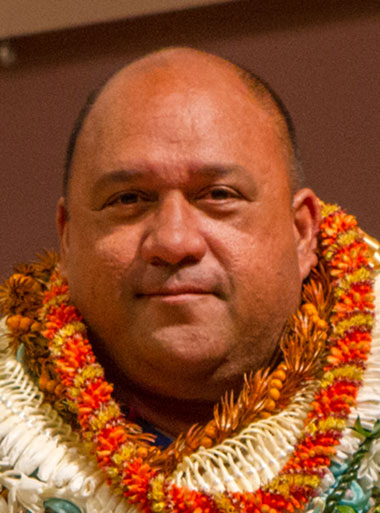 Edward "Makahiapo" Cashman Jr., Academic Support, serves as the Director of the Ka Papa Loʻi ʻO Kānewai Center and Native Hawaiian Cultural Garden at Hawaiʻinuiākea School of Hawaiian Knowledge. Through his leadership, he and his staff maintain the more than 60 native varieties of Hawaiian wetland taro while hosting up to 30,000 avid visitors and learners to the loʻi each year. He was also a part of a group that developed Melina Mānoa, which is a curriculum for preschoolers through grades 4-5 that teaches keiki about family and ʻaina-based ahupuaʻa. In addition, he leads undergraduate courses in traditional and customary practices of agriculture. According to Hawaiʻinuiākea Dean Maenette Benham, "Makahiapo works tirelessly to reunite people with the 'aina to transform understanding of our place in the world."
Marla Fergerstrom (Civil Service)
Marla Fergerstrom is an Agricultural Research Technician VI, with the duties of Station Manager at the Mealani Research Station on Hawai'i Island. An employee of the College of Tropical Agriculture and Human Resources, she oversees all operations at the research station, which serves as the primary location for the University's cattle research and extension programs. Her duties as manager include oversight of four additional Research Station locations in Upper Hamakua, Lalamilo, Kona and Captain Cook. Her management duties require her to oversee both animal- and plant-based research and demonstration projects over 400 acres. Says Hawai'i County Administrator Russell Nagata, "When the need arises and there is work to be completed, or unplanned events pop up, she is there working with the team, leading by example."
Charles Puʻuohau (Buildings and Grounds)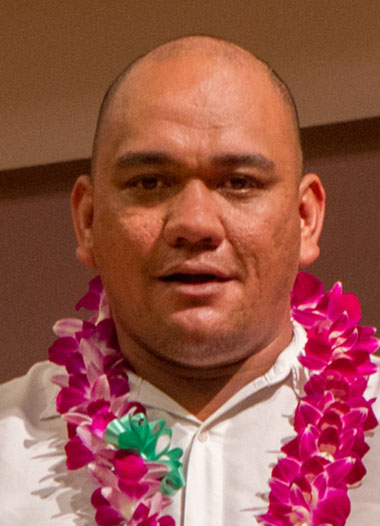 Charles Puʻuohau is a Janitor II assigned to the third floor of Holmes Hall, with a mix of offices, laboratories and classrooms. Says one professor: "Charlie takes care of both daily tasks and performs additional cleanings and small repairs as needed. He is almost always ahead of me in ordering fixture repairs for the TTL [Traffic and Transportation Lab]." He takes on special projects with initiative—for example, stripping and rewaxing floors during breaks in the academic calendar. Notes another professor: "These special projects demonstrate a dedication to the maintenance and care of our facilities that is a significant contribution to the overall functioning of our program." His Building and Grounds colleagues characterize him as a "wonderful co-worker who exhibits a positive 'can-do' attitude in interactions with everyone."
Peter V. Garrod Distinguished Graduate Mentoring Award
Established by the University of Hawaiʻi at Mānoa Graduate Division in 2005, the Distinguished Graduate Mentoring Award allows graduate students to nominate faculty for excellent mentoring, one of the foundations of outstanding graduate education.
William C. Howes
William "Craig" Howes, an English Professor in the College of Languages, Linguistics and Literature, has been teaching at UHM for 33 years. He is devoted to providing the attention that students need to be successful, whether an undergraduate in ENG 100 or a doctoral student working on a dissertation. His advisees have gone on to academic careers within the UH System, at other institutions of higher education, and at secondary schools in Hawai'i and Canada. By becoming a student of Hawaiian language for many years, he has become well versed in helping students who want to use English and Hawaiian language materials in their work. He epitomizes a genuine mentor who is not only a lifelong learner himself, but also a teacher who, as described by his Department Chair, "helps a student realize his or her project without making that project into the mentor's own."
Student Employee of the Year Award
The Student Employee of the Year (SEOTY) Program was created in 1986 by the Mānoa Career Center to recognize and highlight the achievements and contributions of student employees on the UH Mānoa campus. Universities across the nation celebrate National Student Employee Week every April, highlighting the value of student employment in the overall collegiate experience.
Tory Tetsuo Kapena Watanabe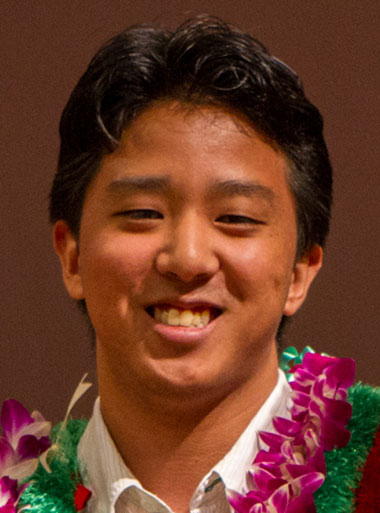 Tory Watanabe of Student Life and Development (SLD) was nominated by supervisor Stephanie Welin, Associate Director of Student Union Programs. This junior majoring in Secondary Education works as an Event Coordinator for the Campus Center Board Activities Council at SLD, where he consistently displays an exemplary work ethic and goes above and beyond his assigned tasks. His selfless contribution of time and energy has allowed the Council to grow and develop in new ways. As the SEOTY winner, he received a plaque and a $1,000 scholarship from the Mānoa Career Center. He was also selected as the 2014 Hawaiʻi State Winner of the Western Association of Student Employment Administrators.
Outstanding Academic Advisor of the Year
The Council of Academic Advisors recognizes an individual or unit who, over the past two years, has demonstrated excellence and/or innovation in advising, and/or has made a significant contribution to the advising community.
Kathleen Normandin (Pakela Award)
Kathleen Normandin is a Junior Specialist/Academic Advisor with the College of Arts and Sciences Student Academic Services (CASSAS). Her passion is working in academic affairs, and collaborating with students, faculty and staff to create empowering and holistic undergraduate student experiences. She has been instrumental in co-creating SOAR (Students Owning Academic Responsibility) for academically at-risk CASSAS students, and has assisted with designing the new Student Success Center for the College of Natural Sciences. She has worked tirelessly to illuminate awareness of the growing student veteran population on campus with its members' unique set of experiences and needs. The faculty advisor for the UHM Student Veteran Organization developed a Center for Teaching Excellence lecture series that was titled, "Serving Those Who Serve: Best Practices in Working with Student Veterans."
Department of Biology (ʻOikela Award)
Junior Specialist Stephanie Kraft-Terry and Joseph Menor Jr., Academic Support, along with their team of Mānoa Peer Advisors, have made great strides to increase access to advising, and fostering engagement among the Department of Biology's 1,300 students. Through the use of technology, this innovative advising unit created a convenient online appointment system, with improved information dissemination through the use of Facebook®, Twitter® and Linkedin®. Prior to arrival on campus, newly admitted students receive personalized phone calls from these proactive advisors, with an invitation to join an information webinar or to schedule a one-on-one advising appointment. In addition to providing mandatory advising and valuable workshops to ensure student success, this exemplary advising unit supports the College's social events, such as an Incoming Student Reception, Graduation Reception and Alumni Gathering. These activities cultivate a closer connection among the Department of Biology's students, staff, faculty and alumni.
Student Excellence in Research (Master's and Doctoral)
Chino Cabalteja (Master's Level)
Chino Cabalteja is a Master's Level student researcher in the Department of Molecular Biosciences and Bioengineering at the College of Tropical Agriculture and Human Resources (CTAHR). His research involves the bioengineering of conotoxins, bioactive peptides from the venom of Conus sea snails. Specifically, he studies the influence of hydroxyprolines in the generation of peptide isomers of α-conotoxin Vi1.1. These new isomers can exhibit different degrees of bioactivity, which may be utilized to design peptide drugs with specific pharmacological properties. His work on conotoxins earned him the 2012 CTAHR Student Research Symposium Award for Best Master of Science Poster Presentation. His work has also led to the publication of three co-authored papers and participation in several distinguished graduate student conferences. He intends to pursue a PhD and continue research on the structure and chemistry of peptides and peptidomimetics for pharmaceutical design.
Jabran Zahid (Doctoral Level)
Jabran Zahid is a Doctoral Level student researcher at the Institute for Astronomy, focuses on understanding the formation and evolution of galaxies. All elements heavier than hydrogen and helium are produced in massive stars and distributed throughout the Universe by supernovae explosions. His primary contributions have been to measure the chemical evolution of the Universe from observations of the heavy element content of galaxies across cosmic time. He has also aided in the understanding of galaxy formation and evolution by theoretically modeling the chemical evolution of the Universe. At the IfA, he has published nine first-author papers and has been contributing author on several additional studies. His ability to publish results quickly places him at a level usually reserved for top junior faculty members. He will continue his career as the Clay Prize Postdoctoral Fellow at the Harvard-Smithsonian Center for Astrophysics.