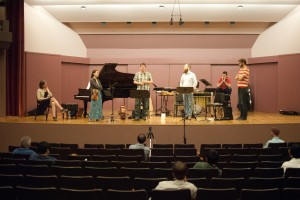 On February 9 & 10, 2015, the UH Mānoa Music Department, in partnership with the Honolulu Chamber Music Series, hosted the acclaimed three-time Grammy-winning new music ensemble eighth blackbird for a series of workshops. Since their founding in 1996, eight blackbird has been on the forefront of commissioning and performing new works from some of the leading composers of today.  Their stay in Hawaiʻi also included concerts at the Honolulu Museum of the Art and the Maui Arts & Cultural Center.
During the two-day residency, eighth blackbird gave a number of presentations for UH music students. The ensemble read through three new works written by composition students (John Paul Brabant, William Watson,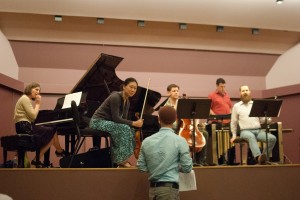 Fabian Fabro), giving constructive comments following each piece. The group also showcased some of their repertoire in front of the students including works by Nico Muhly, Tom Johnson, and Gyorgy Ligeti (the group was even able to teach the entire audience to perform one of Johnson's Counting Duet).  Finally, the group held two separate discussion sessions for performers and composers, going over topics such as overcoming obstacles of being a musician in Hawaiʻi.
The University of Hawai'i at Mānoa's Music Department is host to a number of creative areas including composition and new music. The composition program is designed to expose students to a rich variety of multicultural influences while developing compositional technique. All composition students are strongly encouraged to study with each of the faculty composers, thus receiving a variety of perspectives and feedback on their music. This approach enables students to glean from each faculty member what is most useful in developing a unique compositional voice. Full-time composition faculty members are Dr. Takuma Itoh, Dr. Thomas Osborne, and Dr. Donald Womack.