The Music Education Area at the University of Hawai'i at Mānoa (UHM) offers a comprehensive program dedicated to providing public and private schools with highly skilled education professionals at all levels. Undergraduate study leads toward the Bachelor of Education (B.Ed.) degree and provides for concentration in one or more of two teaching areas: choral/general music, and instrumental music (band or orchestra). A State of Hawai'i Teaching Certificate is reciprocally recognized in over 30 other states.
During the past five years, more than 80% of the undergraduate and post-baccalaureate students who graduated from the UHM music education program obtained full-time music positions in the state of Hawai`i. They are now teaching in general music, choral, and instrumental settings. Among these positions, some new jobs have been created due to strong evidence of the positive effect music has on keiki.
Our undergraduate and post-baccalaureate programs are designed to meet local needs while fulfilling national standards. The music education program at the UHM is accredited by the National Association of Schools of Music (NASM). Music education majors are equipped with skills and knowledge in both music and education. In addition, we collaborate with local schools and community music organizations, providing more than 200 hours of structured fieldwork, including observation and teaching in K-12 music settings prior to student teaching. This process offers a valuable experience for students to develop knowledge and skills relating to teaching, build personal reflective skills, measure current competence, and plan for future professional growth.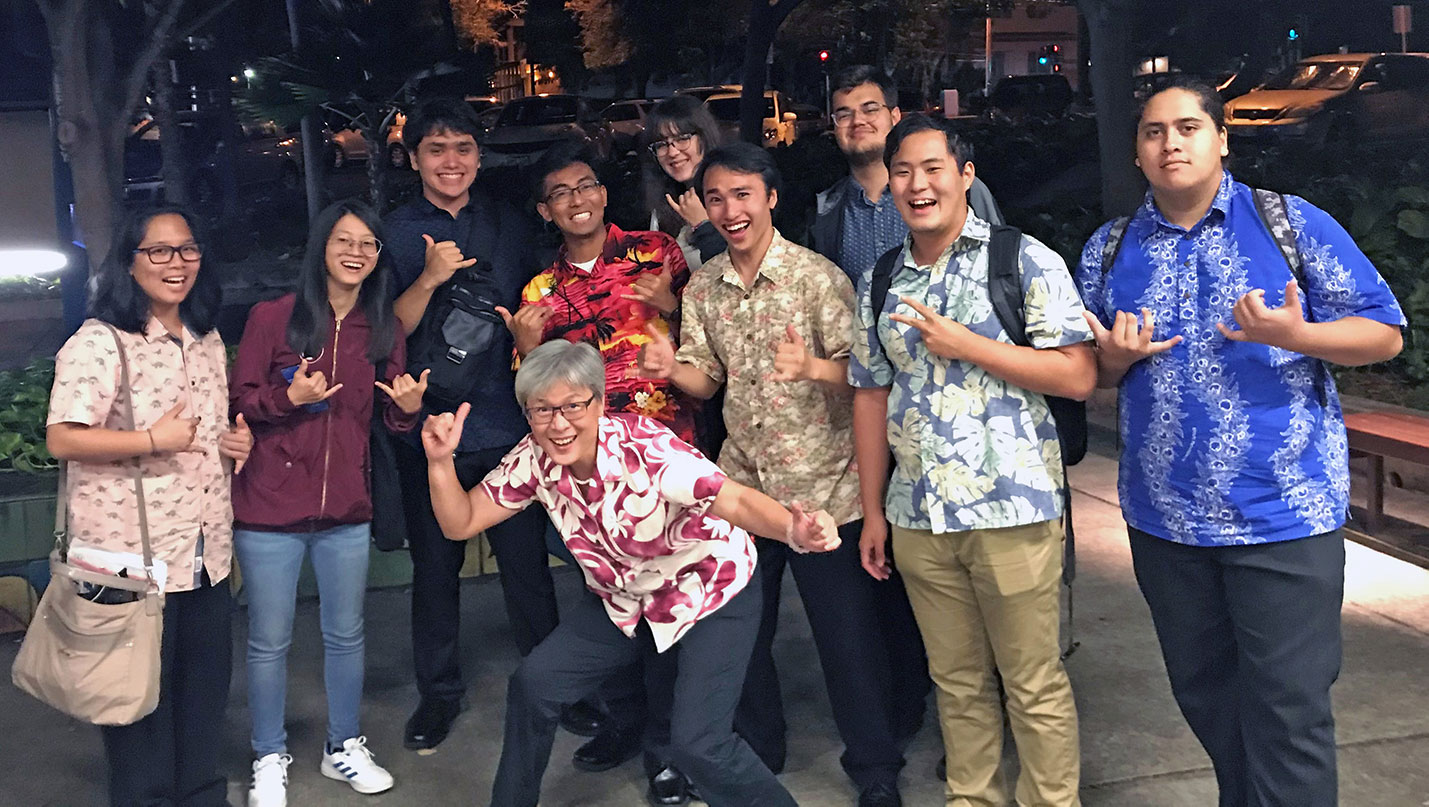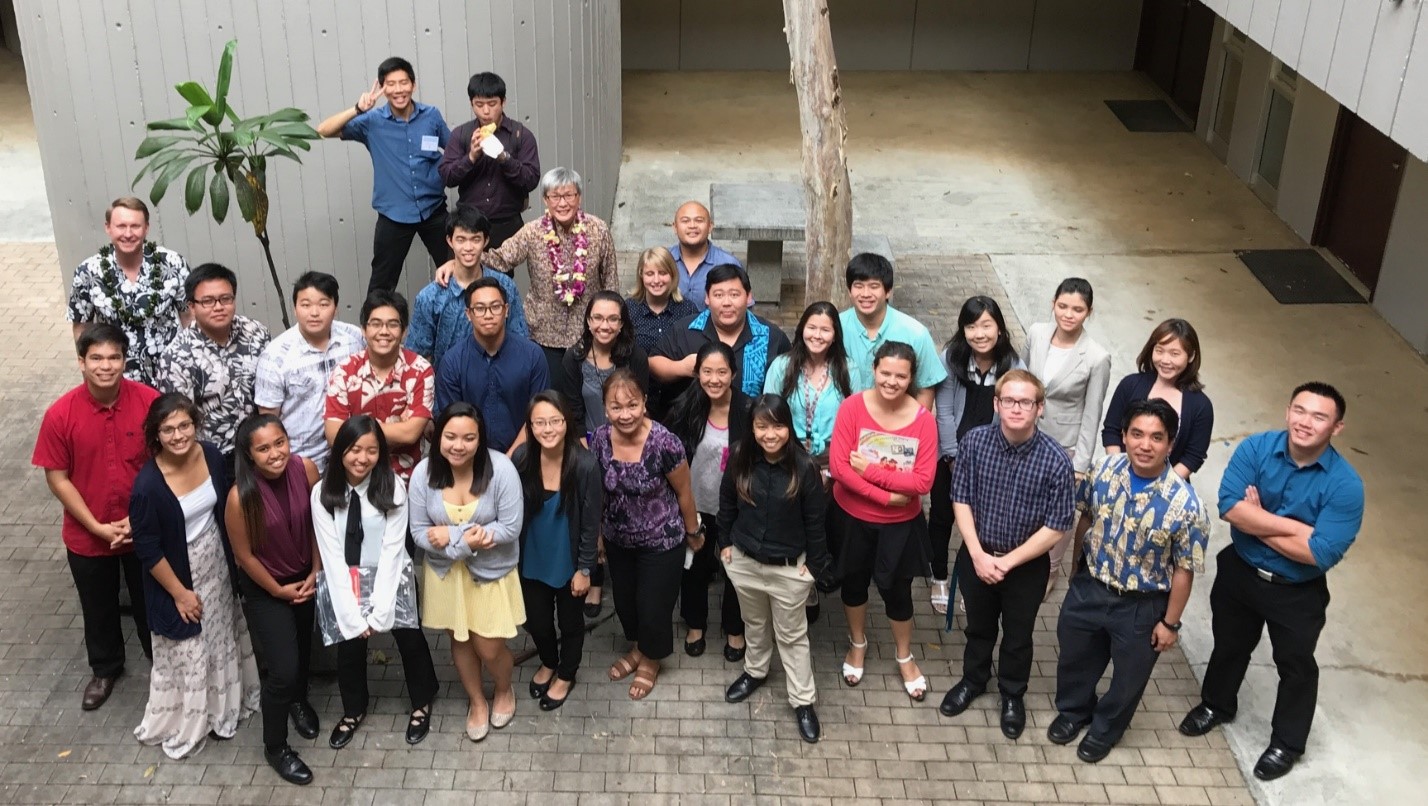 UHM also offers MA (with and without teaching certification) and PhD Degrees in Music Education. Over 90% of our music education graduate students are currently full-time music teachers who teach in the state of Hawai`i. These full-time teachers take approximately four credits per semester, offering the opportunity to complete the degree at their own pace. Beyond required classes, graduate students are encouraged to play in instrumental, choral, and ethnic ensembles and to take applied voice, instrumental, and conducting lessons. Students also have the opportunity to take ethnomusicology classes that can increase their exposure to Asian Pacific music. Other graduate level musicology and theory/composition classes are also offered. Scholarships are available for graduate students.
Music education students (graduate, post-baccalaureate, and undergraduate) are actively involved in advocating for music in elementary and secondary schools. Between Fall 2018 and Spring 2019, pre-service teachers from the University of Hawai`i were involved in the Symphony of the Hawaiian Birds project. The goal of this grassroots project is to deal with an issue that is critical to Hawaiian values – preserving nature and protecting Hawaiian birds, especially endangered species. The content of this project is delivered using a combination of music (western classical instruments) and native Hawaiian mele and hula. Twenty-seven music education majors visited 15 Title I, public and private schools to educate elementary and secondary students of O'ahu through science, music, and art to teach about Hawaii's native bird species and the importance of conservation efforts. They also used various woodwind, brass, string and percussion instruments, as well as body percussion, to imitate the sounds of the birds. Elementary children learned about instruments with varying tone colors and ranges from all four orchestral instrument families.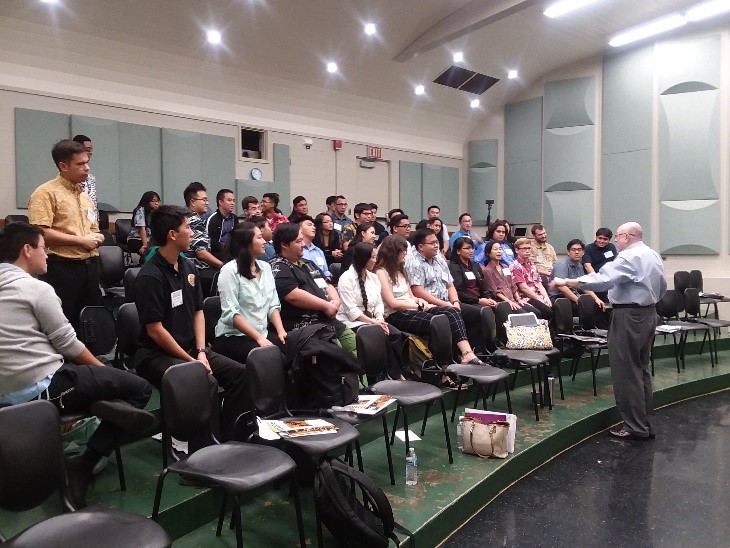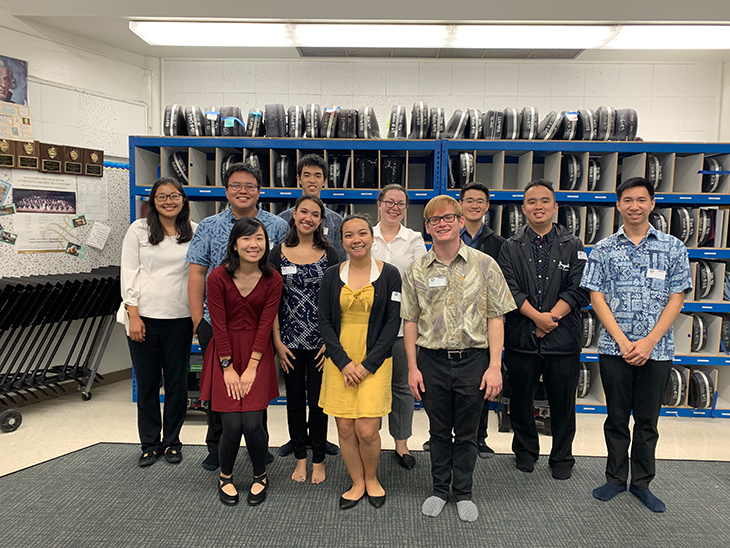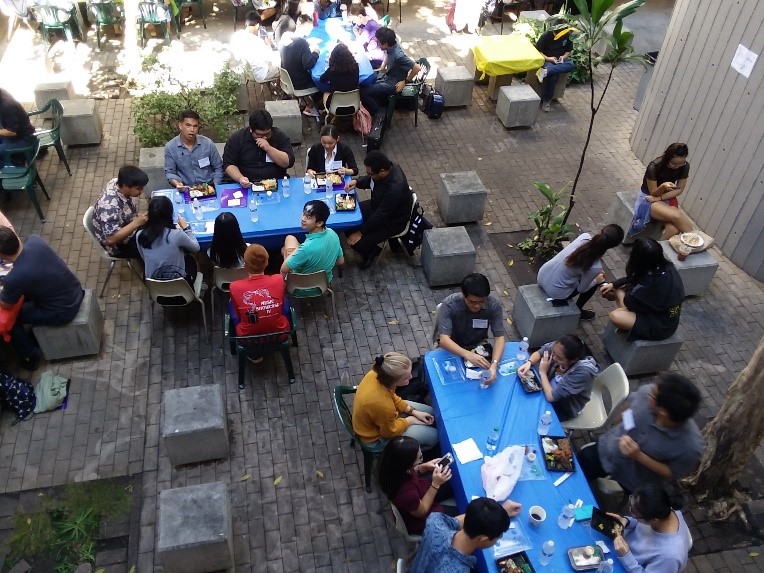 In addition, music education majors actively advocate for music education at the state and national level, and attend various professional development workshops. In 2010, the UHM Collegiate Chapter #418 was selected as one of the National Association for Music Education (NAfME) Collegiate Chapters of Excellence. And in 2009 and 2014, the chapter received the Chapter Growth Certificate of Achievement for significant chapter growth.
On April 15, 2019, the Professional Development and Collegiate Program Manager of NAfME sent us this piece of great news: "The NAfME Collegiate chapter at University of Hawai'i is a recipient of the NAfME 2018 Chapter of Excellence Award. The NAfME Collegiate Advisory Council had the challenging task of reviewing these applications and yours rose to the top. Congratulations! On behalf of the National Association for Music Education we applaud you for working to further music education in your community. You have worked tirelessly on behalf of the field of music education. Congratulations on this well-deserved honor."
Over the whole United States, only five chapters received this prestigious award from NAfME. The University of Hawai'i faculty and students were thrilled with this news and are proud of the contributions they have made to the community.
NAfME 418 Chapter Board Members: Jerilyn Ornellas (President), Ashley Maeshiro (Treasurer), Casandra Ancheta (Vice-President), Rana Harada (Secretary).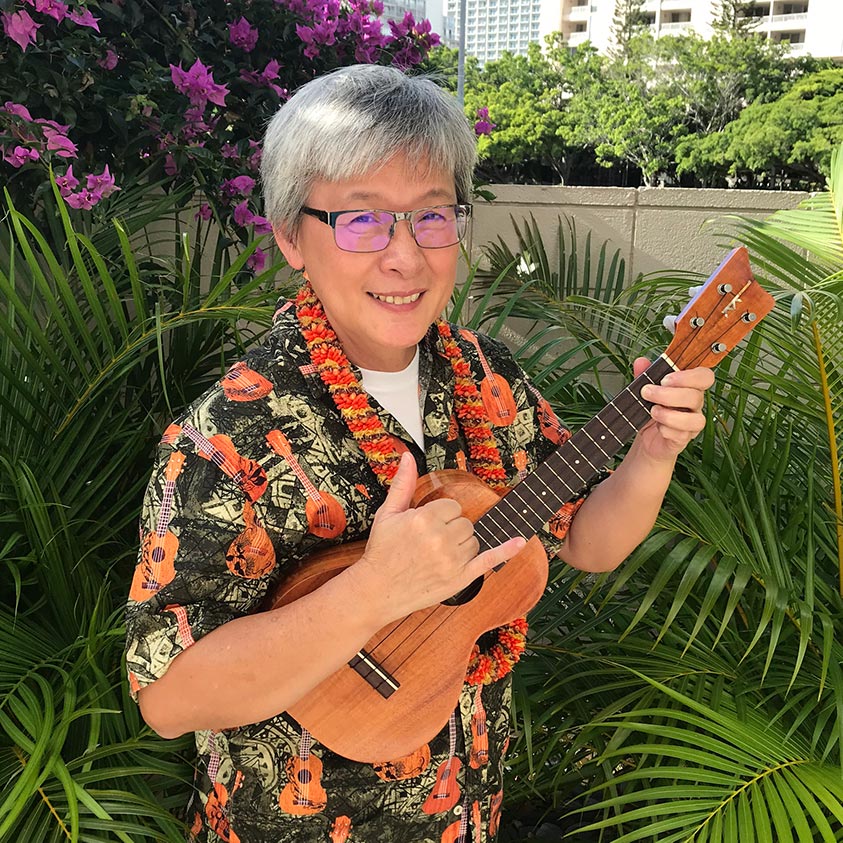 The music education area is led by full time faculty member Dr. Chet-Yeng Loong, who is recognized internationally as a teacher, scholar, and leader in the field of music education. Dr. Loong specializes in early childhood, general music, and world music education. For her full bio, please visit Chet-Yeng Loong.
For more information about our program, please email: chetyeng@hawaii.edu.
Student & Alumni Accomplishments
Students who graduate from our program serve in leadership positions in various professional organizations. For the Hawai`i Music Education Association (HMEA), Janice Boychuk is currently the President; Michael Lim, the Vise-President; Cat Momohara, Executive Director; Kurt Ginoza, Conference Organizing Committee; Julianne Hiu, Past Conference Chair; Daniel Shaver and Katie Yee, All State String Organizing Committee; Kevin Morita, Shepherd Kawakami, Katherine Alarcio, and Kurt Ginoza, All State `Ukulele Organizing Committee. These music education professionals are all current or former students.
Our UHM graduates hold these essential positions in the Hawai`i Orff Chapter: Megann Sala, President; Katie Yee, Vice President; Daniel Ho, Treasurer, and Ruth Kutmasu, secretary. The Hawai`i Orff Chapter is a local chapter that organizes general music workshops and provides resources to elementary teachers in the state of Hawai`i.
In the instrumental field, the Oahu Band Director Association (OBDA) plays a vital role in organizing solo ensembles; band and orchestra parades. Ryan Howe is the current president, and Alan Evans is the President-Elect - both are former UHM students.
---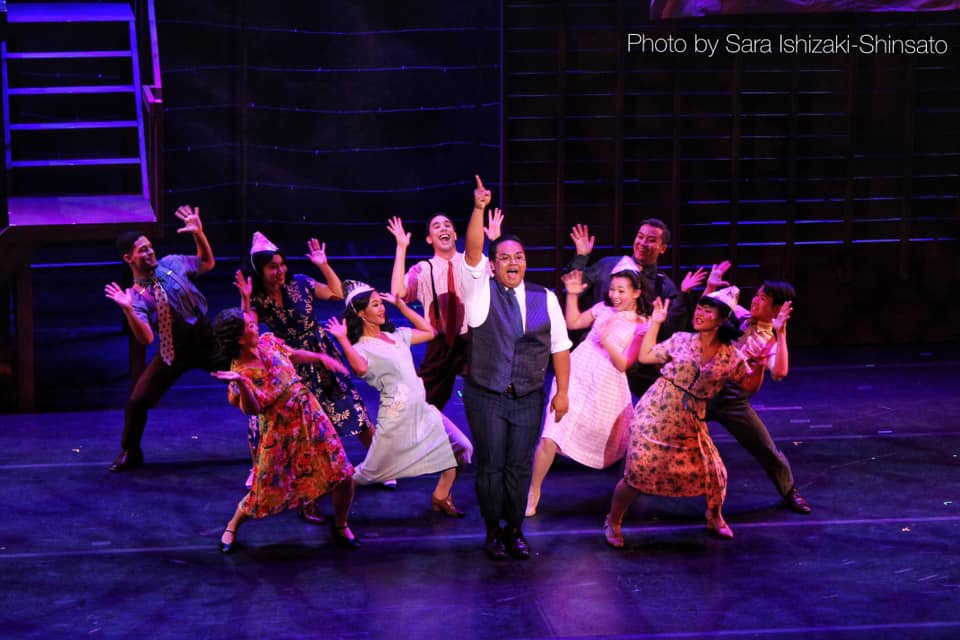 Miguel Cadoy III, one of our music education graduate students (voice student of Professor Laurence Paxton), performed in the Hawaii Premiere of Allegiance, as Frankie Suzuki. This musical drama was based on George Takei's Japanese American detention during World War II in the United States. The show was held at the Hawaii Theatre between March 28th and April 7th, 2019. Miguel Cadoy gave a fantastic performance and received excellent reviews from the audience. In addition, Miki Yamamoto, who just graduated from our program, was the Assistant music director and rehearsal accompanist.
In 2017 and 2018, six of our alumni published two articles in the Orff Echo, a national general music peer reviewed journal. Katherine Alarcio, Minhee Kim, Cathlyn Momohara, Kevin Morita, and Janice Okimoto published "Multicultural music education: through the eyes of the next generation" in the 2017, Orff Echo summer issue. In this article, the authors expressed the importance of introducing authentic music to our keiki, and of exposing them to multicultural music in an in-depth way, not just on a surface level. "We, as teachers, must recognize our own generalizations and assumptions about other cultures in order to help our students overcome theirs. We believe our mission as music educators is to guide students to becoming thoughtful citizens who will grow to promote equity, approach opposing ideas with open-mindedness, and build relationships to strengthen bonds between their families, friends, and community" (p. 33).
In 2018 Megann Sala participated in an online forum that discussed the challenges of novice teachers during the first five years of teaching. The title of the article was "New Teachers and the Orff Approach: Six Perspectives," which was published in the Orff Echo 2018 summer issue. The intention of this article was to let novice teachers voice their challenges, and enlist experienced experts in the field to provide insights and guidance to assist novice teachers in being successful in their future teaching journey.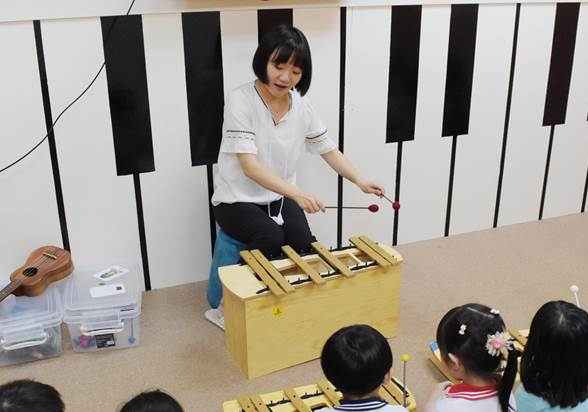 Maika`i to our alumnus and students for their great achievements. We hope they will continue to raise musical standards in the state of Hawai`i and offer their contributions to our `ohana.