Program Overview
Western foundations, intercultural resources
As a leader in the burgeoning field of intercultural composition, the UH Mānoa composition program is designed to engage students not only with music from the Western tradition, but also the rich variety of multicultural resources that is shaping and defining the 21st century.
The program aims to develop a strong technical foundation while simultaneously encouraging students to seek their own unique compositional voices. Students work with each of the faculty composers, receiving a variety of perspectives and feedback on their music and enabling them to glean from each faculty member that which is most useful for them as individual developing composers.
With its groundbreaking focus and its unparalleled resources in intercultural composition, UH Mānoa offers students a truly unique educational experience.
Much more than just a stunningly beautiful place with a year-round moderate climate, Hawai'i consists of a rich mix of people representing cultures from all parts of the world. With its large population of East Asian descent, Honolulu provides many opportunities for interested students to learn about the cultures of Japan, China and Korea in particular.
In addition to its setting within the community, the composition program benefits from its setting within the university as well, building on and complementing the longtime strength of the ethnomusicology program, which is renowned for its focus on musics of Asia and the Pacific. Composition students may participate in regular ensemble course offerings in Koto, Shakuhachi, Okinawan Jamisen & singing, Gagaku, Chinese Ensemble, Korean Ensemble, Gamelan (Java and Bali), Hawaiian Chorus, Hawaiian Ensemble, Hula & Chant, Samoan Ensemble, Hawaiian Slack Key Guitar and Tahitian Ensemble, as well as standard Western offerings such as Contemporary Music Ensemble, Chamber Music, Choirs, Orchestra, and Band.
In addition, the ethnomusicology and composition programs are host to a number of accomplished student performers of Asian instruments, currently including guzheng, erhu, ajaeng, gayageum, janggu, pansori voice, shakuhachi and taiko. The opportunity for composition students to collaborate with these musicians, many of whom are actually professional performers in their own right, is unmatched by any other school in the U.S.
The new music scene in Honolulu revolves primarily around the composition program, which regularly works with ensembles, organizations, and individuals in the community, the U.S. and the world to present concerts and other events. Frequent performances of faculty works also enable composition students to witness the professional collaboration between composer and performer.
Performance Opportunities
Visiting ensemble Eighth Blackbird discussing student works during a reading session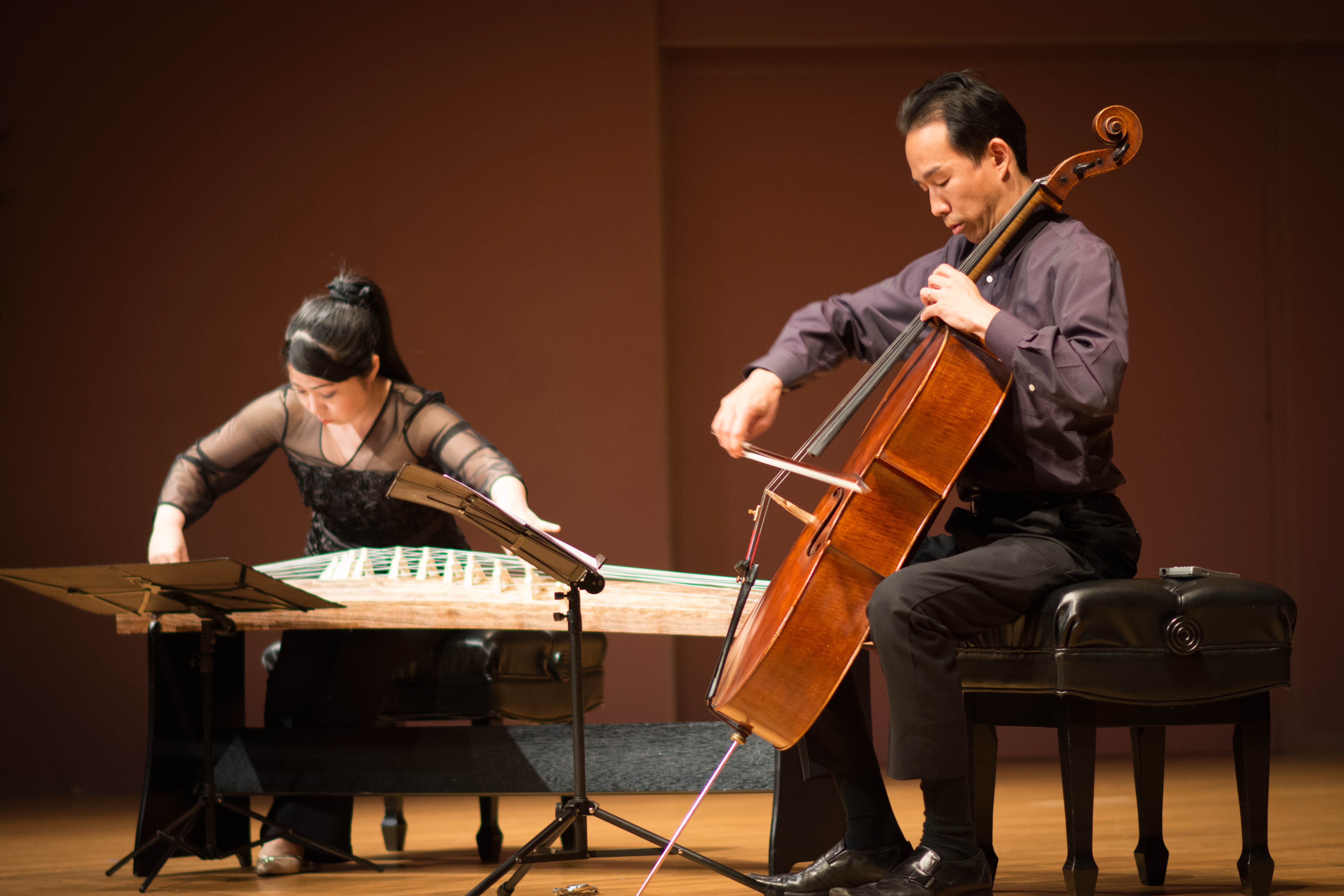 Duo Yumeno presents a concert of new student works in 2018
The composition program stresses the importance of students being actively involved with presenting performances of their works in various settings. Each semester, works of composition students are publicly presented at the Undergraduate Composers Symposium and the Graduate Composers Symposium. Students also have opportunities for performance by the UH Contemporary Music Ensemble, UH Choirs, UH Band and Wind Ensemble, UH Orchestra and other student ensembles, as well as by faculty and visiting professional musicians. All students also present their own composition recitals as the culmination of their studies. Students are further encouraged to pursue additional performances both within the music department and across the broader UH campus. Graduate students in particular are encouraged to pursue opportunities in the Honolulu community, nationally and abroad.
Invaluable opportunities for students to hear their works also come in the form of reading sessions with visiting professionals. Recent readings have come from such world-renowned ensembles and performers as Eighth Blackbird, Contemporary Music Ensemble Korea (Seoul), Kyo-Shin-An Arts (New York City), AURA-J (Tokyo), Chinese Music Virtuosi (Hong Kong), and pipa player Yang Jing (Zürich/Shanghai). The chance to work closely with performers of such high stature has consistently proved to be one of the most important experiences for UH Mānoa composition students.
.
Guest Loo Sze Wang of the Chinese Music Virtuosi presents a workshop on composing for the sheng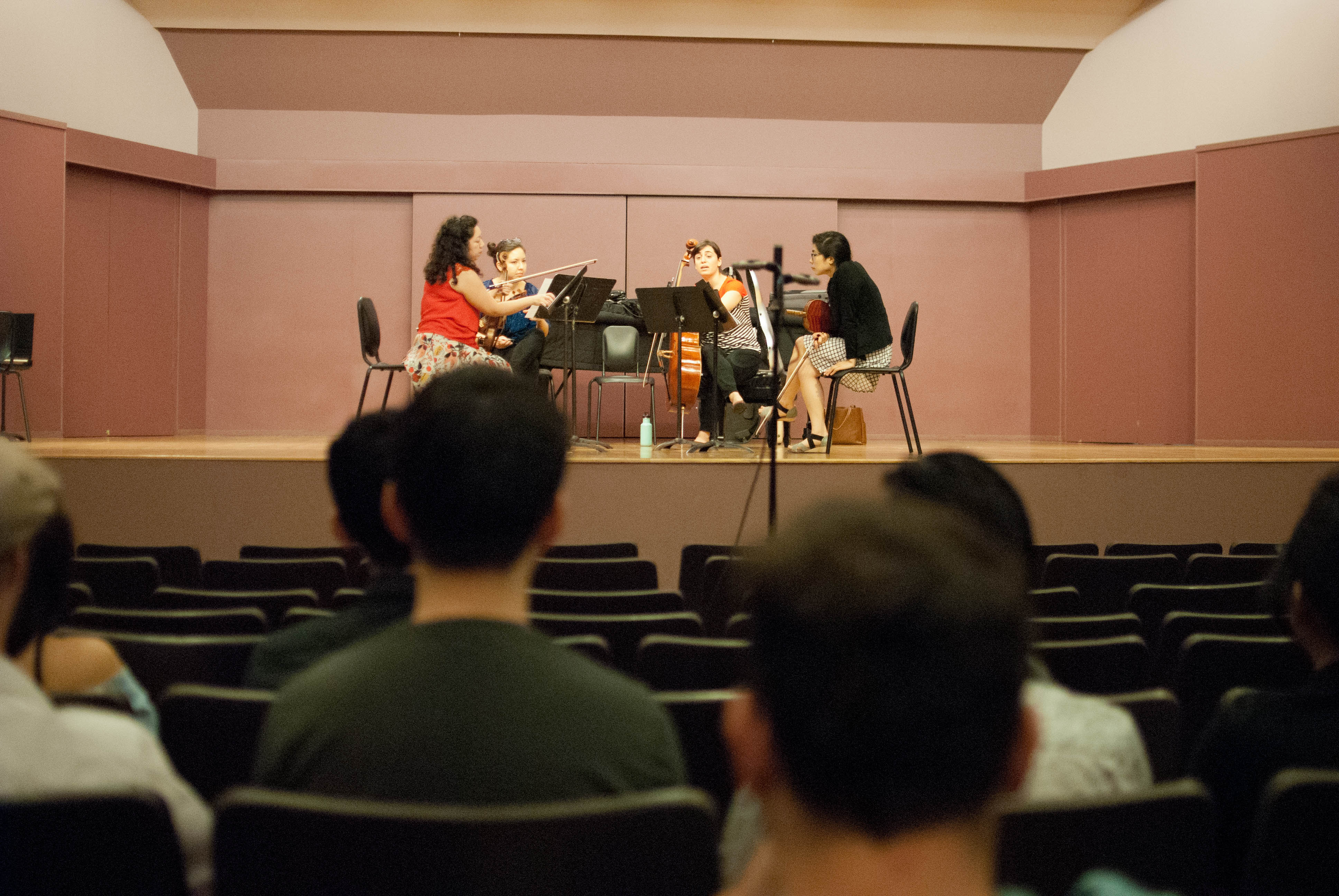 The Aizuri Quartet reads and discusses student works
UH Mānoa's three full-time faculty composers are recognized for their work nationally and internationally, with numerous awards, commissions, recordings and performances by world-class musicians in such locations as London, Brussels, Tokyo, Nagano, Seoul, Busan, Shanghai, Taipei, Bangkok, New York, Los Angeles, Philadelphia, Houston, Washington D.C. (The White House), and numerous other centers of music. Composition faculty have appeared as featured guests at Seoul National University, the Seoul National Gugak Center, the Busan National Gugak Center, the Hokuto International Music Festival (Yamanashi, Japan), Tohoku University (Sendai, Japan), AURA-J (Tokyo), and Tenri Cultural Institute (New York City), among many others, and have had their music broadcast on prominent networks such as NPR, Japan's NHK and Germany's WDR.
Faculty composers' work has been recognized with significant international and national awards, including two Fulbright Research Fellowships in support of yearlong residencies in Japan and Korea, and multiple awards from ASCAP, Meet the Composer, New Music USA, the American Academy of Arts and Letters, the College Band Directors National Association, the Music Teachers National Association, and the American Viola da Gamba Society, among others. Their music is also featured on more than 20 recordings on labels in Japan, Korea and the U.S.
In recognition of their work, faculty composers have been recent recipients of Excellence in Teaching and Excellence in Scholarship awards from the UH College of Arts and Humanities. Together, UH faculty composers contribute a rich diversity and wide range of interests to the program. UH Mānoa's three, full-time, faculty composers bring a rich diversity to the premise of wider influences enriching the conventional bases of composition.
Donald Reid Womack's music brings together a diverse range of ideas, reflecting various influences: his background as a native of the Southern Appalachians, his longtime home in Hawaii, and his time spent in East Asia. In addition to a large body of works for Western orchestra, instruments and ensembles, he has composed approximately 30 works for Japanese, Korean and Chinese instruments, often in combination with Western instruments. Of particular interest is the compositional exploration of musical material that can transcend its traditional cultural boundaries, as well as how instruments—East Asian instruments in particular—can be used in ways that place their idiomatic sounds into new stylistic contexts. [more about Donald Reid Womack]
Thomas Osborne's music draws inspiration from a wide variety of sources, places and eras. As a composer interested in the possibilities of both Western and non-Western music, he has written works inspired by African polyphony, Indonesian gamelan, Japanese court music, ancient Persian music and Kentucky country fiddle playing. Active as a conductor, he directs of the UH Contemporary Music Ensemble. He is spending the 2012-13 academic year living in Seoul, South Korea, writing for Korean traditional instruments in combination with Western classical instruments. [more about Thomas Osborne]
Takuma Itoh spent his early childhood in Japan before moving to Northern California where he grew up. Described as "brashly youthful and fresh," (New York Times), his music has been performed by groups such as the Albany Symphony, the Silesian Philharmonic Orchestra (Poland), the New York Youth Symphony, Symphony in C, the Shanghai Quartet, the St. Lawrence Quartet, Syzygy Ensemble (Australia), the Momenta Quartet, the H2 Quartet, and the violinist Joseph Lin of the Juilliard Quartet. His current interests include spatialization and fixed-register pitch fields. [more about Takuma Itoh]
The value of developing a community of composers who provide mutual support and learning opportunities for each other is well understood by the composition program. The relaxed environment of Honolulu and the music department encourages students to engage and collaborate with each other and with faculty beyond the classroom, and students typically develop lasting friendships. Students and faculty regularly meet, with weekly Composers' Workshops providing a forum for informal interaction and discussion of new music and relevant issues.
Composers' Workshops also provide opportunities for students to meet esteemed guest composers, including recent visitors such as Tan Dun, Zhou Long, Minoru Miki (Japan), Jeeyoung Kim (Korea), Per Nørgard (Denmark), Evan Ziporyn, Stephen Hartke, Frank Ticheli, Pulitzer-Prize winner George Walker, Donald Erb, Jon Appleton, David Stock (Pittsburgh New Music Ensemble), jazz pianist and composer Billy Childs, and taiko performer and composer Kenny Endo.
Student & Alumni Successes
The composition program is proud of the many accomplishments of its students and alumni. Recent PhD graduates have secured faculty positions at such schools as Texas A&M University, Full Sail University, Sultan Idris University (Malaysia), the University of the Philippines, and Maui College. Recent graduates of the Bachelors and Masters programs at UH have gone on to receive graduate degrees from such schools as the University of Michigan, Northwestern University, the University of Minnesota, Boston Conservatory, and Queen's University Belfast.

UH composition students and alumni have also received numerous national and international honors, including a Barlow Commission, a BMI Student Composer Award, an ASTA Composition Competition Prize, awards from Meet the Composer, the Aspen Music Festival and the American Music Center, performances by the Buffalo Philharmonic and the Omaha Symphony, opera premieres in Tokyo and Koriya City, Japan, an award and subsequent premiere in an international competition sponsored by the Seoul National Gugak Center, and a commission from the Houston Grand Opera.