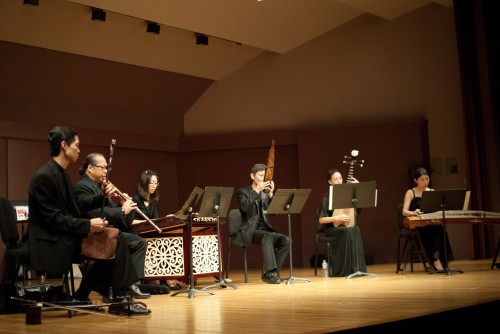 In February the University of Hawai'i, Mānoa Music Department and the East-West Center hosted the Chinese Music Virtuosi, an ensemble made up of some of Hong Kong's finest performers and teachers. The group, which performs on traditional Chinese instruments, has toured extensively performing both contemporary and traditional repertoire.
While at UH Mānoa, the ensemble took part in a number of presentations for music students. In addition to the open rehearsals given throughout the week, the group also gave an extensive presentation to composition students on writing for Chinese instruments. The ensemble read and recorded three new works written by composition students (Fabian Fabro, Potiguara Menezes, and William Watson), discussing and critiquing the works in front of an audience.
The Chinese Music Virtuosi's residency culminated in a pair of concerts featuring a mix of traditional and contemporary music. They were joined on stage by Frederick Lau (professor of ethnomusicology and director of the UH Center for Chinese Studies) and Yi-Chieh Lai (ethnomusicology PhD student), and presented the premiere performances of 4 works, including 3 by UH Mānoa faculty members: Takuma Itoh, Thomas Osborne, and Donald Reid Womack.
Their residency is part of an annual collaboration between the Music Department and East-West Center, one which has hosted performing artists from Japan, China and Korea to perform traditional and new musical works.
'Olelo Community Media will re-broadcast the concert at the following times:
March 22, 2015, 7:30 pm ('Olelo 53)
March 23, 2015, 4:00 pm ('Olelo 53)
March 25, 2015, 10:30 am ('Olelo 53)
March 31, 2015, 10:30 am ('Olelo 53)