In response to new directions in the field of musicology, the graduate programs in this field are designed to prepare students for effective teaching and research in a broad range of areas. Master's of Arts students receive a comprehensive program in historical musicology with an ethnomusicology component; PhD students in historical musicology are required to supplement their studies with a minimum of eleven hours of coursework in ethnomusicology to prepare them to meet the growing trend toward world musics in undergraduate and graduate education. This goal is facilitated by the department's superb faculty and facilities in ethnomusicology. The musicology faculty is also committed to exposing students to a variety of methodological approaches in historical musicology.
More information on studying musicology at the University of Hawaii-Manoa:
Dr. Abigail Fine
Assistant Professor of Music
Area Head
Abigail Fine received her PhD in Music History and Theory from the University of Chicago and her BA in Music at the University of Pennsylvania (phi beta kappa, summa cum laude, delta phi alpha). Her research focuses on reception and materiality in German and Austrian music culture. Her current work examines how composers were venerated as saints in the late nineteenth and early twentieth centuries—in particular, how a widespread fascination with composers' earthly traces (relics, shrines, sites of pilgrimage) shaped the reception of their music.
Her research has been supported by a Charlotte W. Newcombe Doctoral Dissertation Fellowship, an International Dissertation Research Fellowship from the Social Science Research Council, and the Deutscher akademischer Austauschdienst (DAAD). She was the further recipient of an Ernst Mach Fellowship for research in Austria, a Franke Institute for the Humanities Dissertation Completion Fellowship, and a Fulbright teaching grant for Germany.
Dr. Fine presents her research at conferences and workshops in the U.S. and abroad. Recent presentations include the American Musicological Society meeting in Rochester; After Idealism in Cambridge, UK; Music and the Middlebrow in London; and the North American Conference for Nineteenth-Century Music in Nashville.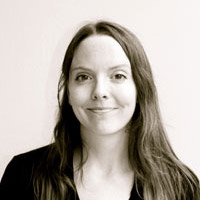 Dr. Kate McQuiston
Associate Professor of Music
Graduate Studies Chair
Kate McQuiston's main research area is music in film, with foci on directorial and compositional style, film-music rhetoric, the use of preexisting music, and musical quotation. Her approach to film music relies greatly on aesthetics, adaptation studies, the philosophy of music, and the broader histories of music in the nineteenth, twentieth, and twenty-first centuries.
She is the author of "We'll Meet Again": Musical Design in the Films of Stanley Kubrick (Oxford University Press, 2013), an archival and analytical study of music in Kubrick's films. Her latest articles appear in Literature/Film Quarterly (2016) and the Routledge Companion to Screen Music and Sound (2017).
Dr. McQuiston presents her research regularly at conferences and universities in New York, San Francisco, Los Angeles, Boston, Chicago, and London. She earned her MA and PhD at Columbia University.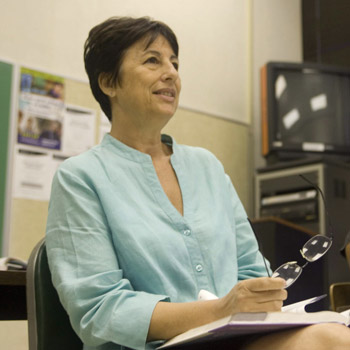 Dr. Valeria Wenderoth
Lecturer in Music
Valeria Wenderoth earned her M.A and then her Ph.D. in Musicology (2004) at the University of Hawai'i at Mānoa after studies at the Conservatory of Music in Perugia, Italy, where she received the Diploma of Classical Guitar (Superior Level) in 1985. Her research interests are nineteenth-century French and Italian opera, with particular focus on the association between text and music and on social and political issues. After her doctoral studies she was invited to read her papers at local, regional, national, and international conferences. Besides publishing a textbook on twentieth-century music, Dr. Wenderoth also wrote music criticism for the Honolulu Star-Bulletin. She was a fellow at the Institute of Music and Opera (2007), sponsored by the National Endowment for the Arts and the Colombia Graduate School of Journalism.
Since 2001 Dr. Wenderoth has offered courses at UHM on music history, music of the Romantic era and music appreciation. She has also taught Italian language and culture as well as Italian film. In addition, she worked at the UHM Center for Teaching Excellence.