Application Overview for Undergraduate Studies
All students seeking admission to the Music Department must apply for admission to the University as well as the Music Department. For more information, visit UH Mānoa Admissions. For admissions to the UH Mānoa Music Department, use the Music Mākālei online application portal.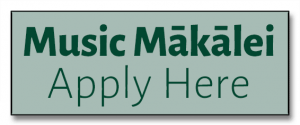 Please note that the date for Music Department applications may differ from that for general university undergraduate applications.
Please ensure that you have submitted the separate UH Systems application. Music Department acceptance cannot be considered until you have formally applied to the University itself.
International students who are not native speakers of English will be required to submit a TOEFL (Test of English as a Foreign Language) score of 500/173/61 (paper/computer/internet) or higher.
All music majors are required to audition for the music faculty. Although a live audition is preferable, we also accept high quality, unedited recordings from those unable to come to Honolulu for an audition. Please see the recording instructions as well as audition information on the Auditions Page. Recordings will not be reviewed until the application is complete.
Late applicants should contact the Music Department Chair before sending their materials.