ISR Commendation From WASC Reaffirmation
In Spring 2022, the University of Hawaiʻi at Mānoa was reaffirmed for a full 10 years of accreditation, the longest period possible, by the Senior College & University Commission of the Western Association of Schools and Colleges (WSCUC). Sustainability was featured prominently in UH Mānoa's WASC reaffirmation as a key theme. The campus showed substantial progress on curricular programs via Academic Innovation & Engaged Learning such that ISR received the following commendation from WASC:
"The Institute for Sustainability & Resilience for its smart approach to the simultaneous advancement of UHM's teaching, research, and service mission on topics of critical importance to the state and its communities. Specifically, ISR's development of SUST courses is noted as a high-quality and expeditious curricular innovation."
ISR Faculty & Researchers
Makena Coffman
Director
Makena Coffman serves in a dual capacity as the Director for the Institute for Sustainability and Resilience and a Professor in the Department of Urban and Regional Planning. Her research interests are in climate change policy, including greenhouse gas mitigation, alternative transportation strategies, and climate adaptation. She specializes in regional economy-environment modeling with applications to energy policy and climate change mitigation. Professor Coffman is a Research Fellow with the University of Hawaiʻi Economic Research Organization, holds a BA in International Relations from Stanford University (2002) and a PhD in Economics from the University of Hawaiʻi at Mānoa (2007). She previously served on the City and County of Honolulu Climate Change Commission. To contact Professor Coffman, please email makena.coffman@hawaii.edu.
Ketty Loeb
Faculty (Assistant Specialist)
Ketty Loeb is a faculty member in the Institute for Sustainability and Resilience. With nearly two decades of professional experience spanning academia, the public, non-profit, and private sectors, she offers a wealth of knowledge about sustainability and resilience strategies both locally and globally. Her research interests include climate change adaptation and mitigation, philanthropy and civil society capacity building, social movements, and politics in the Asia Pacific. She has raised and managed $70M in programmatic and research grants during her career. Doctor Loeb holds a BA in Asian Studies from University of Puget Sound (1997) and an MA and PhD in Political Science from University of Washington (2014). To contact Doctor Loeb, please email kloeb@hawaii.edu.
Conrad Newfield
Graduate Assistant
Conrad is a master's student in the Department of Urban and Regional Planning with interests in climate change mitigation and adaptation. As a Graduate Assistant within ISR, he supports and conducts research surrounding responses to sea level rise and coastal erosion in Hawaiʻi. He also runs a small rare fruit farm and nursery on the North Shore of Oʻahu. Conrad received his BS in Applied Mathematics and Engineering Physics at the University of Colorado Boulder (2020). To contact Conrad, please email conrad4@hawaii.edu.
Izzy Roberson
Graduate Assistant
Izzy is a master's student in the Department of Urban and Regional Planning and a Graduate Assistant with ISR. Her interests include climate adaptation and food systems, especially as they relate to sea level rise. Prior to starting her masters, Izzy was an AmeriCorps VISTA with the City's Resilience Office, where she supported the development of the City's first climate adaptation strategy through research and community engagement. Izzy really enjoys the color purple and playing sports in her free time. She received her BA in Urban Studies from the University of California, Berkeley (2020). To contact Izzy, please email irobe@hawaii.edu.
Renee Setter
Graduate Assistant
Renee is a PhD student in the Department of Geography and Environment with research interests in GIS and climate change projections. As a Graduate Assistant in ISR, she conducts geospatial analyses to support research on sea level rise and climate hazards in Hawaiʻi. Renee's PhD research focuses on projected climate change impacts on coral reefs. She received her BS in Interdisciplinary Studies at Cornell University (2013) and her MA in Geography and Environment from the University of Hawaiʻi at Mānoa (2019). In her free time, she enjoys running, surfing, diving, and playing music. To contact Renee, please email rsetter@hawaii.edu.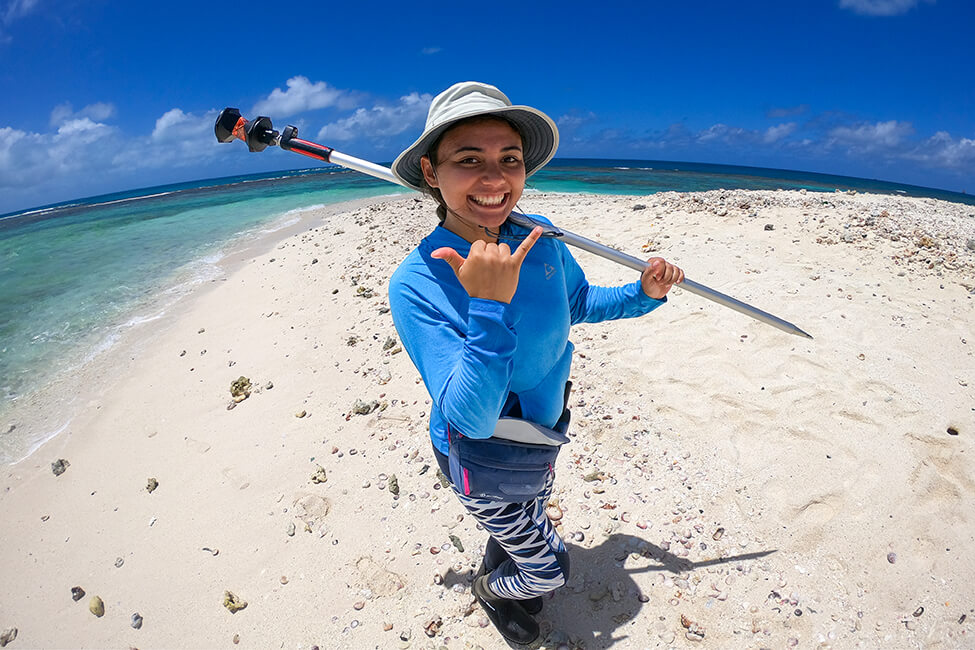 Kammie Tavares
Graduate Assistant
Kammie Tavares is a PhD student in the Department of Urban Regional and Planning and a graduate research assistant in ISR. Her research interests are in coastal management and climate adaptation, especially for vulnerable communities in Hawaiʻi. She holds a BS in Global Environmental Sciences (2018) and a Masters in Geology and Geophysics (2020) from UH Mānoa. Kammie previously worked in the Climate Resilience Collaborative (formerly known as the Coastal Geology Group) as a Geospatial Analyst studying coastal erosion and sea level rise in Hawaiʻi. She is excited to weave her knowledge and experience in the earth science department with her growing knowledge and experience in the planning department into her research. To contact Kammie, please email kdat@hawaii.edu.
Alice Terry
Graduate Assistant
Alice is a master's student in the Department of Urban and Regional Planning with interests in climate change resilience and coastal land use planning. In her role as Graduate Assistant, Alice supports coordination of sustainability and resiliency curriculum, research and outreach across campus. Before returning to UH for her masters, Alice worked in the field of conservation on the north shore of Oʻahu, a position which helped her better understand the impact of human societies on the natural environment and the complex process of community-based land use planning. She is also the co-owner of a small nursery in Waialua specializing in non-invasive bamboo. Alice received her BA in Anthropology from the University of Hawaiʻi at Mānoa (2011). To contact Alice, please email alicelt@hawaii.edu.
The ISR Curriculum Committee
Malia Akutagawa, Associate Professor, Representing

Hawaiʻinuiākea

School of Hawaiian Knowledge
Simon Bussiere, Assistant Professor, Representing the School of Architecture
Christopher Cannon, Assistant Professor, Representing Shidler College of Business
Pauline Chinn, Professor, Representing College of Education
Michael Cooney, Researcher, Representing the School of Ocean and Earth Science and Technology
Oceana Francis, Professor, Representing the College of Engineering
Jaimey Hamilton Faris, Associate Professor, Representing the College of Arts, Languages, and Letters
Jonathan Padwe, Associate Professor, Representing the College of Social Sciences
Tamara Ticktin, Professor, Representing the College of Natural Sciences
Mark Wright, Specialist, Representing the College of Tropical Agriculture and Human Resources
Past Healy Foundation Climate Change Fellows
2021–2022: Ryan Ringuette
2020–2021: Rachael Han