Housing & Meals
There are a range of on-and off-campus housing options in Honolulu for students studying at the University of Hawaii at Manoa to choose from. Additionally, food options on-campus and across the city are as plentiful as they are diverse.
Temporary Housing (when you first arrive)
Some student housing providers may not allow you to move in to your accommodation until a certain date (often a few days before the start of the semester). It will be your responsibility to arrange alternate, temporary housing if you arrive in Hawaii early. Here are some options that students consider:
On-Campus Housing
On-campus housing is a good option for students who want to experience dormitory life and be close to classes and on-campus facilities. Students can apply for on-campus housing via UHM's Student Housing Services website. Please note that there is a non-refundable $25 application fee to apply. Unfortunately, on-campus housing is not guaranteed for Exchange/Visiting students. For this reason, we recommend that all students strongly consider off-campus housing as well, even they you plan to apply for on-campus housing.
Rooms
Most on-campus dorms are double occupancy, which means you will share a single room with a roommate. Although there are some single occupancy options, these types of rooms are far fewer and tend to be more expensive. Each resident is generally provided with a bed (extra long twin), desk and chair, closet, dresser, shelves, and internet. Personal items such as bed linen, pillows, and towels are not provided for residents. Cooking an eating utensils are also not provided in the community kitchens. Air conditioning units in rooms are also not standard. Only rooms in Frear Hall and Hale Ānuenue have AC units included in rooms.
Facilities
Most of the on-campus dormitories have community laundry centers, community kitchens, and student lounges. While some dormitories offer a private bathrooms shared between two to four residents, most dorms have community bathrooms, which are bathrooms shared by an entire hall of residences.
Residential dining
A meal plan is required for students living on-campus and optional for students living off-campus. Meal plans range from around $1,850 to $2,900 per semester depending on the plan that is selected. The meal plans entitles you to various nutritious meal options each week during the semester, plus a predetermined amount of retail meal points per semester. For example, the "Select Plan" allows residents to eat up to 14 meals each week and $175.00 in meal points that may be used at the residential dining cafeterias (Hale Aloha or Gateway House) and various campus retail outlets.
Application process
In order to apply for on-campus housing, you need a UH Number (found on your Acceptance letter). Students may apply for on-campus housing online at Student Housing Services. There is a $25 application fee that should be paid with a credit card. Please be sure to use the "Non-Freshman" application form (do NOT use the "Freshman" application form). The deadline to apply for housing in Fall Semester is May 1. The application deadline for housing in Spring Semester is typically in December, but the date varies year to year, so please continue to check the Student Housing Services website for updates.
Housing contract
Please note that the housing contracts at UHM are for the entire academic year (two semesters). If you will only be studying at UHM for the Fall semester, that's OK. We will inform Student Housing Services and they will be able to release you from the second half of your contract. If you cancel your contract, there may be financial repercussions. For more details, see HERE. Penalties may vary depending on when you cancel your contract. If you cancel your contact after the dorms have opened for move-in, you will be charged for your days of occupancy and 60% of the remaining value of your housing contract. Meal plans are terminated by week on Saturdays and you will be assessed for the weeks you are on the plan with a $25 cancellation fee. You will only be able to cancel your meal plan if you also cancel your contract.
Payment
When you receive your housing assignment, you will receive a housing invoice and contract. UHM Housing Services needs both the invoice and the first page of the contract in order to process your paperwork. You can either authorize the payment for the full amount owed or just put the minimum down payment (~$400). It is highly recommended that payment is made by credit card (via the Credit Card Payment Form or MyUH) or through Flywire as it is easier for the UHM Cashier's Office process refunds directly to the payment source via these methods. If these methods are not used, the Cashier's Office may only be able to issue a refund via a paper check, which may be difficult to process outside of U.S. banks. 
When sending your housing paperwork, you have the option of using UH FileDrop which can be accessed via this link: https://www.hawaii.edu/filedrop or you can email your documents as an attachment and email it back to the original email you received their assignments through. Should you have any further questions or concerns, please feel free to contact UHM Student Housing Services at uhmsh@hawaii.edu.
Moving in (and out)
Please see Student Housing Service's move-in and move-out page for advice and guides. Students who arrived before their scheduled hall opening dates must find alternative off-campus housing.
Health Clearance
Students must also clear all of their health clearance holds before moving in. You will not be allowed to move in without a valid health clearance.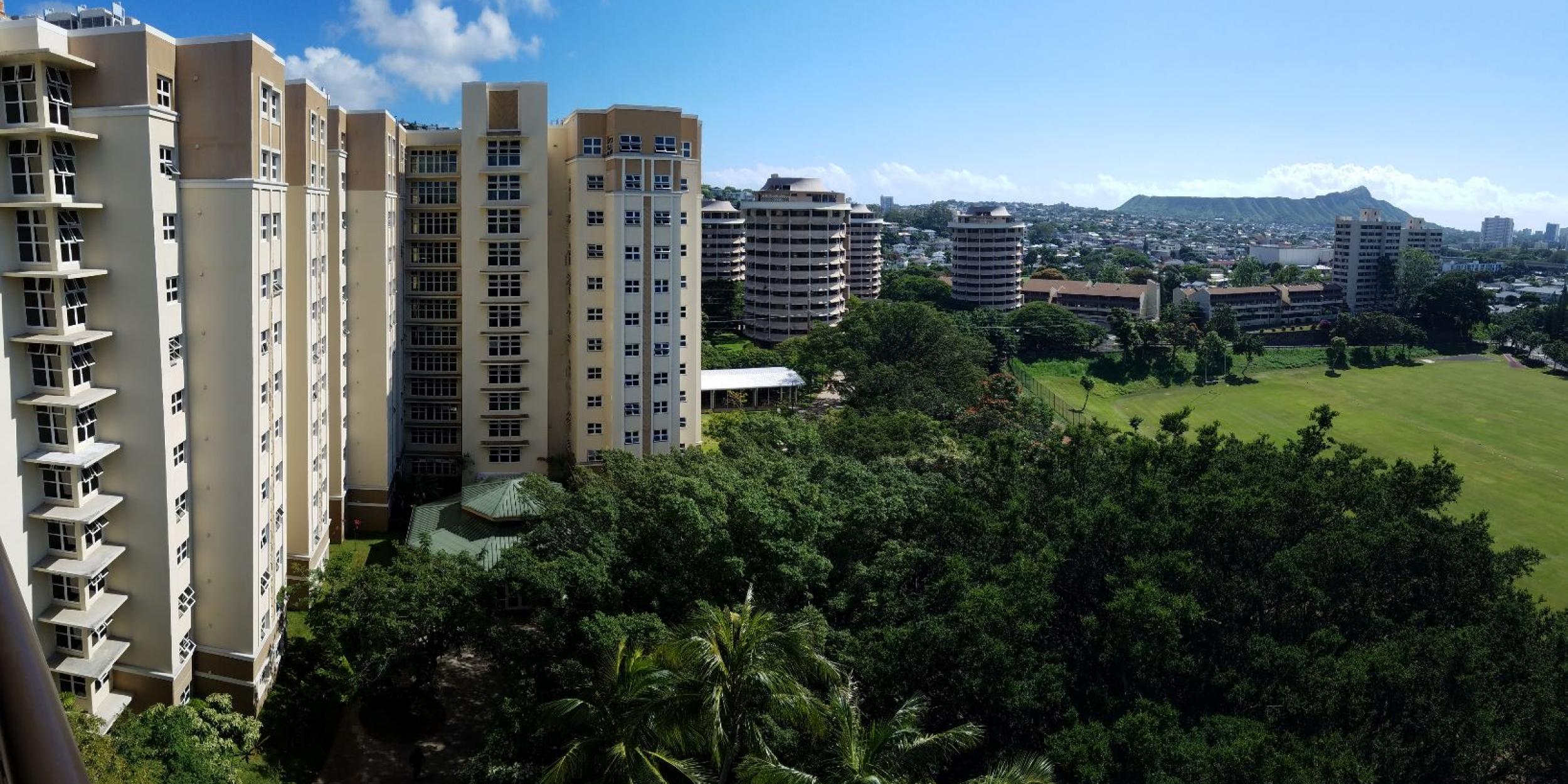 Off-Campus Housing
Living off-campus has become an increasingly popular option amongst international exchange students. It is often much easier and quicker for students to secure off-campus housing placement than to wait for an on-campus placement (which is not guaranteed). Living off-campus also gives students the opportunity to choose the neighborhood they wish to live in. Most neighborhoods around Honolulu are well connected by the city bus system, "TheBus", which students can ride for free after obtaining their student ID card.
Neighborhoods near the campus which are serviced by TheBus are: University, Manoa, Punahou, Mo'ili'ili, McCully, Waikiki, Kapi'olani, Kapahulu, Kaimuki, St. Louis Heights, Wilhemina Rise, Pololo, Makiki and Ala Moana.  Rent prices vary according to the quality of the apartment and location, but if you live alone you can plan on spending between $800-$1500 per month for a studio or one bedroom apartment, with an additional $800-$1500 security deposit (one month's rent) and approximately $100/month for utilities (electricity/gas). These costs will be less if you share accommodations with one or more other students. Internet access may or may not be included. Most places will provide some kitchen equipment and possibly some furniture, but you should not expect this.
Manoa International Exchange can provide information, suggestions and advice, but the final decision and any financial obligation made for housing will be yours. Please contact us at inbound@hawaii.edu if you have questions about housing. Please note that the off-campus housing resources listed below are not officially endorsed by MIX or UH Mānoa. The options listed below are, however, commonly used providers amongst our students and other international students studying in Honolulu.
Student Residences (dorm, apartment, or flat-style)
Homestay
Study & Stay Hawaii is a local service provider, offering private rooms in approved homes at affordable rates. They also can provide condos, student residences, and hotels. **Placements can typically be made within a week of applying. Please note that placements become more difficult the closer it gets to the start of the semester.**
Other options
Use housing search engines such as Cirtru, PadMapper, Craigslist, ApartmentList, RentCafe, Lovely, Rentable, Hotpads, RentLingo, Rent.com, Zillow, Zumper, or ApartmentGuide. Apartment Guide also provides a useful Student Resource Guide.
Meals & Dining
While you're here on Oahu, you won't go hungry!  Enjoy many on- and off-campus dining options. Asian and international cuisines, as well as local Hawaiian food, are abundantly available.
On-Campus Dining
There are many places to eat on campus!  Restaurants and cafes are located at the Campus Center, Paradise Palms (near Hamilton Library), Manoa Garden (near Sinclair Library), and at the Athletics Complex. There are also several food kiosks and food trucks on campus every day, for your convenience. Meal plans and Dining Dollars let you conveniently add money to your UHM ID card, and use it as a debit card in campus cafeterias and cafes.
Grocery Stores
Grocery stores and markets located close to campus are:
Pharmacy
The closest full-service pharmacy to campus is Longs Drugs (2470 S. King Street).
Farmers Markets
Every Tuesday and Friday afternoon, there is a small farmers market selling local produce at the Campus Center, down the stairs from Jamba Juice. On Saturday mornings, there is a Farmers' Markets selling fresh fruits and vegetables, flowers, local products, and hot food at Farmer's Markets (Oahu and other islands).
Restaurants
There are many restaurants close to campus, especially around the intersection of University Avenue and South King Street. The Ala Moana Shopping Center also has tons of restaurants, and is also a great place to go shopping.