Student Housing is currently at capacity with a large waitlist.  You are strongly encouraged to look for other housing accommodations for the 2022 fall semester.
View Student Housing COVID-19 Information
and Resources for Academic Year 2022 – 2023.
UH Mānoa COVID-19 Information page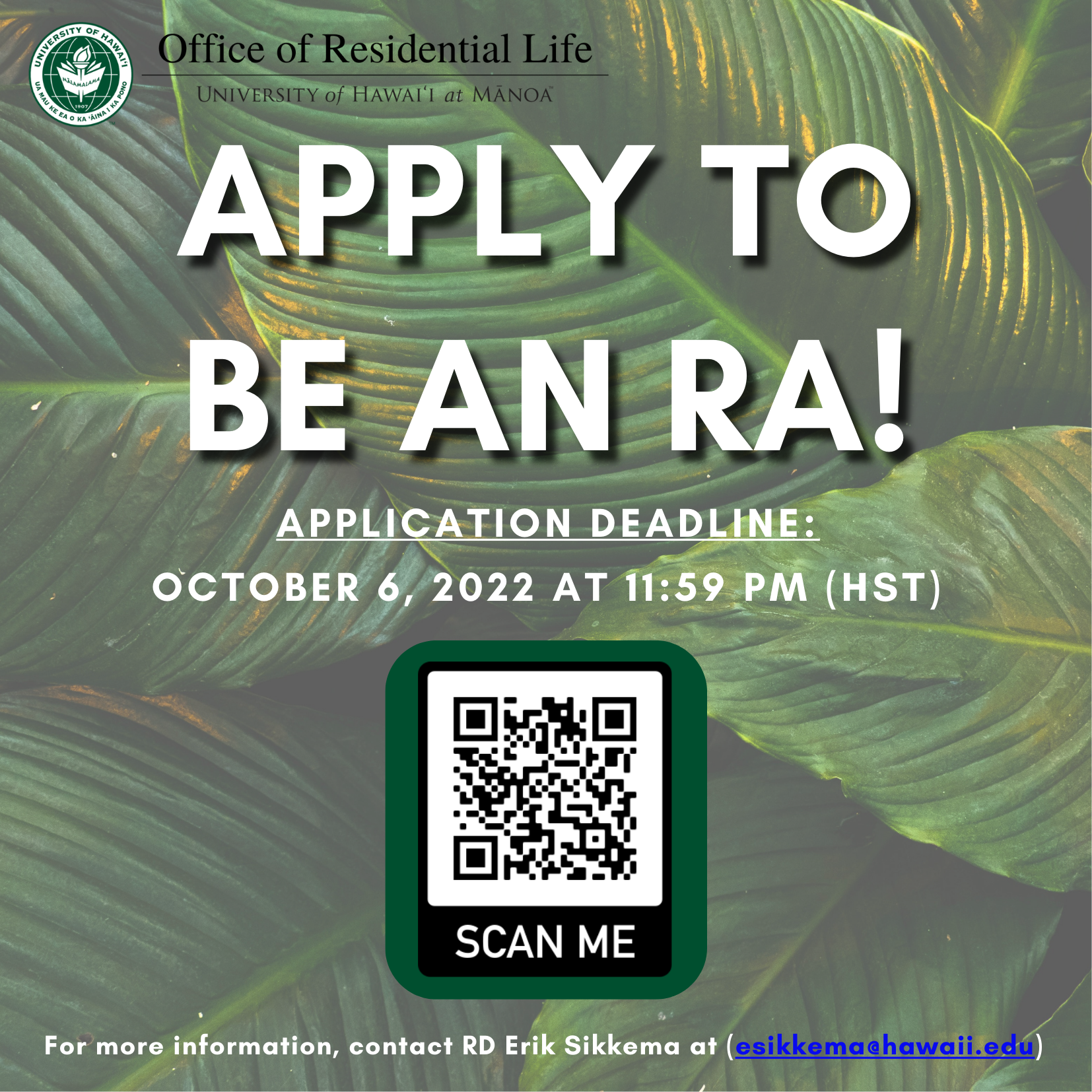 The application will close on October 6, 2022.
This application process is for hiring pending staff openings for the 2022-2023 academic year.

Requirements:
A minimum 2.5 cumulative grade point average (GPA) at an institution of higher education. The GPA does not round up; any cumulative GPA below 2.5 will not qualify.
Must be in good academic, financial, and conduct standing with UHM and Student Housing Services.
Prior residence hall living experience at UHM or at another college/university is preferred. Prior full-time enrollment at UHM or another accredited college or university for at least one academic semester can be substituted for the residence hall living experience.
A minimum, sophomore standing at the start of the appointment.
Benefits include:
SECE Hourly wage when serving in an on-duty capacity 
Room and Board plan provided
For questions, please contact Residence Director Erik Sikkema (
esikkema@hawaii.edu
)
Welcome to UH Mānoa and Student Housing Services. We hope that your move-in went smoothly and your classes have gotten off to a good start. Now that you are settled, we wanted to take a moment to provide some important information and reminders regarding living on-campus. Please review the following thoroughly.
Move with Aloha: Please commute safely on and off campus
The university would like to take this opportunity to remind our community to please Move with Aloha. Whether traveling by vehicle, moped, hoverboard, bicycle, skateboard, or foot, please commute safely both on and off campus. The return to in-person courses and activities on campus this fall semester has also meant a return to heavy pedestrian and vehicular traffic. 
A number of close calls have been reported since the start of the school year. Individuals riding bicycles and motorized vehicles such as mopeds should not illegally pass other vehicles, weave in and out of traffic or drive in pedestrian areas. Please be considerate of the safety of those around you, so that you don't cause injury or damage to others. 
Always plan ahead and leave for campus early to avoid having to rush. When on campus, keep an eye out for each other and be vigilant and aware of your surroundings, especially in areas of heavy foot traffic. Abide by speed limits (15 MPH on campus), traffic signs, signals and lane markings. Be sure to keep an eye out for pedestrians and remember that they always have the right of way.
Off-campus parking and no parking zones
If you are parking off campus in the surrounding neighborhoods, please do so with respect and courtesy. Arrive and depart quietly and do not block driveways or litter. Vehicles parked in no parking zones are subject to tow. For example, the bridge on Dole Street between student housing and the Hawaiʻinuiākea School of Hawaiian Knowledge is a no parking zone. The Honolulu Police Department will tow vehicles parked illegally.
Let's do all we can to prevent avoidable accidents that could cause serious injury or worse. For more information on commuting on campus, go to the UH Mānoa Commuter Services website.