Hawai'i War Records Depository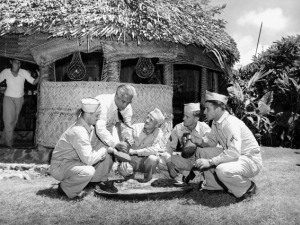 The Hawaiʻi War Records Depository (HWRD) is an extensive collection of archival materials that document life in Hawaiʻi during World War II. In April of 1943, during its first session after the United States' entrance into World War II, the Hawaiʻi Territorial Legislature passed a joint resolution designating the University of Hawaiʻi as the official depository of material related to Hawaiʻi's part in the war. Over a five year period, individuals, organizations and agencies throughout the state donated or loaned correspondence, personal accounts, reports, photographs, scrapbooks, phonograph discs, maps, posters, artwork, pamphlets, newspapers, clippings, memorabilia and other materials.
Related Materials
Series in the Collection
Finding aids are currently available for around half of the collection's series, and folder lists are available upon request. Access to materials in the Original Subject Files series is provided via a card catalog that was created in the 1940s. The card catalog provides subject, title, and author access to a selection of manuscripts, photographs, and microfilm. Researchers can contact the archives for more information about any part of the collection.
Many of the photographs from the HWRD Audiovisual Materials Series, including 880 wartime photos taken by the U.S. Army Signal Corps and the U.S. Navy, are available through the Library's digital collections. Taken between 1941 and 1946, these photographs are an important resource depicting the military activities in Hawaiʻi, as well as the military's relationship with Hawaiʻi's civilian population during the war. Access the photos here.
Topics of the Army and Navy photographs include, but are not limited to: military training, personnel, and facilities; leisure and recreation activities; civilian defense efforts; air raid drills; defense workers; women's participation in wartime activities; Japanese American soldiers; military and civilian parades, ceremonies, and memorials; returning American prisoners of war; and the bombing of Pearl Harbor.
Collection Processing
The archival arrangement and description of the Hawaiʻi War Records Depository has been funded by a generous gift from the family of John Troup Moir, Jr. and Gertrude M.F. Moir. For more information on the Moirs and their contribution to the Archives & Manuscripts Department, visit the John Troup Moir Jr. & Gertrude M.F. Moir Archives Reading Room page.