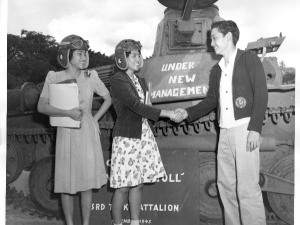 The Manuscript Collections document the people, history, culture, and politics of Hawaiʻi from the 20th Century to the present. These collections support scholarly research, teaching, and public awareness, and promote an understanding of Hawaiʻi's rich multicultural heritage.  Major manuscript collections include:
The Hawaiʻi War Records Depository (HWRD), documenting life in Hawaiʻi during World War II. During its 1943 session, the Hawaiʻi Territorial Legislature created the HWRD at the University of Hawaiʻi to preserve materials collected from individuals and organizations throughout the state.  The HWRD includes organizational records, photographs, personal accounts, reports, scrapbooks, maps, posters, artwork, pamphlets, clippings, and more.
The Japanese American Veterans Collection, documenting the rich heritage of Hawaiʻi's Japanese American World War II veterans and their families. These veterans served with distinction during World War II in the 100th Infantry Battalion, Hawaiʻi Territorial Guard, Varsity Victory Volunteers, 442nd Regimental Combat Team, 1399th Engineers, and the Military Intelligence Service. The collection consists of several sub-collections: the personal papers of individual veterans and the organizational records of Hawaiʻi-based veterans clubs.
There is also material from several other groups and individuals.  One notable example is the Institute of Pacific Relations, an international organization working for peaceful reconciliation between nations that began in Honolulu, holding its first biennial conference in 1925. In the mid-1930s, the International Secretariat moved to New York City, but the Honolulu group remained active until the McCarthy Era in the 1950s.
The Manuscript Collections can be accessed in the John Troup Moir Jr. & Gertrude M.F. Moir Archives Reading Room on the fifth floor of the Hamilton Library addition.
NEW for 2019: UH Mānoa Library is launching a new, online catalog for archival materials to make searching for relevant collections easier!  This catalog currently has information on selected archival materials from the University Archives and Manuscript Collections, from the Hawaiian and Pacific Collections, and from the Charlot Collection.  The catalog is a work in progress, and we will continue to improve and expand existing collection records—as well as add information about additional collections—as time goes on.