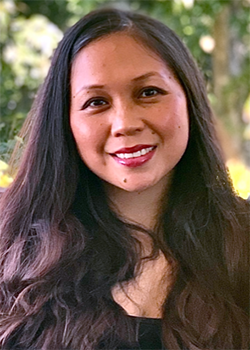 Azure Lwin-Maluo, MSW
Instructor
---
Biographical Narrative
Azure Lwin-Maluo, MSW, is an Instructor at the school, as well as the coordinator for the Hawaii Child Welfare Education Collaboration (HCWEC) program. She received her Bachelor of Arts in Psychology and Sociology from the University of Hawaii – West Oahu, and her Master's degree in Social Work from the University of Hawaii – Manoa, with a concentration in Child Welfare. She is a proud alum of the HCWEC program and worked with the State of Hawaii, Child Welfare Services as a Child/Adult Protective Specialist (C/APS). Prior to joining the Thompson School of Social Work & Public Health, Azure worked at the Hawaii Permanente Medical Group (HPMG), where she managed internal and external strategic and learning events in the areas of Learning and Development, Leadership Development, Onboarding, Health and Wellness, Clinician Patient Communication, and Equity, Inclusion & Diversity.
Education
Master of Social Work, University of Hawai'i at Mānoa
Concentration in Child & Family
Bachelor of Arts, Sociology, University of Hawaii West Oahu
Bachelor of Arts, Psychology, University of Hawaii West Oahu
Research Interests
Child Welfare
Field Education/Experiential Learning
Organizational Culture & Change
Leadership
Indigenous Education, Reconciliation & Decolonization
CV
View CV File
If you require the Curriculum Vitae document in an alternative format, such as large print, please contact Azure Lwin-Maluo at azurelm@hawaii.edu.