The University of Hawaiʻi confers a bachelor of social work (BSW) degree on undergraduate students who have majored in social work and completed all the academic requirements of the University of Hawaiʻi at Mānoa. This program involves a two-year course of study beginning in the junior year. It combines both academic course work and field practicum.
---
Licensure and State Authorization
Once the student has completed the Bachelor's in Social Work program and has successfully completed the application paperwork with the Department of Commerce and Consumer Affairs, including passing the ASWB's Bachelors examination, they  will be eligible to obtain a state license as a Licensed Bachelor Social Worker (LBSW) in the State of Hawaiʻi. The University of Hawaiʻi at Mānoa, Thompson School of Social Work & Public Health, Department of Social Work may not be able to confirm whether a particular program meets the professional licensure requirements outside of the State of Hawaiʻi and recommends that the student contact the respective professional licensing board to determine the licensure requirements in the state in which the student wishes to practice.
University of Hawaii at Manoa OVCAA Professional Licensure Disclosure 
---
Pre-BSW Peer Advisors
Peer Advisor Hours
Monday: 9:00 AM – 3:45 PM
Tuesday: Not Available
Wednesday: 9:00 AM – 1:45 PM
Thursday: Not Available
Friday: 9:00AM – 3:00PM
Hi everyone! My name is Jennifer but you can call me Jenny. I am currently a senior double majoring in Social Work and ICS (Information & Computer Science), as well as a minor in Psychology. I plan on working in the field for a little bit before pursuing a Masters in either ICS or Social Work. As a Mānoa Peer Advisor, I want to help your transition into the major to be as smooth as possible. As I finished the core classes for Social Work, I can also give insight on what the courses may entail!
As always, feel free to contact me if you have any questions or concerns and I'll do my best to help you out. I hope to meet you all soon. I'm so excited to be part of this journey with you.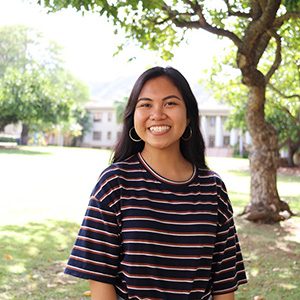 Hello! My name is Sheila and I'm a sophomore majoring in Interdisciplinary Studies with the focus on Sustainability Studies
.
 I plan to minor in business, and I also plan to double major in either Political Science or Philippine Language & Literature. As a Mānoa Peer Advisor (MPA), I hope to help students with their concerns and when advising them
.
 I want to make them feel that they are in a safe environment. I hope they will not hesitate to ask me any questions.
As a first-generation college student, I understand that college can be a little overwhelming and it can definitely be a little confusing, and I want to make students feel that there are people at the University who are willing to help, including me.