Digital Resources: Signal Corps Photographs
The U.S. Army Signal Corps photographed military activities during World War II. This selection of photographs documents the 100th Infantry Battalion and the 442nd Regimental Combat Team [RCT]. Subjects include enlistment, training at Camp Shelby, Mississippi, service in Italy and France, and the 442nd RCT's homecoming in Honolulu.
The images here represent a small sampling of Signal Corps photographs held in the collections of the Hawaiʻi War Records Depository [HWRD] at the University of Hawaiʻi Library and of the archives of the 442nd Veterans Club in Honolulu. The original photographs are 8 x 10 inch black and white prints.
This site has relatively low resolution images; medium-res versions of the HWRD photos are available at the HWRD photograph collection site; in many cases that site includes more detailed captions (e.g. with further details on date, location, or the soldiers depicted in the image).
For additional information, please contact us:
By Mail: University Archives & Manuscripts Department University of Hawaiʻi at Mānoa Library 2550 McCarthy Mall Honolulu, HI 96822
Phone: (808) 956-6047; Fax: (808) 956-5968
Email: archives@hawaii.edu
---
Enlistment
---
Description: A Japanese American Selective Service man learns to "hold and squeeze" a rifle at the Reception Center in

Hawaiʻi

Date: Unknown
Location:

Hawaiʻi

Collection: 442nd Veterans Club Signal Corps Photographs
ID Number: SC126861
---
Description: A Japanese American Selective Service man at the Reception Center in

Hawaiʻi

looks over his daily rifle score record
Date: Unknown
Location:

Hawaiʻi

Collection: 442nd Veterans Club
ID Number: SC126863
---
Training at Camp Shelby, Mississippi
---
Description: Members of the 100th Infantry Battalion training at Camp Shelby
Date: 1943
Location: Camp Shelby, Mississippi
Collection: 442nd Veterans Club
ID Number: SC180023
---
Description: Two soldiers in the 100th Infantry Battalion repair engine of a 5×6 Army truck while training at Camp Shelby
Date: 1943
Location: Camp Shelby, Mississippi
Collection: 442nd Veterans Club
ID Number: SC180025
---
Description: This member of the 100th Infantry Battalion, an orderly for the general, prepares a uniform while training at Camp Shelby
Date: 1943
Location: Camp Shelby, Mississippi
Collection: 442nd Veterans Club
ID Number: SC180032
---
Description: The 442nd regimental band marches during the first formal review of the 442nd RCT at Camp Shelby
Date: 1943
Location: Camp Shelby, Mississippi
Collection: 442nd Veterans Club
ID Number: SC185156
---
Description: Members of the 442nd RCT prepare to cross a stream on a raft swung on cables and pulled by men in the water while training at Camp Shelby
Date: 1943
Location: Camp Shelby, Mississippi
Collection: 442nd Veterans Club
ID Number: SC185159
---
Description: A 442nd RCT soldier takes cover during field exercises at Camp Shelby
Date: 06 August 1943
Location: Camp Shelby, Mississippi
Collection:

Hawaiʻi

War Records Depository
ID Number: 1514
---
Description: Members of the anti-tank company of the 442nd RCT ease a gun of the bank of a stream to ferry it across on steel cables while training at Camp Shelby
Date: 06 September 1943
Location: Camp Shelby, Mississippi
Collection: 442nd Veterans Club
ID Number: SC340953
---
Description: Members of the 171st from Camp Shelby entertain soldiers at Walter Reed Hospital
Date: Unknown
Location: Walter Reed Hospital, Washington, DC
Collection:

Hawaiʻi

War Records Depository
ID Number: 1512
---
Description: Members of the 171st from Camp Shelby entertain soldiers at Walter Reed Hospital
Date: Unknown
Location: Walter Reed Hospital, Washington, DC
Collection:

Hawaiʻi

War Records Depository
ID Number: 1513
---
Italy
---
Description: A soldier of the 100th Infantry Battalion on reconnaissance during mock maneuvers in Italy prior to going into battle
Date: 12 October 1943
Location: Italy
Collection:

Hawaiʻi

War Records Depository
ID Number: 1452
---
Description: A BAR gunner in the 100th Infantry Battalion takes position during mock maneuvers in Italy prior to going into battle
Date: 12 October 1943
Location: Italy
Collection: 442nd Veterans Club
ID Number: SC340898
---
Description: Soldiers of the 100th Infantry Battalion taking position behind an embankment during mock maneuvers in Italy prior to going into battle
Date: 12 October 1943
Location: Italy
Collection: 442nd Veterans Club
ID Number: SC340897
---
Description: Soldiers of the 100th Infantry Battalion move up to the front in the Valletri area of Italy
Date: 28 May 1944
Location: Valletri Area, Italy
Collection: 442nd Veterans Club
ID Number: SC186683
---
Description: Secretary of War Henry L. Stimson greets a Captain of the 442nd RCT on Route 68, north of Cecina, Italy
Date: 06 July 1944
Location: Cecina Area, Italy
Collection: 442nd Veterans Club and

Hawaiʻi

War Records Depository
ID Number: SC191698 (linked via photo) and HWRD 1616h
---
Description: Soldiers of the 100th Infantry Battalion of the 442nd RCT in a German jeep captured during the battle for Leghorn
Date: 12 July 1944
Location: Castellina Sector, Italy
Collection:

Hawaiʻi

War Records Depository
ID Number: 1456 and SC191701
---
Description: Soldiers of the 552nd Field Artillery of the 442nd RCT fire a 105-mm Howitzer at the enemy during the battle for Leghorn
Date: 12 July 1944
Location: Castellina Sector, Italy
Collection:

Hawaiʻi

War Records Depository
ID Number: 1453
---
Description: Members of the 442nd RCT fire a 105-mm Howitzer during the battle for Leghorn
Date: 12 July 1944
Location: Castellina Sector, Italy
Collection: 442nd Veterans Club
ID Number: SC340910
---
Description: Members of the 522nd Field Artillery working in the fire direction center
Date: 12 July 1944
Location: Castellina Sector, Italy
Collection:

Hawaiʻi

War Records Depository
ID Number: 1442
---
Description: A member of the 522nd Field Artillery of the 442nd RCT with an Italian soldier of the 11th Pack Mule Co.
Date: 12 July 1944
Location: Castellina Sector, Italy
Collection:

Hawaiʻi

War Records Depository
ID Number: 1440
---
Description: A switching central operator of the 442nd RCT is on duty at a forward command post while other operators sleep
Date: 12 July 1944
Location: Castellina Sector, Italy
Collection: 442nd Veterans Club and

Hawaiʻi

War Records Depository
ID Number: SC191702 (linked via photo) and HWRD 1519
---
Description: A soldier of the 442nd RCT hangs his laundry on a jeep so it won't be lost during a sudden move
Date: 12 July 1944
Location: Castellina Sector, Italy
Collection:

Hawaiʻi

War Records Depository
ID Number: 1457
---
Description: Officers of the 442nd RCT after they received their bars and completed the 12 week course at leadership and battle school
Date: 14 July 1944
Location: S. Agata Di Goti, Italy
Collection:

Hawaiʻi

War Records Depository
ID Number: 1443
---
Description: A platoon moves forward in the battle for Leghorn
Date: 15 July 1944
Location: Castellina Sector, Italy
Collection:

Hawaiʻi

War Records Depository
ID Number: 1435
---
Description: After 16 days of fighting in the Battle for Leghorn, soldiers of the 100th Infantry Battalion of the 442nd RCT leave for the regimental reserve
Date: 15 July 1944
Location: Castellina Sector, Italy
Collection:

Hawaiʻi

War Records Depository
ID Number: 1455
---
Description: A sniper with the 100th Infantry Battalion after 16 days of fighting in the battle for Leghorn
Date: 15 July 1944
Location: Castellina Sector, Italy
Collection:

Hawaiʻi

War Records Depository
ID Number: 1434
---
Description: Soldiers of the 100th Infantry Battalion rest on the street in Leghorn
Date: [19 July 1944]
Location: Castellina Sector, Italy
Collection:

Hawaiʻi

War Records Depository
ID Number: 1616l
---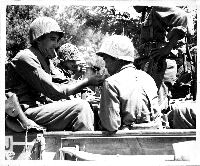 Description: Soldiers of the 100th Infantry Battalion prepare to leave for reserve after 16 days of fighting in the battle for Leghorn
Date: 25 July 1944
Location: Castellina Sector, Italy
Collection:

Hawaiʻi

War Records Depository
ID Number: 1450
---
Description: Lt. General Mark Clark of the 5th Army pins ribbon awards to each member of the 100th Infantry Battalion to designate the Presidential Distinguished Unit Citation
Date: 27 July 1944
Location: Vada Area, Italy
Collection: 442nd Veterans Club
ID Number: SC324155
---
Description: A soldier plays taps after the rifle squad fired a salute at a memorial service for 72 members of the 2nd Battalion of the 442nd RCT who were killed during the first month of combat in Italy
Date: 30 July 1944
Location: Cecina Area, Italy
Collection:

Hawaiʻi

War Records Depository
ID Number: 1447 and 1451
---
Description: During a memorial service, Chaplain Hiro Higuchi reads the names of the 72 soldiers from the 2nd Battalion of the 442nd RCT who were killed during the first month of combat in Italy
Date: 30 July 1944
Location: Cecina Area, Italy
Collection:

Hawaiʻi

War Records Depository
ID Number: 1454 and 1616t
---
Description: A choir group of 442nd soldiers sings "Abide in Me" at the memorial ceremony for the 72 members of the 2nd Battalion who died in the first month of combat in Italy
Date: 30 July 1944
Location: Cecina Area, Italy
Collection:

Hawaiʻi

War Records Depository
ID Number: 1439
---
Description: A soldier from the 100th Infantry Battalion of the 442nd RCT fires his M-1 into hills reported active with German snipers
Date: 07 August 1944
Location: Montenero Area, Italy
Collection: 442nd Veterans Club and

Hawaiʻi

War Records Depository
ID Number: SC340933 (linked via photo) and HWRD 1515
---
Description: A soldier in the 100th Infantry Battalion fires at a hillside reported active with German snipers.
Date: 07 August 1944
Location: Montenero Area, Italy
Collection:

Hawaiʻi

War Records Depository
ID Number: 1518
---
Description: A 100th Infantry Battalion mortar crew fires into a hill reported active with German snipers
Date: 07 August 1944
Location: Montenero Area, Italy
Collection:

Hawaiʻi

War Records Depository
ID Number: 1441
---
Description: A 100th Infantry Battalion mortar crew fires into a hill reported active with German snipers
Date: 07 August 1944
Location: Montenero Area, Italy
Collection:

Hawaiʻi

War Records Depository
ID Number: 1448
---
Description: Members of the 442nd RCT march through Vada, Italy
Date: [1944]
Location: Vada, Italy
Collection:

Hawaiʻi

War Records Depository
ID Number: 1616r
---
Description: The 442nd RCT moves through Massa, Italy
Date: [1944]
Location: Massa, Italy
Collection:

Hawaiʻi

War Records Depository
ID Number: 1616m
---
Description: The 442nd RCT fights in Seravezza, Italy
Date: [1944]
Location: Seravezza, Italy
Collection:

Hawaiʻi

War Records Depository
ID Number: 1616o
---
Description: Members of the 100th Infantry Battalion inspecting a confiscated German field kitchen at the Fifth Army concentration area in Brescia, Italy
Date: 18 May 1945
Location: Brescia Area, Italy
Collection:

Hawaiʻi

War Records Depository
ID Number: 1445
---
Description: Members of the 100th Infantry Battalion load confiscated German material onto a trailer at the Fifth Army concentration area in Brescia, Italy
Date: 18 May 1945
Location: Brescia Area, Italy
Collection:

Hawaiʻi

War Records Depository
ID Number: 1446
---
Description: Lt. General Lucian Truscott of the 5th Army salutes after fastening the Presidential Distinguished Unit Citation Banner to the guidon of Co. L, 3rd Battalion, 442nd RCT at a ceremony in Leghorn, Italy
Date: 04 September 1945
Location: Leghorn, Italy
Collection: 442nd Veterans Club
ID Number: SC213052
---
Description: The 442nd RCT receives a Presidential Unit Citation at a ceremony in Leghorn, Italy
Date: [September 1945]
Location: Leghorn, Italy
Collection:

Hawaiʻi

War Records Depository
ID Number: 1616a
---
Description: The 442nd RCT is honored at an award ceremony at Yankee Stadium in Leghorn, Italy
Date: [September 1945]
Location: Leghorn, Italy
Collection:

Hawaiʻi

War Records Depository
ID Number: 1616c
---
Description: The 442nd RCT is honored at an award ceremony at Yankee Stadium in Leghorn, Italy
Date: [September 1945]
Location: Leghorn, Italy
Collection:

Hawaiʻi

War Records Depository
ID Number: 1616b
---
Description: A review of the 442nd RCT in Leghorn, Italy
Date: [September 1945]
Location: Leghorn, Italy
Collection:

Hawaiʻi

War Records Depository
ID Number: 1616g
---
Description: A review of the 442nd RCT in Leghorn, Italy
Date: [September 1945]
Location: Leghorn, Italy
Collection:

Hawaiʻi

War Records Depository
ID Number: 1616f
---
Description: The 442nd RCT participates in a V-J Day parade in Leghorn, Italy
Date: Unknown [circa August 1945]
Location: Leghorn, Italy
Collection:

Hawaiʻi

War Records Depository
ID Number: 1616e
---
Description: King George of England inspects the troops
Date: Unknown
Location: Cecina Area, Italy
Collection:

Hawaiʻi

War Records Depository
ID Number: 1616d
---
Description: Members of the 442nd RCT eating chow in the field
Date: unknown
Location: Italy
Collection:

Hawaiʻi

War Records Depository
ID Number: 1444
---
Description: A Sergeant delivers mail to a soldier in a jeep
Date: Unknown
Location: Unknown
Collection: 442nd Veterans Club
ID Number: SC185160
---
Description: A soldier digs a slit trench
Date: Unknown
Location: Unknown
Collection:

Hawaiʻi

War Records Depository
ID Number: 1517
---
France
---
Description: Members in the 100th Infantry Battalion of the 442nd RCT in bivouac prior to going the front for their first contact with the Germans in France
Date: 07 October 1944
Location: France
Collection: 442nd Veterans Club
ID Number: SC340906
---
Description: A soldier stands guard at the 100th Infantry Battalion bivouac while the unit prepares to go to the front lines
Date: 12 October 1944
Location: Chambois Sector, France
Collection:

Hawaiʻi

War Records Depository
ID Number: 1436
---
Description: Members of the 100th Infantry Regiment in bivouac prior to going to the front lines
Date: 12 October 1944
Location: Chambois Sector, France
Collection:

Hawaiʻi

War Records Depository
ID Number: 1438
---
Description: A soldier of the 100th Infantry Battalion hangs his laundry while in bivouac in the Chambois Sector, France
Date: 12 October 1944
Location: Chambois Sector, France
Collection:

Hawaiʻi

War Records Depository
ID Number: 1520
---
Description: Members of the 100th Infantry Battalion in bivouac prior to going to the front lines
Date: 12 October 1944
Location: Chambois Sector, France
Collection:

Hawaiʻi

War Records Depository
ID Number: 1521
---
Description: Soldiers in the 2nd Battalion of the 442nd RCT wait for transportation to a new bivouac area in France
Date: 14 October 1944
Location: Chambois Sector, France
Collection: 442nd Veterans Club
ID Number: SC253985
---
Description: Members of the 442nd RCT firing artillery during an infantry attack
Date: [18 October 1944]
Location: Bruyeres Sector, France
Collection:

Hawaiʻi

War Records Depository
ID Number: 1616q
---
Description: Two soldiers of the 442nd RCT are in a Jeep accompanied by two French guides
Date: [October 1944]
Location: Chambois Sector, France
Collection:

Hawaiʻi

War Records Depository
ID Number: 1516
---
Description: Color Guard of the 442nd RCT stands at attention while citations are read following the fighting in Bruyeres, France
Date: 12 November 1944
Location: Bruyeres Sector, France
Collection: 442nd Veterans Club and

Hawaiʻi

War Records Depository
ID Number: SC196716 (linked via photo) and HWRD 1616j
---
Description: Members of the 442nd RCT riding in trucks advance in the Chambois Sector, France
Date: Unknown
Location: Chambois Sector, France
Collection:

Hawaiʻi

War Records Depository
ID Number: 1616n
---
Description: Members of the 442nd RCT advance in the Chambois Sector, France
Date: Unknown
Location: Chambois Sector, France
Collection:

Hawaiʻi

War Records Depository
ID Number: 1616p
---
Description: Members of the 442nd RCT prepare to fire a round of mortar
Date: Unknown
Location: St. Die Area, France
Collection:

Hawaiʻi

War Records Depository
ID Number: 1616i
---
Description: Members of the 442nd at a Memorial Day service
Date: Unknown
Location: Fay's Area, France
Collection:

Hawaiʻi

War Records Depository
ID Number: 1616k
---
Description: A soldier in the 552nd Field Artillery of the 442nd RCT fits a base plate to a 105-mm shell after propaganda pamphlets have been inserted
Date: Unknown
Location: France
Collection: 442nd Veterans Club
ID Number: SC196385
---
Description: Members of the 442nd RCT at a memorial ceremony honoring fallen comrades
Date: Unknown
Location: France
Collection:

Hawaiʻi

War Records Depository
ID Number: 1616s
---
442nd Homecoming, August 1946
---
Description: The USS Waterbury Victory, the ship that brought home members of the 442nd, is docked at Sand Island
Date: 09 August 1946
Location: Honolulu, HI
Collection:

Hawaiʻi

War Records Depository
ID Number: 1472
---
Description: Returning members of the 442nd RCT line the rails of the transport Waterbury Victory as it pulls into port
Date: 09 August 1946
Location: Honolulu, HI
Collection:

Hawaiʻi

War Records Depository
ID Number: 1504
---
Description:"Go for Broke" the slogan of the 442nd RCT, adorns the bridge of the transport USS Waterbury Victory upon its arrival in Honolulu
Date: 09 August 1946
Location: Honolulu, HI
Collection:

Hawaiʻi

War Records Depository
ID Number: 1470
---
Description: Hula dancers entertain returning members of the 442nd RCT on the transport ship, USS Waterbury Victory upon its arrival in Honolulu
Date: 09 August 1946
Location: Honolulu, HI
Collection:

Hawaiʻi

War Records Depository
ID Number: 1459
---
Description: Hula dancers entertain returning members of the 442nd RCT on the transport ship, USS Waterbury Victory upon its arrival in Honolulu
Date: 09 August 1946
Location: Honolulu, HI
Collection:

Hawaiʻi

War Records Depository
ID Number: 1462
---
Description: A member of the 442nd RCT dances with a hula dancer aboard the USS Waterbury Victory upon its arrival in Honolulu
Date: 09 August 1946
Location: Honolulu, HI
Collection:

Hawaiʻi

War Records Depository
ID Number: 1476
---
Description: Hula dancers entertain returning members of the 442nd RCT on the transport ship, USS Waterbury Victory upon its arrival in Honolulu
Date: 09 August 1946
Location: Honolulu, HI
Collection:

Hawaiʻi

War Records Depository
ID Number: 1485
---
Description: A member of the 442nd RCT is welcomed by a hula dancer aboard the USS Waterbury Victory upon its arrival in Honolulu
Date: 09 August 1946
Location: Honolulu, HI
Collection:

Hawaiʻi

War Records Depository
ID Number: 1480
---
Description: A member of the 442nd RCT is welcomed by a hula dancer aboard the USS Waterbury Victory upon its arrival in Honolulu
Date: 09 August 1946
Location: Honolulu, HI
Collection:

Hawaiʻi

War Records Depository
ID Number: 1487
---
Description: Members of the 442nd RCT help hula dancers over the side of the USS Waterbury Victory
Date: 09 August 1946
Location: Honolulu, HI
Collection:

Hawaiʻi

War Records Depository
ID Number: 1498
---
Description: A member of the 442nd RCT is interviewed aboard the USS Waterbury Victory upon its arrival in Honolulu
Date: 09 August 1946
Location: Honolulu, HI
Collection:

Hawaiʻi

War Records Depository
ID Number: 1466
---
Description: The yacht Lady Joe welcomes returning members of the 442nd RCT aboard the USS Waterbury Victory
Date: 09 August 1946
Location: Honolulu, HI
Collection:

Hawaiʻi

War Records Depository
ID Number: 1461
---
Description: The yacht Lady Joe welcomes returning members of the 442nd RCT aboard the USS Waterbury Victory
Date: 09 August 1946
Location: Honolulu, HI
Collection:

Hawaiʻi

War Records Depository
ID Number: 1500
---
Description: Returning members of the 442nd RCT prepare to debark the transport ship USS Waterbury Victory after arriving in Honolulu
Date: 09 August 1946
Location: Honolulu, HI
Collection:

Hawaiʻi

War Records Depository
ID Number: 1483
---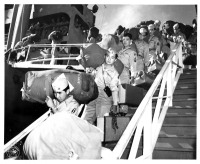 Description: Returning members of the 442nd RCT walk down the gangplank of the USS Waterbury Victory after arriving in Honolulu
Date: 09 August 1946
Location: Honolulu, HI
Collection:

Hawaiʻi

War Records Depository
ID Number: 1478
---
Description: Returning members of the 442nd RCT walk down the gangplank of the USS Waterbury Victory after arriving in Honolulu
Date: 09 August 1946
Location: Honolulu, HI
Collection:

Hawaiʻi

War Records Depository
ID Number: 1499
---
Description: A member of the 442nd RCT displays the Regimental Colors, which include a Presidential Unit Citation presented by President Truman
Date: 09 August 1946
Location: Honolulu, HI
Collection:

Hawaiʻi

War Records Depository
ID Number: 1479
---
Description: Lt. Col. A.A. Pursall, commanding officer of the 442nd RCT, chats with Masao Yamada, former chaplain of the 442nd RCT
Date: 09 August 1946
Location: Honolulu, HI
Collection:

Hawaiʻi

War Records Depository
ID Number: 1460
---
Description: The 442nd RCT motor cavalcade enters the ʻIolani Palace grounds
Date: 09 August 1946
Location: Honolulu, HI
Collection:

Hawaiʻi

War Records Depository
ID Number: 1503
---
Description: Governor Ingram Stainback welcomes returning members of the 442nd RCT from the steps of

ʻIolani

Palace
Date: 09 August 1946
Location: Honolulu, HI
Collection:

Hawaiʻi

War Records Depository
ID Number: 1505
---
Description: Lt. Col. A.A. Pursall, commanding officer of the 442nd RCT, addresses the crowd at the

ʻIolani

Palace grounds
Date: 09 August 1946
Location: Honolulu, HI
Collection:

Hawaiʻi

War Records Depository
ID Number: 1486
---
Description: A crowd gathers at the

ʻIolani

Palace grounds to welcome returning members of the 442nd RCT
Date: 09 August 1946
Location: Honolulu, HI
Collection:

Hawaiʻi

War Records Depository
ID Number: 1501
---
Description: A view of the crowd that gathered at the

ʻIolani

Palace grounds to welcome home members of the 442nd RCT
Date: 09 August 1946
Location: Honolulu, HI
Collection:

Hawaiʻi

War Records Depository
ID Number: 1482
---
Description: A member of the 442nd RCT receives a lei from a member of the welcoming committee
Date: 09 August 1946
Location: Honolulu, HI
Collection:

Hawaiʻi

War Records Depository
ID Number: 1463
---
Description: A returning member of the 442nd RCT is greeted by his mother and sister
Date: 09 August 1946
Location: Honolulu, HI
Collection:

Hawaiʻi

War Records Depository
ID Number: 1469
---
Description: A returning member of the 442nd RCT is greeted by his sister
Date: 09 August 1946
Location: Honolulu, HI
Collection:

Hawaiʻi

War Records Depository
ID Number: 1471
---
Description: A returning member of the 442nd RCT visits the refreshment table at the

ʻIolani

Palace grounds with his niece
Date: 09 August 1946
Location: Honolulu, HI
Collection:

Hawaiʻi

War Records Depository
ID Number: 1490
---
Veterans Day Parade August 1946
---
Description: The 442nd RCT Color Guard marching in the Veterans Day Parade at Kapʻiolani Park
Date: 15 August 1946
Location: Honolulu, HI
Collection:

Hawaiʻi

War Records Depository
ID Number: 1494
---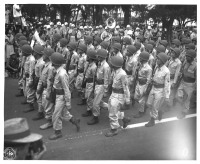 Description: Members of the 442nd RCT marching in the Veterans Day Parade at

Kapʻiolani

Park before being deactivated
Date: 15 August 1946
Location: Honolulu, HI
Collection:

Hawaiʻi

War Records Depository
ID Number: 1496
---
Description: Members of the 442nd RCT present the Company Guidon to members of the

Hawaiʻi

National Guard at the deactivation ceremony during the Veterans Day Parade at

Kapʻiolani

Park
Date: 15 August 1946
Location: Honolulu, HI
Collection:

Hawaiʻi

War Records Depository
ID Number: 1465
---
Description: The 100th Infantry Battalion passes the reviewing stand during the Veterans Day Parade at

Kapʻiolani

Park
Date: 15 August 1946
Location: Honolulu, HI
Collection:

Hawaiʻi

War Records Depository
ID Number: 1481
---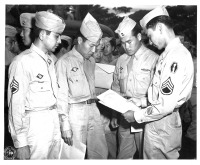 Description: Deactivated members of the 442nd RCT examine their discharge papers
Date: 15 August 1946
Location: Honolulu, HI
Collection:

Hawaiʻi

War Records Depository
ID Number: 1474
---
Description: A deactivated member of the 442nd RCT looks over his discharge papers with his girlfriend
Date: 15 August 1946
Location: Honolulu, HI
Collection:

Hawaiʻi

War Records Depository
ID Number: 1488