Established in 1907, the University of Hawaiʻi at Mānoa is the largest and oldest of the 10 UH campuses. Mānoa offers hundreds of undergraduate, graduate and professional degrees; a strong, vital research program; and nationally ranked NCAA Division I athletics. UH Mānoa is a research university of international standings.
It has widely recognized strengths in tropical agriculture, tropical medicine, oceanography, astronomy, electrical engineering, volcanology, evolutionary biology, comparative philosophy, comparative religion, Hawaiian studies, Pacific Islands studies, Asian studies and Pacific and Asian regional public health.
The University of Hawaiʻi at Mānoa is a world-class university providing affordable, quality higher education to the people of Hawaiʻi and conducting pioneering research to address critical issues facing the state.
Excellent Value
UH Mānoa continues to be an excellent value with tuition more than $4,000 below the national average for a public university, according to the U.S. Department of Education, and one of the reasons why Hawaiʻi, compared to the other states, has one of the country's lowest rates of student debt. The flagship campus of the UH System is consistently ranked in the top 2 percent nationally and internationally.
Strong Research
UH Mānoa is one of 146 R1: Research Universities, considered the top tier in the country, and one of a handful of land-, sea-, space-, and sun-grant institutions. It is a global leader in earth and environmental sciences, consistently ranked among the top 15 universities internationally, ahead of some of the world's most prestigious schools. UH Mānoa researchers provide world class expertise to local leaders on important issues including sustainability, climate, food systems and Hawai'i's unique health issues.
Multicultural Global Experience
Committed to being the leading indigenous serving university in the country, UH Mānoa proudly delivers a unique multicultural global experience in a Hawaiian place of learning, with a long history of adherence to the principles of sustainability and the essence of aloha—truly like nowhere else on earth.
See our fast facts or, for more detailed information about the University, please visit the Mānoa Institutional Research Office (MIRO) pages.
At a Glance
Founded: 1907
Location: beautiful Mānoa Valley, just outside downtown Honolulu,

Hawaiʻi

on the island of

Oʻahu

Campus size: 320 acres
University of

Hawaiʻi

System motto: Maluna aʻe o nā lāhui a pau ke ola ke kanaka (Above all nations is humanity)
Students*
Total student population: 19,074

Undergraduate: 14,198
Graduate: 4,876

Hawaiʻi

(in-state) students: 58%
Out-of-state / U.S. National students: 36%
International students: 7%
States represented: 50
Countries and Regions represented: 128
Male/female ratio: 39:61
Average High School GPA: 3.69
54% in the top 25% in High School
*current as of Fall 2022
Undergraduate Student Diversity*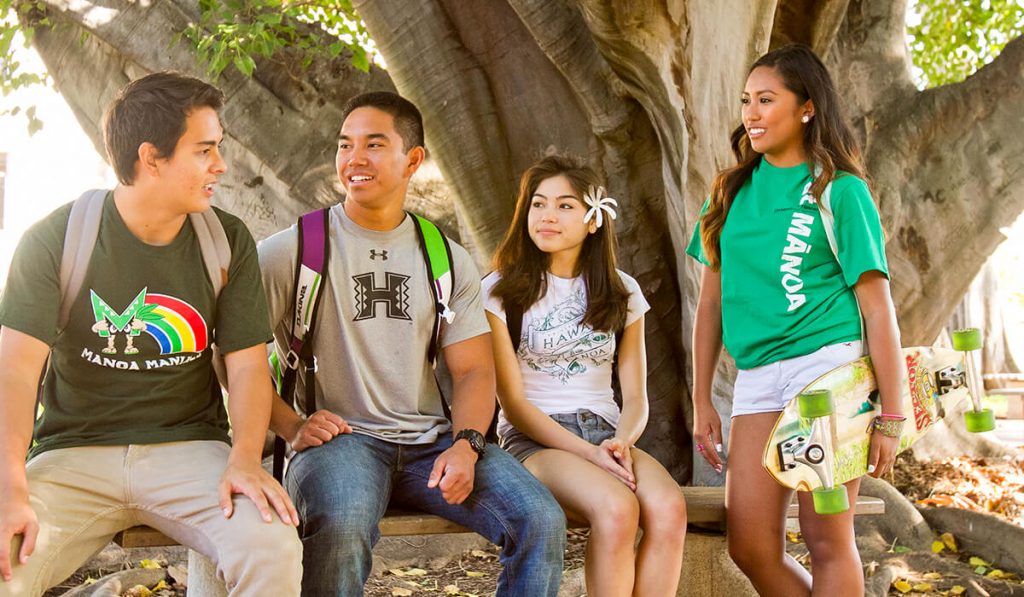 Asian: 33%
Caucasian: 27.5%
Native Hawaiian or other Pacific Islander: 17.7%
Multiracial: 16.6%
Hispanic: 2.2%
Black or African American: 1.8%
American Indian or Alaska Native: 0.6%
*current as of Fall 2022
Financial
Undergraduate
In-state tuition (avg.): $11,304*
Nonresident tuition (avg.): $33,336*
Western Undergraduate Exchange (WUE): $16,956*
Graduate
Resident: $10,400
Nonresident: $22,432
Western Regional Graduate program: $15,600
*Full-time (9 months) undergraduate 2023–2024 full academic year.
The average financial aid package for the 2021–2022 academic year was $15,970.
Rates shown reflect tuition cost only and are subject to change without notice. Some programs or courses require additional fees — more complete cost of attendance estimates are available.
Academics
Colleges and Schools: 14
Degrees (programs and academic areas)

Bachelor's degrees: 99
Master's degrees: 87
Professional and Doctoral degrees: 57

Accreditation: Accrediting Commission for Senior Colleges and Universities of the Western Association of Schools and Colleges (WASC)
UH Mānoa is consistently ranked among the top 2% of nearly 24,000 universities in the world
Research
One of only a handful of universities nationwide to hold the distinction of being a land-, sea-, and space-grant institution, UH Mānoa is ranked in the top 60 public universities in research expenditures by the National Science Foundation.
The University of Hawaiʻi at Mānoa maintains a vibrant and active research program with more than $300 million in new extramural funds for research in 2014. UH Mānoa's faculty includes members of the National Academy of Sciences, the National Academy of Engineering and the National Institute of Medicine.
Classified by the Carnegie Foundation as having "very high research activity," UH Mānoa is known for its pioneering research in such fields as oceanography, astronomy, Pacific Islands and Asian area studies, linguistics, cancer research, and genetics.
Athletics
Member of the Mountain West Conference, Big West Conference, Mountain Pacific Sports Federation, Pacific Coast Intercollegiate Yacht Racing Association Intramural, recreational, and outdoor sports.
NCAA Division I athletics program with approximately 450 student athletes competing on 21 men's, women's and co-ed varsity teams.
Men's Sports: Baseball, Basketball, Football, Golf, Swimming & Diving, Tennis, Volleyball
Women's Sports: Basketball, Cross Country, Golf, Sailing, Sand Volleyball, Soccer, Softball, Swimming & Diving, Tennis, Track & Field, Volleyball, Water Polo
Co-Ed Sports: Cheerleading, Sailing
Campus Life
Student organizations: over 135
Intramural sports: varies by semester
18% of undergraduates live on-campus (10 residential halls and 2 apartment complexes).
Alumni
More than 170,000 alumni reside in 50 states and more than 100 countries worldwide. Below are just a few of UH Mānoa's many notable graduates who are leaders in their field:
Neil Abercrombie, MA '64, PhD '74, former Governor of

Hawaiʻi

Robyn Ah Mow-Santos, '96, USA Volleyball Team member and former Olympian
Daniel Akaka, BEd '52, MEd '66, U.S. Senator (retired)
Arsenio Balisacan, PhD, '85, Socioeconomic Planning Secretary and Director-General of the National Economic and Development Authority of the Philippines
Robert Ballard, MS '66, oceanographer
Angela Perez Baraquio, BEd '99, MEd '04, Miss America 2001
Michael Chun, MS '68, president, Kamehameha Schools
Tammy Duckworth, BA '90, U.S. Congresswoman former Assistant Secretary of Veterans Affairs
Colleen Hanabusa, BA '73, MA '75, JD '77, former U.S. Congresswoman
Mazie Hirono, BA '70, U.S. Senator
David Ige, BS '79, MBA '85, Governor of

Hawaiʻi

Daniel Inouye, BA '50, U.S. Senator
Jong-wook Lee, MPH '81, former Director-General of the World Health Organization
Edward Tsang Lu, postdoctoral fellow, former NASA Astronaut
Sabrina McKenna, BA '78, JD '82,

Hawaiʻi

Supreme Court Associate Justice
Patsy Mink, BA '48, former U.S. Congresswoman
Kenneth P. Moritsugu, BA '67, former Surgeon General
Ken Niumatalolo, BA '90, U.S. Naval Academy head football coach
Barack Obama Sr., BA '62, Father of U.S. President Barack Obama
Richard D. Parsons, BA '68, former Chairman of Citigroup
Cheryl Castro Petti, BA '94, CNN Radio network anchor
Patricia Saiki, BS '52, former member of the U.S. House of Representatives and teacher
Ann Dunham Soetoro, PhD '92, mother of U.S. President Barack Obama
Jay Shidler, BBA '68, entrepreneur and benefactor of the Shidler College of Business
Mark Takai, BA '90, MPH '93, U.S. Congressman
Charles Nainoa Thompson, BA '86, navigator and former trustee of Kamehameha Schools
Rankings
See the Mānoa Institutional Research Office (MIRO) for domestic and international ranking information about the University.