Every year, The Council of Academic Advisors recognizes an individual and a unit who have demonstrated excellence and/or innovation in advising, and/or have made a significant contribution to the advising community. Please consider nominating an individual or unit so they can receive recognition for all their hard work. The nomination forms will be posted here when they become available for next year's awards season.
Congratulations to our 2023 Recipient!
Pakela Award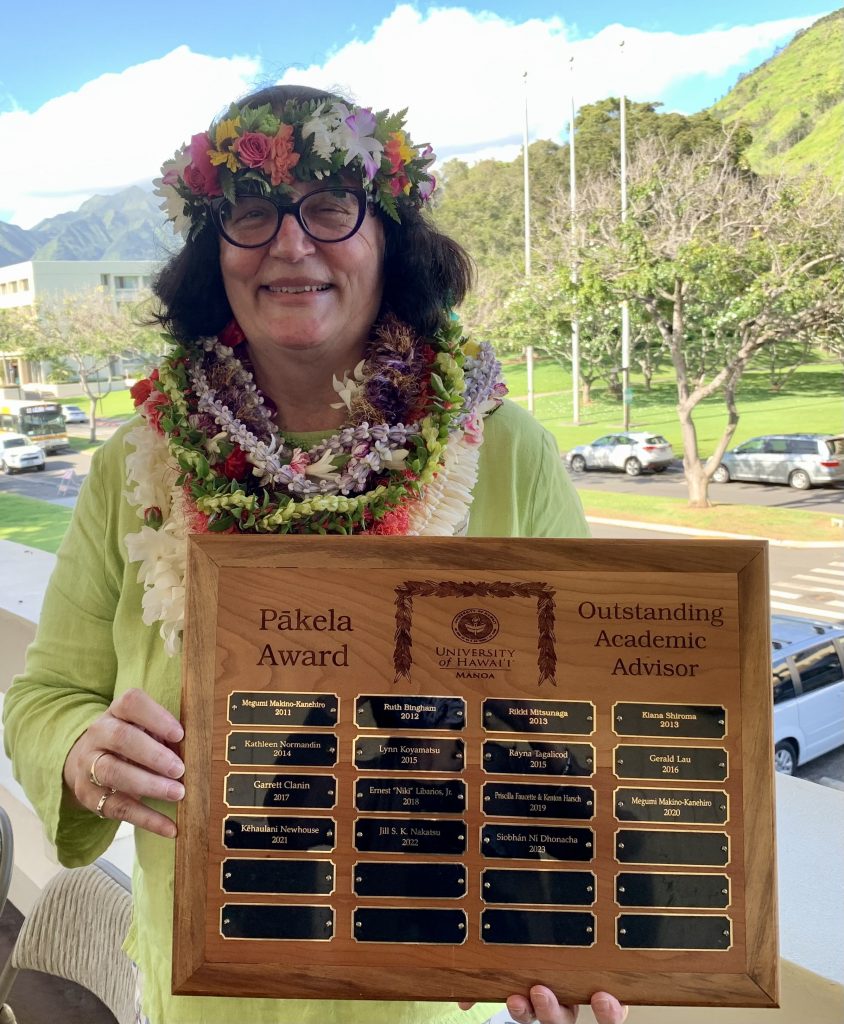 Siobhán Ní Dhonacha, ​from Dublin, Ireland​, First-Generation student, is a Faculty Specialist/Academic Advisor in the University of Hawaiʻi at Mānoa Honors Program. Siobhán advises, teaches, mentors, is a journal editor, engages with curriculum and program development, and recruitment. Student centered advising/teaching pedagogy, ethics of care, LGBTQIA+ advocacy, active commitment to a Native Hawaiian Place of Learning, and Faculty collaboration with colleagues locally, nationally, and internationally are key signatures of Siobhán's work. Siobhán has served on the Mānoa Faculty Senate Committee on Academic Policy and Planning for 4 years, was Chair of the Council of Academic Advisors, Chair of the Excellence in Academic Advising (EAA) Institutional Commitment Committee and EAA 2019 Conference. Siobhán serves on the UHM Truth, Racial Healing, & Transformation Campus Center Design Team. Siobhán conceived of and worked tirelessly to implement (with the kind kōkua of partner stakeholders) important structural changes such as Early Invitation, STAR Honors Pathway/CPoS, and Regents and Presidential Scholars academic integration into Honors to build belonging and pilina in an academic hui.
AY 2122
Pakela Award: Jill Nakatsu, Director of Academic Affairs in the College of Engineering, oversees advising for the roughly 1,200 Engineering and Pre-Engineering majors at UH Manoa, with primary responsibility for advising both pre-engineering and incoming/prospective students and "extra" advising for declared majors. For two years, she operated as the only academic advisor in the college due to retirements and the loss of several positions during the pandemic. She has created (and regularly updates) freshman and transfer-student guides for incoming engineering students to help facilitate their transition to UHM and has developed training for department faculty advisors and engineering student ambassadors as well. She is also responsible for evaluating applications from prospective engineering students, approximately 1,200 per year, and for conducting graduation checks for all graduating seniors. In addition to her advising work, Jill regularly assists with the development of programs in the college, like updating the curriculum for ENGR courses and overseeing the Engineering Science program, which acts as an incubator for new engineering major programs. She also teaches freshman introductory engineering courses, a senior engineering field experience course, and the senior capstone design course. She served as Co-PI in collaboration with Chaminade University to implement the Office of Naval Research Engineering Success in STEM Project, a partnership that worked with multiple Hawai'i Department of Education middle and high schools to train teachers on engineering education and incorporate engineering design into their courses. This project culminated in the creation of an MOU between the Hawai'i DOE and UH Manoa that established an engineering high school pathway directly into UHM's College of Engineering. As a testament to her value and contributions, Jill was honored with the College of Engineering Faculty Service Award in AY19-20 and is this year's recipient of the Council of Academic Advisor's Pakela Award for Outstanding Advisor.
AY 2021
Pakela Award: As the Maui Program Coordinator, Kēhau Newhouse serves distance education students on Maui and the neighbor islands. Her position as a Transfer Specialist at MTCC facilitates transfer admissions, academic advising and support for those students who plan to continue their education at UH Mānoa. She strives for equitable access and student services for neighbor island transfer and distance students, going "above and beyond" to meet students when and where they need. She was instrumental in creating the UH Transfer Fair, a semesterly event focused on the transfer of UH community college students to one of the four-year UH campuses, and which blossomed into UH Transfer Awareness Month and UH Transfer Days. With support from the UH System, resources were provided to all CC campuses to hold additional fairs, offer workshops, and ultimately facilitate and make "seamless" the transfer of many CC students to UH Mānoa.
'Oikela Award: The College of Natural Sciences Student Academic Success Center spent over six years developing and improving a comprehensive Academic Actions Mandatory Advising (AcAc MA) curriculum with "advising as teaching" as the foundation. All advisors in the office engaged in defining student learning outcomes. They then employed backwards design to develop a curriculum that ensures that student learning, not institutional research metrics, are the markers of success. The resultant curriculum takes into account both financial and personnel resource limitations and leverages technology to employ flipped advising in addition to individual advising appointments. To ensure regular curriculum improvement, yearly assessment of student learning is conducted and involves all advisors, including peer advisors. Direct and indirect learning evidence suggests regular assessment cycles have improved student learning in the AcAc MA curriculum. Through participating in regular assessment cycles, advisors become engaged in curriculum design, ensuring advisor buy-in for successful curriculum implementation and execution, therefore enhancing student learning opportunities.
AY 2020
Pakela Award: Dr. Megumi Makino-Kanehiro is the Director of the Mānoa Advising Center, the first advising stop for students who are searching for a major that best fits their interests, abilities and goals. Although an administrator by position, Megumi dedicates time each week to meet with both students and her advisors to provide support, assistance, and guidance. She also mentors other advisors across campus both formally through Mānoa's GUIDE Program and more informally by providing tenure and promotion workshops, collaborating on conference proposals, and serving on committees and task forces. Megumi's passion is equity and diversity, which is evident in both her advising philosophy and in her work and service as an advisor. From co-chairing the Equity, Diversity, and Inclusion Committee for EAA (Excellence in Academic Advising) to serving on NACADA's Task Force on Race, Ethnicity, and Inclusion, to being a member of the inaugural Faculty, Staff, and Community cohort of the Truth, Racial Healing, and Transformation Campus Center Initiative, Megumi is continually growing and learning, and in the process sharing this knowledge and experience with her fellow advisors. Since 2019, Megumi has served on the Board of Directors for NACADA: the Global Community for Academic Advising. She was recently elected as the incoming Vice President for October 2020- October 2021. As one colleague summed it up, "Our advising community is fortunate to have Megumi's great leadership. Her care, compassion, and commitment for advisors at UHM is amazing given the time (and thoughtfulness) it demands."
'Oikela Award: The Mānoa Transfer Coordination Center (MTCC) was established in 2014 to implement and manage the Kaʻieʻie Degree Pathway Program, a dual-admission, dual-enrollment partnership between the UH Community Colleges and UH Mānoa to assist with transfer of students between the campuses. From its start as a partnership between Kapiʻolani CC and UH Mānoa, the Kaʻieʻie Program has expanded to encompass all UHCCs, due in large part to the efforts of the MTCC team. Led by Chair Jennifer Brown and staffed in the past two years by Transfer Specialists Melissa Jones, Amy McKee, Kehau Newhouse, Lauren Prepose-Forsen, and Shauna Sibonga, MTCC has worked tirelessly to improve and expand both the Kaʻieʻie Program and the reach of MTCC services. As a result, the support of the Transfer Specialists - as transfer guides, advisors, and transfer-student advocates - has expanded to serve all incoming transfer students, both from within the UH System and from other institutions, resulting in improved retention and graduation rates for Mānoa's transfer-student population. Congratulations to the MTCC team!
AY 2019
Pakela Award: Priscilla Faucette & Kenton (Kenny) Harsch are the Associate Director and Director, respectively, of the English Language Institute (ELI) and academic advisors for the undergraduate program in Second Language Studies (SLS). In these roles, Kenny and Priscilla provide advising and support for a myriad of students, from SLS majors to international students to graduate assistants who teach in the ELI and the SLS undergraduate program. In addition, they nurtured growth of the BA program in SLS, working with the department to develop and teach practicum and capstone courses for SLS majors. The capstone course includes students' development of an e-portfolio, which several have credited with helping them secure a job after graduation. Kenny also spearheaded efforts to create a 5-year BA/MA pathway for majors who were interested in pursuing a graduate degree and worked with Kapi'olani Community College to draft a memorandum of understanding to facilitate articulation from KCC's SLT program to the SLS program at Mānoa. He also developed a new course to provide those transfer students with additional support once them came to Mānoa. Priscilla has focused much of her efforts on providing support and resources for the ELI students and graduate assistants she advises and supervises, from coordinating workshops to compiling online resources to organizing social events to help students network. She has also developed resources for ELI instructors and departments to help them better understand and work with the international students that she and Kenny advise. It is no surprise that since its creation in 2011, the BA program in SLS has quickly grown to become the third-largest major in the College of Languages, Linguistics, & Literature.
'Oikela Award: The College of Education Office of Student Academic Services (COE OSAS) is led by Director Denise Nakaoka and Associate Director Denise Abara, and includes academic advisors Alyssa Kapaona, Reid Kuioka, Jolene Muneno, and Karen Wilson; Graduate Information Officer Adam Tanners; Administrative Manager Kori Ricci; Secretary Geri Salvador; graduate assistant LaJoya Shelly; and student assistants Dolores Black, Toni Oyama, and Jorin Young. COE OSAS provides services related to the five core functions of recruitment, admission, advising, retention, and graduation. The OSAS team has established partnerships with the Hawai'i Legislature, Department of Education, UH System, and other COE departments to impact the teaching profession, and was instrumental in $1.2 million being awarded to the college to provide tuition stipends for qualified students. OSAS members have also received over $11,000 in SEED grants to support various underrepresented student activities and events, and in collaboration with other UH units awarded $90,000 from a US DOE grant to use toward recruiting and retaining Native Hawaiian students interested in STEM fields and teaching. OSAS has developed relationships with several local high schools that have a high percentage of underserved populations to invite them for campus/class visits, and has worked with the UHM administration on offering COE courses to high school students for the UH-Mānoa Academy program. In addition, the unit offers recruitment and advising services to neighbor island students, satellite advising at all the community college campuses every semester, and specific advising for students interested in the COE graduate programs. The office has been innovative in the development of the Makalei online database which stores student advising records, admission and graduation information, and other documents to efficiently serve its students.
Pakela Award: Ernest "Niki" Libarios Jr. was the Director of the College of Education Office of Student Academic Services (OSAS). As an academic advisor, he worked tirelessly to support underrepresented students in higher education, securing multiple grants to provide scholarships, host campus visits, and waive test fees. Niki also established a "culture of collaboration" and partnership between OSAS and other offices on campus, which led to joint workshops and recruitment initiatives. In addition, he coordinated with STEM departments to encourage more students in STEM fields to consider a career in education. He advocated for Filipino students and was the primary catalyst for the College of Education's Tinalak: Filipino Education Advisory Council, which was established to recruit and support Filipinos in the education profession. More broadly, he was one of the creative forces behind the "Be a hero. Be a teacher." campaign, a statewide push to get more students interested in and excited about educating the next generation. Most recently, Niki collaborated with the DOE and the legislature on the "Grow Our Own" initiative, securing significant scholarship funding for post-baccalaureate students to pursue a certificate in secondary education. However, for all his accomplishments in education, NIki will probably best be remembered simply for his smile, positive attitude, and compassion. He was a valued colleague who is missed by all who knew and worked with him.
'Oikela Award: Since its creation in 2008, the Mānoa Advising Center (MAC) has been assisting students in selecting a major that best fits their interests, abilities and goals. MAC's advisors – Matt Eng, Eve Millett, Andrew Nguyen, Winnie Tang, Megan Terawaki, and Director Megumi Makino-Kanehiro – work with these exploratory students by meeting with them regularly in mandatory advising appointments and providing the opportunity for greater exploration through several advisor-created and -taught courses. Several other courses offered by MAC advisors provide training for the Mānoa Peer Advisor Program (MPA), a program co-founded in 2010 by Director Megumi Makino-Kanehiro to develop resourceful peer advisors who service advising offices and students across the UHM campus. MAC advisors are also responsible for overseeing the Mānoa Sophomore Experience, a program created to engage and retain sophomores and second-semester students. In addition to serving exploratory students, the advisors have made scholarly contributions to the field of academic advising, regularly presenting at local, regional, national, and international conferences and holding leadership positions in NACADA. As one colleague summed it up, they are "great partners and collaborators."
AY 2017
Pakela Award: Garrett Clanin is a Junior Specialist Academic Advisor with Student-Athlete Academic Services (SAAS). He is the primary liaison for GradesFirst, a web-based system designed to increase student engagement, improve communication, and identify "at-risk" students for early intervention. In this role, Garrett ensures that the system operates effectively for SAAS. He also works with other advising units (five currently) to determine whether GradesFirst will serve their students' needs as well. Garrett is also SAAS's Eligibility Coordinator and is the liaison with the Compliance Department in Athletics and advising units across campus regarding NCAA academic eligibility and certification. His work in this capacity helps to ensure that our student athletes meet both UHM and NCAA requirements so that they can be successful in both arenas. Garrett also plays a lead role in the annual orientation for new student athletes and has worked hard at developing the program to make it more engaging for students. As a fellow advisor summed it up, "Garrett has an excellent rapport with his students and other advisors. He goes out of his way to help others. He is an invaluable resource for students and colleagues alike!"
'Oikela Award: Advising Center for the Colleges of Arts & Humanities and Languages, Linguistics, & Literature was formed in 2015 as part of the reorganization of the Colleges of Arts & Sciences (CAS) Student Academic Services. Before, during and after this transition, the Advising Center provided advising services to its students and other Arts & Sciences majors (particularly in the physical sciences) without interruption. The creation of "Tiered Access to Advising" and the coordinated efforts of the new eight-person office – Director Ruth O. Bingham; academic advisors Kay S. Hamada, Nanette C. Miles, Craig Mitchell, and Julie Terlaje; IT support David Yeo; Operations Manager Heather Young; and Secretary Carolina Asiatico – have improved students' access to advising and alleviated long wait lines. In addition, the Advising Center team worked collaboratively to created new advising programs in an effort to provide students with more academic advising opportunities to help them stay focused and on track. In these and many other ways, the Advising Center has developed and implemented new and innovative methods to improve their services and provide students with the support they need to be successful.
AY 2016
Pakela Award: Gerald Lau serves as a stellar model for integrating academic advising into the University's educational mission. He is an Assistant Faculty Specialist for the rapidly growing Department of Information and Computer Sciences (ICS). He provides major academic and career counseling for over 400 students, participates in curriculum and department policy meetings that help integrate instruction with advising, and plans and develops the department's outreach and student engagement programs. He serves as a Faculty Ambassador – recruiting students into the ICS program and into STEM fields, and serves as the department's liaison to the Graduate Division. He is also deeply involved in a variety of cyber security activities to engage students, including being the advisor to the Grey Hats club, whose members analyze cyber defenses.
'Oikela Award: Shidler College of Business Office of Student Academic Services
Shidler College of Business Director of Undergraduate Programs Robert Bachini leads his Office of Student Academic Services (OSAS) team, whose members include Academic Advisor Rikki Mitsunaga, Freshmen Advisor Irene Burns, Office Assistant Sherri Yanagi, former Senior Admissions Advisor Reid Kuioka, and a Mānoa Peer Advisor. The office helps undergraduate business students succeed by integrating curricular and co-curricular experiences into leadership, service and business-related activities, including international fairs, global awareness workshops, Business Night, internships, and a large career expo held each semester. Shidler's OSAS developed a Direct Admit Program that has improved retention over three years from 79 percent to 88 percent. It also launched mentoring and monthly events for its Pre-Business Residential Life Program and created Shidler Success Seminars to introduce freshmen to the college.
AY 2015
Two individuals were recognized with the 2015 Pakela Award:
Lynn Koyamatsu is a Student Services Specialist and Academic Advisor with Outreach College. She is consistently collaborative and willing to go the extra mile to help students, faculty, and other advisors. She is an asset to any committee she is affiliated with, always thoughtful, thorough and solution focused. The Council of Academic Advisors has come to rely on her steady, positive presence. Although she may be the last person to view herself as a "leader", she is a "can do" person and represents an old school sensibility of reliability and commitment that is hard to come by.
Rayna Tagalicod is a Junior Specialist/Academic Advisor with the Mānoa Advising Center. She makes significant contributions to the institution and the region. She is the Chair of the Mānoa Sophomore Experience Committee, which focuses on the retention of first-year students. She has also made ROTC student advising transition to schools and colleges seamless by holding training sessions and sending updates and new information. She recently co-chaired the 2015 National Academic Advising Association Region 9 Conference. The faculty advisor has also presented at state, national, and international annual conferences throughout the nation.
AY 2014
Pakela Award: Kathleen Normandin is a Junior Specialist/Academic Advisor with the College of Arts and Sciences Student Academic Services (CASSAS). Her passion is working in academic affairs, and collaborating with students, faculty and staff to create empowering and holistic undergraduate student experiences. She has been instrumental in co-creating SOAR (Students Owning Academic Responsibility) for academically at-risk CASSAS students, and has assisted with designing the new Student Success Center for the College of Natural Sciences. She has worked tirelessly to illuminate awareness of the growing student veteran population on campus with its members' unique set of experiences and needs. As the faculty advisor for the UHM Student Veteran Organization, she developed a Center for Teaching Excellence lecture series that was titled, "Serving Those Who Serve: Best Practices in Working with Student Veterans."

'Oikela Award: The Biology Department, which consists of Stephanie Kraft-Terry (Junior Specialist) and Joseph Menor Jr. (Academic Support), along with their team of Mānoa Peer Advisors, have made great strides to increase access to advising and foster engagement among the Department of Biology's 1,300 students. Through the use of technology, this innovative advising unit created a convenient online appointment system, with improved information dissemination through the use of Facebook, Twitter and Linkedin. Prior to arrival on campus, newly admitted students receive personalized phone calls from these proactive advisors, with an invitation to join an information webinar or to schedule a one-on-one advising appointment. In addition to providing mandatory advising and valuable workshops to ensure student success, this exemplary advising unit supports the College's social events, such as an Incoming Student Reception, Graduation Reception and Alumni Gathering. These activities cultivate a closer connection among the Department of Biology's students, staff, faculty and alumni.
AY 2013
Two individuals were recognized with 2013 Pakela Award:
Rikki Mitsunaga, Undergraduate Academic Advisor for Shidler College of Business, has accomplished impressive achievements that demonstrate breadth of service within and beyond the UHM campus and depth of service in her dedication to her students. In addition to her regular duties as an academic advisor, she plays multiple roles for various organizations at UH Mānoa. The Freeman Scholarship Award, FISH Scholarship Program, System-wide STAR Board for CAA, and MPA supervisor are just a few things with which Rikki is involved.
Kiana Shiroma, Academic Advisor for the Honors and Regents and Presidential Scholars (RAPS) Program, has been a source of inspiration for her fellow advisors, due to her limitless energy, creativity, and enthusiasm. In just a few short years as an academic advisor, she has helped the Honor's program expand and improve its services and the opportunities offered to students. In addition to her countless improvements and innovative ways to help develop each program with which she is involved, Kiana continues to inspire her colleagues with her energy, hard work, and dedication to academic advising.
AY 2012
Pakela Award: Ruth Bingham was presented with the 2012 Outstanding Academic Advisor Award for her leadership and work at the Pre-Health/Pre-Law Advising Center (PAC). Ruth was also recognized at the national level for her work with PAC as the recipient of the National Academic Advising Association (NACADA) Commissions and Interest Group Service Award. The award "recognizes an individual who has provided outstanding service, leadership, and commitment to a specific commission, interest group, cluster, or the CIG Division."
'Oikela Award: The Colleges of Arts & Sciences Student Academic Services received the Academic Advising Unit Award for Excellence/Innovation for their leadership and innovation in working with students.
AY 2011
Pakela Award: Megumi Makino-Kanehiro was given the Outstanding Academic Advisor Award for her work at the Mānoa Advising Center. Vice Chancellor for Academic Affairs Reed Dasenbrock commended Dr. Makino-Kanehiro for her leadership of the Mānoa Advising Center and her work with the peer mentoring program and mandatory advising, which have been "major influences on student success."