Collection development has focused on Siberia, Soviet/Russian Far East, and Russia's relationship with the countries and peoples of Asia and the Pacific. Systematic acquisitions began in 1937 when Dr. Klaus Mehnert accepted a position on the university faculty. Mehnert had studied Russia in Asia and the Pacific at the University of Berlin under a pioneer in the field, Professor Otto Hoetzsch, and had developed this interest in post-doctoral study at the University of California at Berkeley, where Robert J. Kerner was offering a Northeast Asia seminar. At the University of Hawaii, Mehnert's initiatives were continued in the Department of History by John A. White, and then by White's student John J. Stephan; and in the Russian language and literature program by Ella Lury Wiswell; and in the Library by Patricia Polansky; and others such as Robert Valliant.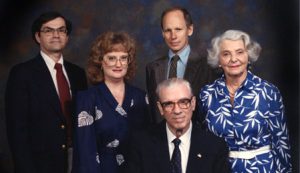 Currently there are courses taught on Russian history by Matthew Romaniello; and Russian language and literature courses by Anastasia Kostetskaya. In the past, UH has offered courses on a wide variety of topics – geography, philosophy, political science, and religion. There are also Russian holdings in oceanography, volcanology, and tropical agriculture. The collection reflects the interests of faculty who were here in the past: Roland Fuchs in Geography, Ella Lury Wiswell and Larry Heien in Russian literature and language, Rex Wade and Donald Raleigh in History. Thanks to the latter two professors we have a strong collection on the Russian Revolutions of 1917. See article by Patricia Polansky "Who Created Us?" or SEEIR, 2008, V.9, no.2, p.174-225.
Dr. Amir Khisamutdinov, historian from Vladivostok, Russia, first came to UH in 1992 and spent a Fulbright year here in 2001/02. He is a specialist on the Russian emigration in the Asia-Pacific region. You may check out his eVols page for some publications: https://evols.library.manoa.hawaii.edu/handle/10524/32386.