The University of Hawaiʻi at Mānoa provides visitors with a variety of parking locations within walking distance to any campus destination. As part of our institutional commitment to environmental sustainability, we would also like to encourage you to consider alternatives to driving to UH Mānoa alone. Please see the pages under Alternative Transportation for other commuting suggestions.
Special instructions for delivery, vendor services, consultants, and contractors.
Dole Street Parking Structure Automated Pilot Program
Beginning August 3, 2020, the Dole Street Parking Structure (Zone 22) will transition to an automated facility. Stall layouts have been reconfigured, with yellow visitor stalls on the ground floor, and all other floors being reserved for Zone 22 permit holders. Visitor parking will work similar to the green visitor stalls in Surface (Upper Campus) lots, with the exception of differing stall colors and parking rates.
Location of Visitor Parking Lots
Look for the green striped stalls!
For cars, vans, and trucks
Behind Kennedy Theatre
Lot off University Ave. near Sinclair Library
Lot off University Ave. above Architecture Building near Shidler
Along Varney Circle
Bio Med Parking Lot off of East-West Rd.
Next to Center for Korean Studies near East-West Rd.
Kuykendall Parking Lot
Music Building Parking Lot
Campus Center near WRC & Art Building
Law School Parking Lot
ROTC Parking Lot near HELP
Astronomy Parking Lot
For mopeds and motorcycles
Lot off University Avenue above Architecture Building near Shidler, next to Pay Station
Behind Kennedy Theatre, next to Pay Station at entrance to lot
Click below for UH OneMap with Visitor Lot, parking spots and Pay Stations.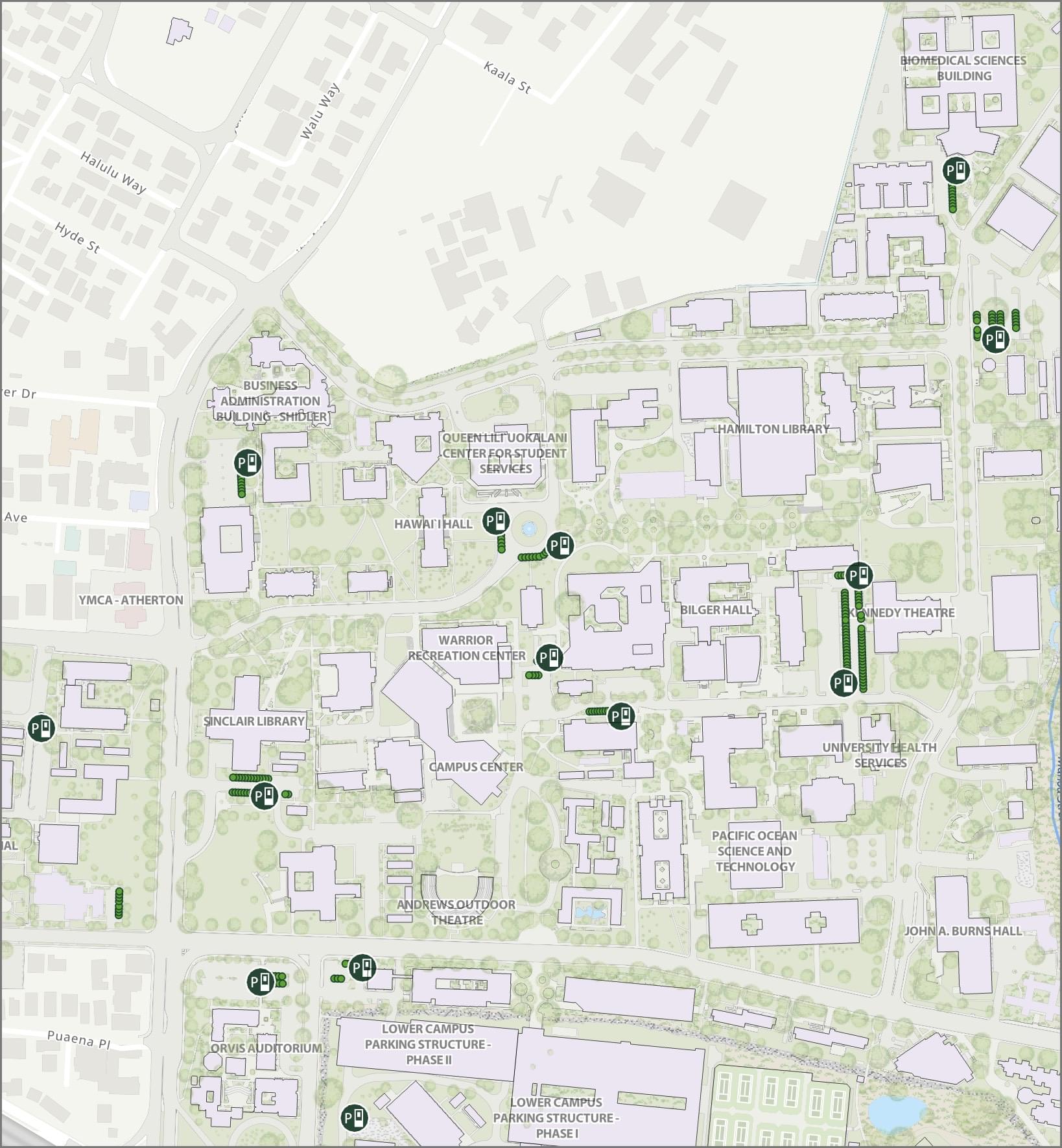 .
Pay-to-Park
Visitors parking on Upper Campus between 6:30am and 4:00pm must park in the green visitor stalls. After 4:00 pm and until 8:00 pm, parking is permissible in any non-reserved stall. Payment is made at the Pay Stations located near the stalls in each lot. These Pay Stations accept credit cards; Discover, MasterCard and Visa. No refunds are issued for these machines. Pre-paid parking may be purchased according to the fee schedule below in the Visitor Parking Rates section.
How to use our Pay Stations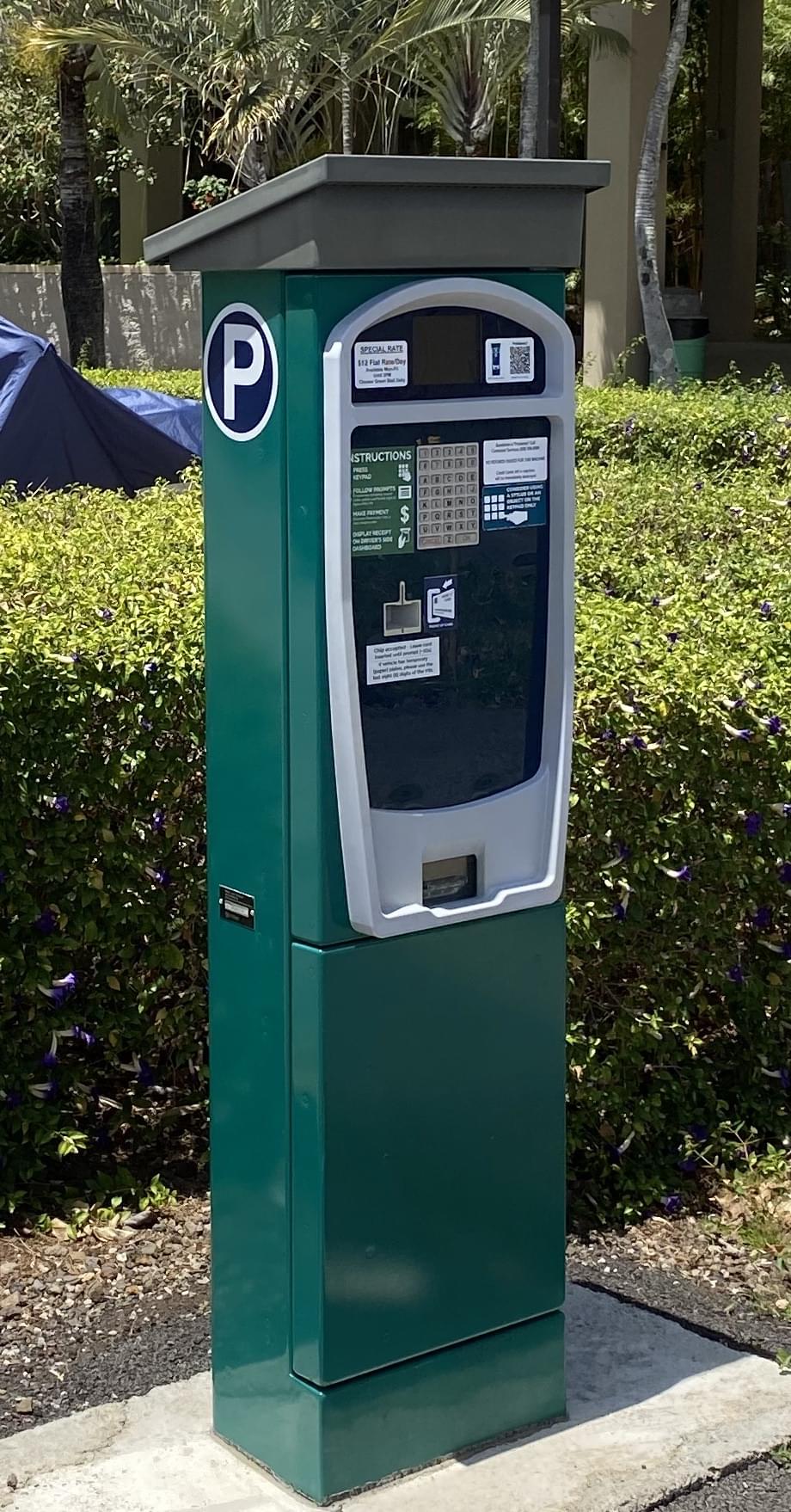 Click here for instructions on using our Pay Station.
While parked, please display on the dashboard of your vehicle the permit ticket printed by the Pay Station. Make sure the expiration time is visible through the windshield.
The purchase of a Pay-to-Park daily visitor permit from a Pay Station will allow parking and re-entry into any visitor lot on campus for the entire unexpired time.
Parking may be free for vehicles when certain special events are being held. Please check with the event coordinator.
More Information
Student housing/dorm parking areas are reserved for campus residents only. Visitors are not allowed to park in the stalls located in these areas or in any stalls marked as 24-Hour Reserved Stalls.
Please familiarize yourself with UH Mānoa Parking Regulations and observe street and lot signs and markings while driving and parking on campus.
Commuter Services reserves the right to close parking lots, restrict entry to certain areas, and/or designate alternative parking locations as necessitated by special events and other circumstances.
Visitor Parking Rates
Payment is required in advance. There are no refunds for visitor parking. Please choose the appropriate rate to meet your need.
All Pay Stations open at 5am to allow for purchasing of visitor parking.

Lower Campus Parking Structure
Dole Street Parking Structure near Hawaiian Studies
| Cost | Hours | Details |
| --- | --- | --- |
| $5 flat rate per day or $3 per half hour | M-F 6:30am-4pm | Park in yellow visitor stalls on ground floor only and purchase at Pay Station by accessible stalls for persons with disabilities. Re-entry allowed on same day. |
| $7 flat rate per day or $3 per half hour | M-F 4pm-8pm | Park in any non-reserved stall in structure and purchase at Pay Station by accessible stalls for persons with disabilities. |
| $7 flat rate per day or $3 per half hour | Saturdays 6:30am-8pm and Special Events | Park in any non-reserved stall in structure and purchase at Pay Station by accessible stalls for persons with disabilities. |
Surface – outdoor lots on Upper and Lower campus
| Cost | Hours | Details |
| --- | --- | --- |
| $3 per half hour | M-F 6:30am-4pm | See visitor parking map for visitor lot locations. Park in green visitor stalls and purchase at Pay Station. More details above. |
| $7 flat rate per day or $3 per half hour | M-F 4pm-8pm Saturdays 6:30am-8pm and Special Events | Park in any non-reserved stall and purchase at Pay Station in visitor lots. |
Mopeds and Motorcycles
| Cost | Hours | Details |
| --- | --- | --- |
| $6 flat rate per day or $3 per half hour | M-F 6:30am-4pm | See visitor parking map for visitor lot locations. Park in upper campus visitor moped/motorcycle lots and purchase at Pay Station. |
| $7 flat rate per day or $3 per half hour | M-F 4pm-8pm Saturdays 6:30am-8pm and Special Events | Park in any non-housing moped/motorcycle lot and purchase at Pay Station in visitor lots. |