PhD student Candi Steiner is a third-year student in UH Mānoa's ethnomusicology program who serves as a research assistant with the Center for Pacific Islands Studies, where she assists with the Center's publication program and in developing writing-focused workshops for CPIS students. This summer, she added two important accomplishments to her list of academic successes.
Her article "A Sea of Warriors: Performing an Identity of Resilience and Empowerment in the Face of Climate Change in the Pacific" appeared in the award-winning journal The Contemporary Pacific (27[1]: 147–180). The outgrowth of a paper originally submitted in the Music of Oceania seminar, this article deals with cultural sustainability and, particularly, identities of empowerment and resilience in the political and cultural arenas of climate change. Her work received international attention this summer when it was cited by one of the keynote speakers addressing the June 2015 conference of the European Society for Oceanists in Brussels.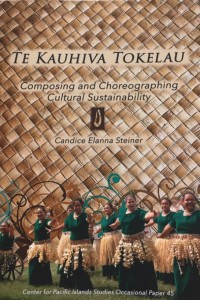 In a stunning example of how UHM Ethnomusicology students shine in bringing together the concerns of academia and the community, her book examining models for cultural sustainability in the diaspora also appeared in print this summer. Te Kauhiva Tokelau: Composing and Choreographing Cultural Sustainability (2015. Honolulu: Center for Pacific Islands Studies, School of Pacific and Asian Studies, University of Hawai'i at Mānoa) is based on her fieldwork with the Tokelau community in Hawai'i and draws from her outstanding Master's thesis, which received the Norman Meller Award for the best Pacific thesis in 2012. It takes the reader from Tokelau to the diaspora, the classroom, and then the stage in order to understand the role of Tokelauan pehe ma fatele (songs and dances) in the culture and language efforts of Te Lumanaki o Tokelau i Amelika, a Tokelau culture and language school based in Central O'ahu. The author presents a rigorous yet sensitive analysis of Pacific Island ways of knowing and learning in the diasporic classroom. Candi stresses that "Te Kauhiva Tokelau is part of a family of works documenting the school's history and activities, and readers are encouraged to experience them together, including Betty Ickes's PhD dissertation "Expanding the Tokelau Archipelago: Tokelau's Decolonization and Olohega's Penu Tafea in the Hawai'i Diaspora" (2009) and Akiemi Glenn's PhD dissertation "Wayfinding in Pacific Linguascapes: Negotiating Tokelau Linguistic Identities in Hawai'i" (2012)." When asked how she feels about this exciting step along her academic path, she modestly shifts the focus away from herself, stating: "As long as people check out the publications and consider supporting the communities and issues involved, I'm happy."
Congratulations, Candi, and a resounding brava! Thanks for representing our Music Department so very well—at the university, in the community, and internationally!