Student Recital Program Instructions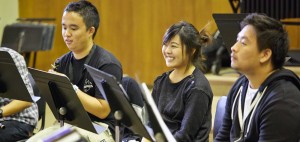 All recital programs will be formatted and printed by the Music Department office. The Music Office will email the student and instructor a "shared" recital form in the UH Google drive via their UH email address.
Student: Complete the recital form no later than four weeks prior to the performance date.
Instructor: Review recital form and make any revisions necessary once the student completes the form.
Music Office
Will monitor completion and revision of the recital form.
Once approved by the instructor, will create a draft program for both student and instructor to review.
Final program will be printed once all revisions are completed and approved.
Note: All changes to the documents in the shared folder are automatically saved on Google drive. Both student and instructor will be able to edit the recital program. Special characters for program pieces can be accessed through "insert menu – special characters" in the document.
The Music Department will provide 75 program copies for the recital. If more copies are needed, the student must request approval from the Department Chair at the time that the program information is submitted.
---
Recital Length
Please refer to the Guidelines for Applied Music, section V. Student Recitals. All durations refer to actually performance time. No exceptions, please.
Junior Recital (MUS 332)

20­" minimum
25″ maximum
Percussionists must schedule 60″

Senior Recital (MUS 432)

45­" minimum
60­" maximum
55­" minimum for pianists

Graduate Recital (MUS 636)