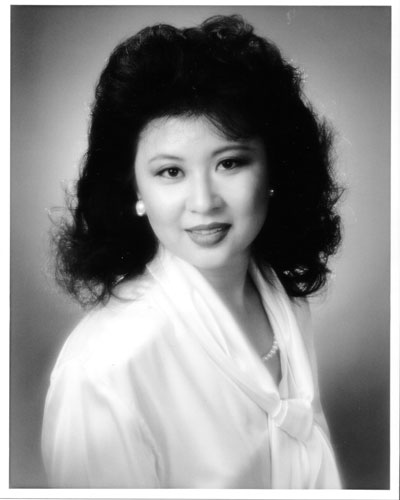 Wendy Yamashita, a Presidential Scholar, has been recognized for her outstanding achievements in the arts by President Ronald Reagan, and received commendations from the Superintendent of Education, the Mayor of Honolulu and the Governor of the State of Hawaii. As a music representative of Hawaii, she has had the honor of performing for Her Imperial Highness Princess Norinomiya of Japan, the Consul General of Japan and the President of the United States.
Wendy began piano studies with her mother at the age of three and furthered her studies with Ernest Chang. After graduating from the University Laboratory School in Honolulu, she received her Bachelor and Master of Music degrees from the Juilliard School as an honorary scholarship student of legendary artist/teacher Adele Marcus, and completed her Doctor of Musical Arts degree under Robin McCabe at the University of Washington.
At the age of eight, Wendy made her debut with the Honolulu Symphony and has since performed as guest soloist on several occasions, including the Stars of Hawaii series and the Starlight Festival under the musical direction of Maestros Stuart Chafetz, Donald Johanos, Robert LaMarchina, James Levine, Aaron Mahi, Henry Miyamura and Sidney Rothstein. She has also appeared as guest artist with the Maui POPS! Orchestra, Maui Symphony, Hawaii Symphony, Seattle Philharmonic, University of Hawaii Symphony Orchestra, University of Washington Symphony Orchestra and University of Washington Wind Ensemble.
Wendy's numerous accolades include top prizes at the Ladies' Music Club Debut Competition, Los Angeles Liszt Competition, and the Pinault International Competition, as well as receiving the Amfac Award in Music, Frances Dickey Music Education Award, National Endowment for the Arts Award, National Foundation for the Arts Award, "Outstanding Young Women of America," Paderewski Gold Medal, and "Promise of Excellence Award" Women in Communications Matrix Table: Seattle Professional Chapter.
As a recitalist and chamber music artist, Wendy has delighted audiences throughout the United States and internationally, including the United Kingdom and Japan. She has performed at major U.S. venues such as Alice Tully Hall in Lincoln Center, Kennedy Center for the Performing Arts in Washington DC, and Meany Theatre in Seattle. Her performances have also been featured on Hawaii Public Radio as well as on National Public Radio and Television. Locally, she has appeared at the Atherton Studio, Mamiya Theatre, Maui Arts and Cultural Center, Neal Blaisdell Concert Hall and Arena, Orvis Auditorium, Waikiki Shell and War Memorial Auditorium.
After serving on the piano faculty and as coordinator of the secondary piano department at the University of Washington, Wendy joined the piano faculty at the University of Hawaii at Manoa. Her students have performed with the University of Hawaii Symphony Orchestra and have continued their studies at the Columbia University Teachers' College, Julliard School, and Manhattan School of Music. Wendy has also presented masterclasses and lecture recitals in the US and Japan, and have served as an adjudicator in the United States and abroad.