Thomas Bingam
Professor, Associate Director of Bands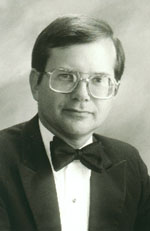 Thomas Bingham has been on the faculty of the University of Hawai`i at Mānoa since 1991 where his responsibilities have included conducting the Symphonic Band and Rainbow Marching Band and teaching woodwind methods and Wind Band Literature.
Mr. Bingham returned to Hawai`i after 9 years as Director of Instrumental Music at Lompoc High School in California, where he conducted the Marching Band, Symphonic Winds, Concert Band, Jazz Band, Orchestra, String Orchestra, and Theater Orchestra, and was founder and director of the Lompoc Unified School District Orchestra. Prior to his appointment in California Mr. Bingham served as Assistant Band Director at the University of Hawai`i at Manoa, conducting the Symphonic Band, Marching Band and Pep Bands, and the Hula Bowl Band.
Mr. Bingham regularly appears as guest conductor, adjudicator, and clinician throughout the United States and has conducted musicals for the University of Hawai`i and the Castle Theater Guild. He received the Bachelor of Arts in music education from California State University, Fresno, and the Master of Arts in music education from the University of Hawai`i. Bingham has served in several capacities on the board of the Hawaii Music Educators Association, and is currently State Chair for the National Band Association.