Elmer Takeo Kudo
Professor of Composition & Theory
Elmer Takeo Kudo was born in Honolulu, Hawaii in 1942. He began his musical studies on the trumpet, later turning to the flute and shakuhachi. His degrees in music include a Bachelor of Education and a Master of Arts (Ethnomusicology) from the University of Hawai`i, a Master of Music (Theory) from Indiana University, and a Doctor of Musical Arts (Composition) from the University of Miami. Early in his career, he worked as a jazz musician in nightclubs and in bands which backed many recording artists; he was also a member of the Indiana University Jazz Band that won the Notre Dame Jazz Festival competition in 1966. He previously taught at the University of Southern Colorado, the University of Miami, and the Hilo campus of the University of Hawai`i. Dr. Kudo served in the U.S. Air Force – first as a member of the U.S. Air Force Academy Band, and later as a fulltime arranger for The U.S. Air Force Band in Washington, D.C. His preoccupation with the shakuhachi (since 1971) led to studies in Japan with the internationally-known and "Living National Treasure" YAMAGUCHI Goro, and instrument maker YONEDA Chikamitsu.
At the University of Hawai'i at Mānoa, he taught courses as a Professor of Music in Composition and Theory. During his career, he also served as Associate Chair and (later) Chairman of the Music Department, and briefly as an interim Associate Dean of the College of Arts and Humanities. During his tenure as department chairman, he established the Music Department Enrichment Fund which now serves as an endowment for the department and its programs. He received the Presidential Citation for Excellence in Teaching at the university, and was awarded the Individual Artist Fellowship from the State of Hawai`i.
Since 1972, most of his works have in some way interacted with the music and culture of Japan; these pieces employed gestures and musical concepts encountered in Japanese classical music, but were orchestrated solely for western instruments. From 1986, Dr. Kudo's works began to incorporate Asian instruments (shakuhachi, taiko, koto, shamisen, dizi, gayageum, piri, etc.) in combination with western instruments. In the 1990s, he began composing music for Japanese and Korean instruments alone.
His works have received performances throughout the U.S. mainland, in Japan, Hong Kong, Korea, South America, Canada, and his native Hawai`i. His orchestral works have been performed by the Honolulu Symphony Orchestra, Penninsula Symphony, Hong Kong Philharmonic, Stanford University Orchestra, Hawai'i Youth Symphony, Philadelphia Orchestra, Washington State University Orchestra, University of Hawai'i Orchestra, University of Minnesota String Orchestra, Orquestra Experimental de Repertorio (Sao Paulo), as well as festival orchestras at conferences.
Takeo Kudo resides in Honolulu, is a member of BMI, a "closet ukulele player", a hobbyist at bonsai and shakuhachi-making, a student of tai chi, and an avid body-boarder.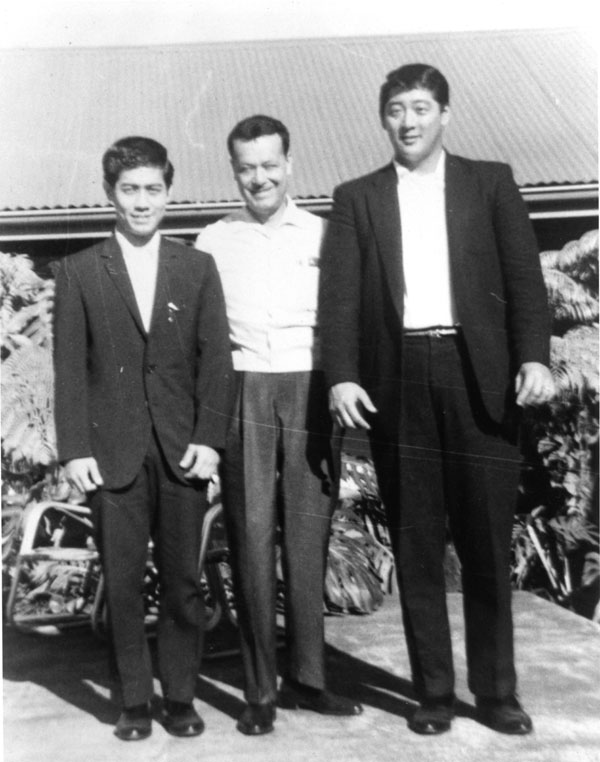 Takeo Kudo and Byron Yasui with trumpet virtuoso Raphael Mendez, ca. 1964.