Established in 2011, the Aʻo Aku Aʻo Mai Initiative is a partnership between the Office of Hawaiian Affairs and Ka Huli Ao Center for Excellence in Native Hawaiian Law. Given our strong partnership and success, the Initiative's focus has expanded to assist OHA beneficiaries in rural communities through free trainings, the distribution of legal primers, and direct legal assistance on a range of topics.
Ka Huli Ao's Native Hawaiian Rights Clinic is one of the flagship programs that facilitates the practice of aʻo aku, aʻo mai: reciprocal learning. As one of many clinical courses offered by the William S. Richardson School of Law, the Native Hawaiian Rights Clinic is a live-client, non-litigation course through which second and third year law students hone their skills by analyzing legal issues, developing and implementing case strategy, collaborating with clients and experts, conducting factual and legal research, and writing persuasively.  This course is particularly designed to serve Kānaka Maoli and Neighbor Island communities in particular. Given these efforts, clinicians also benefit from in-person site visits in order or intimately understand the clients, their ʻāina, and each respective issue. 
Native Hawaiian Rights Clinic: Aia i Waiʻoli ke Aloha ʻĀina
The Clinic's work in Waiʻoli, Kauaʻi is one example of the possibilities of the Aʻo Aku, Aʻo Mai partnership.
In 2018, the North Shore of Kauaʻi suffered devastating flooding. Small, ʻohana farmers of the Waiʻoli Valley Taro Hui (Hui) were faced with restoring the damages to their homes, community, and their loʻi kalo. As a traditional and customary practice, kalo cultivation has sustained the small town of Waiʻoli for generations. Many of the farmers are 5th and 6th generation farmers tending the same land their families have cultivated for years. Although this system has been utilized since time immemorial, and research dates the specific loʻi kalo irrigation system to the 1550s, disaster relief efforts determined that the mānowai, poʻowai, and much of the ʻauwai are now on state-zoned conservation land.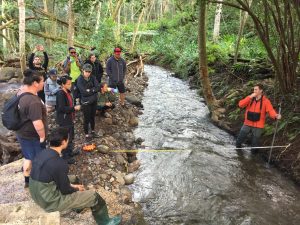 In 2019, the Environmental Law Clinic first began helping the farmers navigate the complicated legal maze. During that time, the clinic helped to establish a non-profit, secure a right of entry, and an easement from the Board of Land and Natural Resources (BLNR). Since then, the clinics, with support of Ka Huli Ao, helped the Hui secure a revocable permit for water use, develop a watershed management plan, complete an environmental assessment with a finding of no significant impact, a cultural impact statement, a concurrent resolution at the Hawaiʻi State Legislature urging the issuance of a water lease by direct negotiation, amend the interim instream flow standards for Waiʻoli Stream at the State Water Commission, and complete beneficiary consultation with the Department of Hawaiian Home Lands. Students and Hui members also attended and testified at countless hearings at the BLNR, the Water Commission, and the Hawaiʻi State Legislature.
After three years of work, the help of four attorneys and over 30 students, a water lease to secure access to water remained elusive. Nearly four years after the flooding, the Hui continued to navigate the complex process of government approvals for their water use for traditional and customary practice.
Finally, in 2022, the legislature passed and Governor Ige signed Act 27, which exempts traditional and customary kalo cultivation from the water licensing statute. On May 25, 2022, the farmers of the Waiʻoli Valley Taro Hui and its many supporters celebrated the end of an arduous process. The exemption not only ensured that kalo cultivation would continue in Waiʻoli, but that many others throughout Hawaiʻi pae ʻāina would also benefit from their hard work and aloha. Aia i Waiʻoli Ke Aloha ʻĀina! Aloha ʻāina lives at Waiʻoli!
After four years of recovery, 30 law students, four attorneys, and thousands of hours of work, Ka Huli Ao and the Environmental and Native Hawaiian Law Clinics help secure water for kalo farmers in Waiʻoli.
Uʻilani Tanigawa Lum was a student of the inaugural 2019 clinic that began supporting the Waiʻoli Valley Taro Hui. Moved by the Hui's work and love for ʻāina, she wrote a mele, Aia i Waiʻoli ke Aloha ʻĀina, included on the album, Mele Huliāmahi, Vol. 1, and shared below. She shares:
The Waiʻoli Valley Taro Hui, made up of fifth and sixth generation farmers, not only represent the longstanding and understated work ethic of kalo farmers across Hawaiʻi, but also illustrates our collective success. Given the farmers' intimate and generational knowledge of the ʻāina, the partnership between DLNR and the Waiʻoli Valley Taro Hui is not only the first co-managed terrestrial area, but a monumental step in managing and protecting our natural and cultural resources in a traditional manner by those who know best: the kupa. 
For more coverage and context on this historical action, visit: