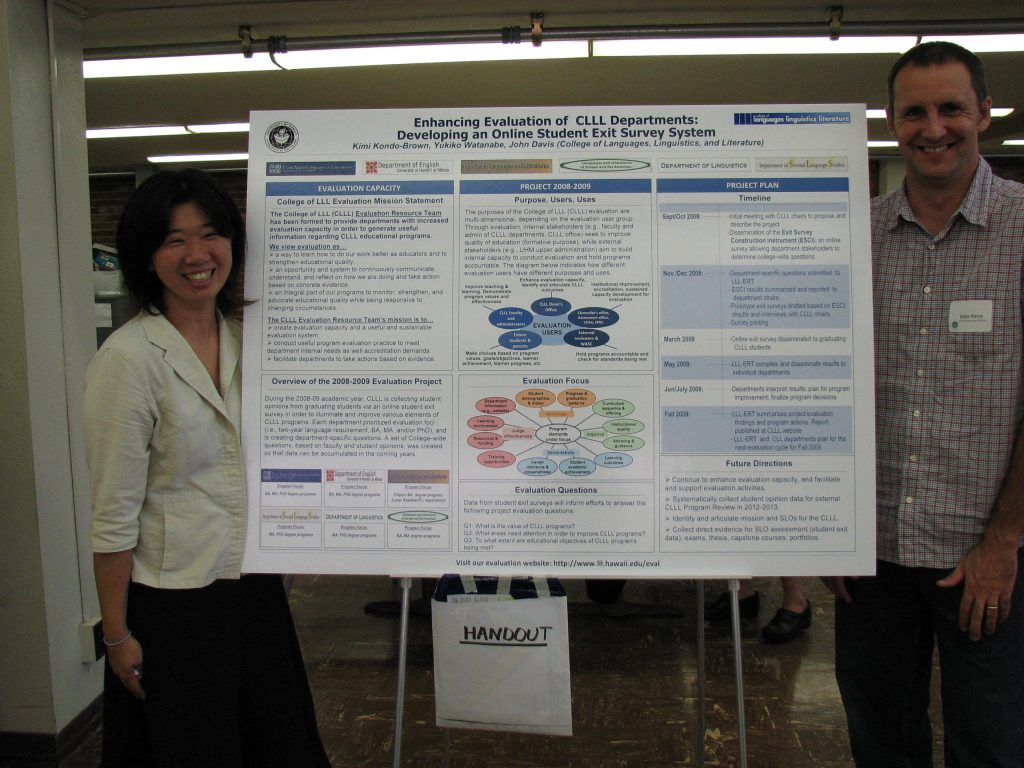 The College of LLL (CLLL) formed an Evaluation Resource Team (LLL-ERT) to (a) create evaluation capacity and a useful and sustainable evaluation system; (b) conduct useful program evaluation practice to meet department internal needs as well accreditation demands; and (c) facilitate departments to take actions based on evidence. During the 2008-09 academic year, CLLL is collecting student opinions from graduating students via an online student exit survey in order to illuminate and improve various elements of CLLL programs. Program elements include curriculum, advising, intake and exit processes, learning environment and resources, program delivery, and student learning and teaching. Each department prioritized evaluation foci (i.e., two-year language requirement, BA, MA, and/or PhD), and is creating department-specific questions. A set of College-wide questions, based on faculty and student opinions, was created so that data can be accumulated in the coming years. The poster summarizes the mission of the LLL-ERT and provides an overview and plan for the CLLL evaluation project. By John Davis, Yukiko Watanabe, and Kimi Kondo-Brown
Recommended Citation:
Davis, J., Watanabe, Y., Kondo-Brown, K. (2008, November). Enhancing Evaluation of CLLL Programs: Developing an Online Student Exit Survey System. Poster session presented at the Assessment for Curricular Improvement Poster Exhibit at the University of Hawai'i at Mānoa, Honolulu, HI.