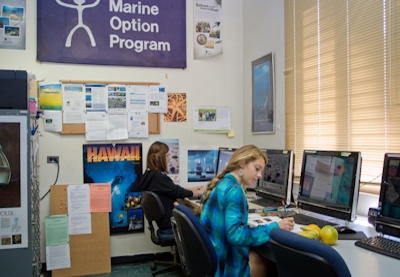 The MOP Study Center, located at Dean Hall 105A, provides students with a place to study, have access to computers/WiFi/printers, find out about upcoming activities and classes, learn about internship opportunities, and meet other students with similar ocean interests (e.g., potential dive/surf buddies).
MOP Study Center Location
Dean Hall, Room 105A
2450 Campus Road
Honolulu, HI 96822
MOP Study Center Hours
Mon   9:00 a.m. – 4:30 p.m.
Tue    9:00 a.m. – 4:30 p.m.
Wed   9:00 a.m. – 4:30 p.m.
Thu    9:00 a.m. – 4:30 p.m.
Fri      9:00 a.m. – 4:30 p.m.
The MOP Study Center is closed on holidays and weekends. Contact the Study Center at (808) 956-8433.
The study center is closed for the summer. While we may be in the office from time to time, please either email manoamop@hawaii.edu or mopsc@hawaii.edu for a faster response if needed.