Click the button above to donate to Hawaiʻi Kuʻu Home Aloha. This will take you to the UH Foundation site where you can contribute a gift. Your donation will support the Mānoa community to learn, grow and heal. Thank you for your contribution and we hope to see you in January at Hawaiʻi Kuʻu Home Aloha!
As you prepare for January 17th, 2024 we encourage you to save the dates and times for Hawaiʻi Kuʻu Home Aloha. We look forward to learning together as we share about Hawaiʻi as our beloved home through its past, present and future. 
Monday: January 15, 2024 (Holiday) 
Tuesday: January 16, 2024 – Hawaiʻi's Past
Wednesday: January 17, 2024 – Hawaiʻi's Present
Thursday: January 18, 2024 – Hawaiʻi's Future
Full Event Schedule (Coming Soon) 
For questions please email: nhpol@hawaii.edu 
Listen to our Hawaiʻi Kuʻu Home Aloha playlist on Spotify! 
Resources:
Question Guide:
With all this to guide us, let's collectively explore what it has meant, continues to mean, and could mean in the future to experience Hawai'i as our home aloha, our beloved home.
We do this by engaging in the following questions:
What has made it both beautiful as well as challenging to call Hawai'i home:
What can the lessons from these experiences mean for the Hawai'i we want to shape as home for our children and grandchildren?
We will pause and engage together on this day by sharing stories, listening deeply, creating art, making connections, building relationships, and sharing meals together.
Our pause is inspired and shaped by the following quotes:
"Never cease to act because you fear you may fail." – Queen Liliʻuokalani
"…the end is the creation of the beloved community. It is this type of spirit and this type of love that can transform opposers into friends. It is this type of understanding goodwill that will transform the deep gloom of the old age into the exuberant gladness of the new age. It is this love which will bring about miracles in the hearts of men." – Dr. Martin Luther King Jr.
"What will your community look like when racism has been jettisoned?" – W. K. Kellogg Foundation
We recognize that there will be events occurring around O'ahu and throughout Hawai'i, including but not limited to the ever-important march from Mauna'ala to 'Iolani Palace. We invite you to attend as little or as much of our offerings described below as you weave together the many events happening across space and time for your own growth, healing, and connection.
 All are welcome including UH Mānoa students, staff, and faculty as well as community members/organizations. 
For questions please email: nhpol@hawaii.edu 
Registration is now closed, and we have reached a maximum capacity for pilina circles! But please feel free to come and join us in person for our other activities! Check out the other events for the day below!
Tuesday January 17, 2023
We recommend bringing your own water container, wearing comfortable footwear and clothing, and bringing a hāliʻi, blanket or comfortable chair if possible. 
Kakahiaka (Morning)
9:00 – 10:15 am Launa & Learn "Welina Mānoa"
Meet other UH Mānoa students, staff, faculty, and community members while having the opportunity to learn the chant "Welina Mānoa" composed by award-winning Kumu Hula and musician Dr. Keawe Lopes.
A free light morning meal to follow. 
Location: McCarthy Mall (look for the white tent)
10:30 – 11:20 am Ma Ka Hana Ka 'Ike (By doing one learns)
"Story sharing and radical listening" with Sean Dunnington
Join this workshop with playwright and story coach Sean Dunnington to learn innovative techniques for writing and sharing parts of your mo'olelo (story) out loud. In particular, we will focus on mo'olelo that express your experience of Hawai'i as home.
Location: Bilger Hall 150
Mālama 'āina activity with Nōweo Kai
Join this session with UH Mānoa Campus Arboretum Curator, Nōweo Kai, to huli ka lima i lalo (turn your hands to the ground) and learn how to take care of some of UH Mānoa's beautiful meakanu (plants). Prepare to get a tiny bit dirty and do some walking. Comfortable footwear and clothes are recommended. 
Location: Meet at McCarthy Mall (look for the white tent)
Movement and meditation activity with Laura Toyofuku-Aki
Join this session to engage in some body and soul medicine with Laura Toyofuku-Aki of Project Koa Yoga. We will spend some time discussing the important connection between healthy bodies and a thriving Hawai'i, engaging in meditation that focuses on resilience and future generations, and connecting with the many stories that our bodies hold through some gentle movement. Bring a mat or towel if you have one but not required. Comfortable clothes are recommended. No experience is needed.
Location: Grassy area in front of Bilger Hall on McCarthy Mall
Free refreshments to follow these sessions.
Awakea (Midday)
12:00 – 12:30 pm: Hoʻokupu to Queen Liliʻuokalani and Dr. Martin Luther King, Jr
Please join this time of ho'okupu as we honor Queen Lili'uokalani at Ke Ahu o Kamaka'eha. This will be followed by ho'okupu to honor Dr. Martin Luther King, Jr at his plaque near the Art School. An oli or lei would be appropriate. If you are not mākaukau, feel free to observe quietly.
*Please no single-strand ti-leaf lei (even in multiple strands)*
Location: Meet at the front of the Queen Lili'uokalani Student Services building
12:30-1:30pm 'Aina Awakea (Lunch)
Please join us for a free meal following the ceremonies for Queen Lili'uokalani and Dr. Martin Luther King, Jr.
Catered by Haili's Hawaiian Food and dessert by Slice
Location: McCarthy Mall (Look for the white tent)
2:00 – 4:30 pm Pilina Circles
Please join us for a Pilina Circle: An opportunity to share stories, listen deeply, and discover pilina with yourself and others. Learn new tools for holding this type of space in your homes and organizations.
Location: Queen Lili'uokalani Building Mānoa Campus or online (*Please pre-register for this event. The exact location will be emailed to you upon registration)
4:45 pm Closing
Please join us as we sing Hawai'i Aloha to close our day. 
Location: Inside the Queen Lili'uokalani Student Services Building
McCarthy Mall: Location pin and photograph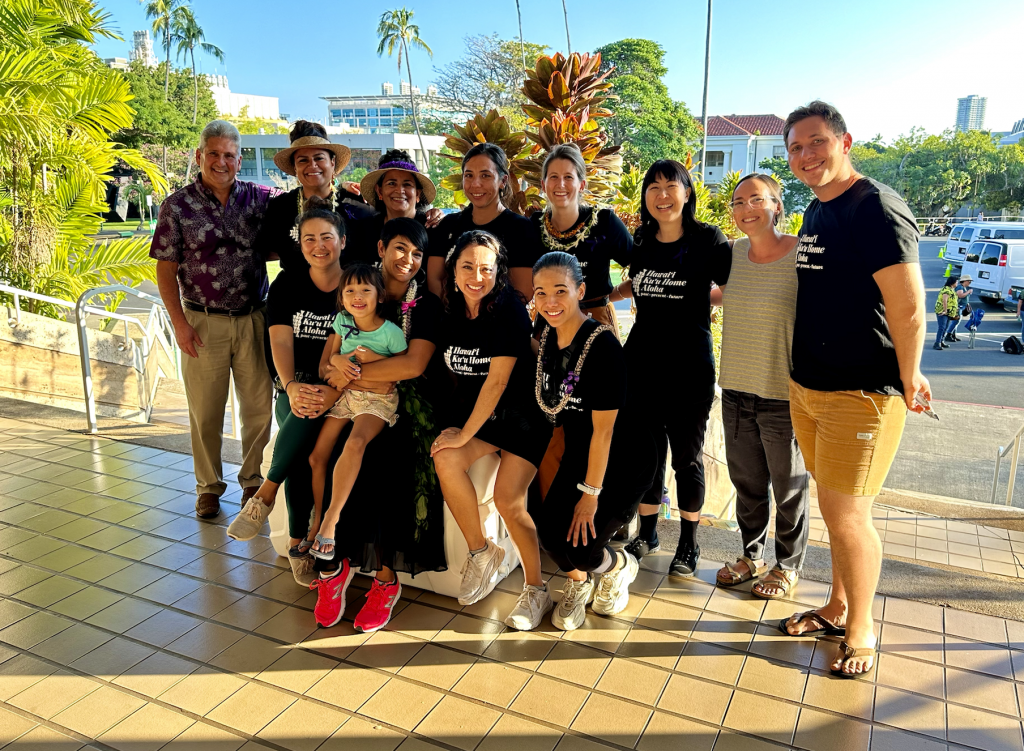 Thank you for joining us. We look forward to seeing you again soon!
More event details can be found on our new Instagram. For questions please email: nhpol@hawaii.edu