UH Mānoa:
A Truth, Racial Healing & Transformation
Campus Center
Loaʻa ke ola i Hālau-a-ola.
 Learn about the foundational elements
Engage with the Hawai'i-grown approach
About Truth, Racial Healing, & Transformation
UH Mānoa's TRHT Campus Center
UHM TRHT Publications:
Reconnecting to Mother Earth:
Complex histories and intersections between racism, climate justice & social justice:
Ending racism is definitely a marathon, not a sprint. And the work to share and learn truths, create spaces of healing in which we can all recognize our common humanity and our interconnectedness, and transform spaces using our radical imagination as well as the intelligence of our ancestors is not easy.
Kaiwipuni Lipe, UH News  – 7/14/2020
Our diverse group collectively believes that the intersectionality of oppression, racism and violence experienced by our communities in Hawaiʻi, throughout the U.S., and across the world must end.
TRHT Team – 6/10/2020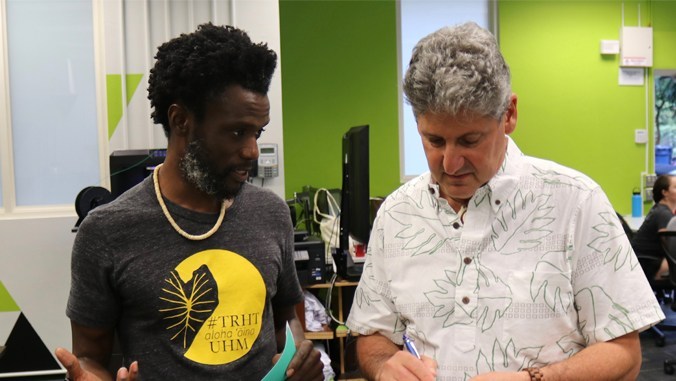 TRHT is a comprehensive national and community-based process for transformational and sustainable change, with the goal of addressing historic and contemporary effects of racism.
UH News – 11/27/18
American Association of Colleges and Universities presents an introduction to TRHT Racial Healing Circles (2022). 
The fourth webinar in the American Public Health Association's Advancing Racial Equity series covered racial healing as essential for dismantling racism and advancing racial equity. Featuring Dr. Gail Christopher with UH Mānoa's Drs. Mapuana Antonio and Kaiwipuni Lipe (2020).
University of Southern California holds its esteemed 42nd annual Pullias lecture, "Advancing Racial Equity Through TRHT Campus Centers" with keynote speakers Drs. Tia McNair and Kaiwipuni Lipe (2020).
In this video, the TRHT Campus Center intention and framework is introduced and the first 10 TRHT Campus Centers (including UH Mānoa) describe their work (2018).
Current Design Team Members
Mai kāpae ke aʻo a ka makua, aia he ola ma laila.
For inquiries regarding TRHT please email trht@hawaii.edu.