Enlisted Commissioning Programs
The University of Hawaii at Manoa offers a unique and rewarding opportunity for Marines and Sailors completing their education under the Marine Enlisted Education Commissioning Program (MECEP) or Seaman-to-Admiral 21 (STA-21) program.
Benefits of Attending UH
Some of the benefits offered to active-duty personnel attending the University of Hawaii include:
-Ability to Shape a New NROTC Program: As the newest NROTC unit in the nation, your experiences in the Navy or Marine Corps are highly valued at UH and can help to educate, train, and shape the successful culture that the Koa O Ke Kai battalion seeks to instill in the minds of all midshipmen.
-Substantial BAH Rates: Hawaii has one of the highest Basic Allowance for Housing (BAH) rates of anywhere in the country. See current BAH rates on the DTMO website. The university zip code is 96822 and MHA is HI408.
-Proximity to Military Bases: Our proximity to Pearl Harbor Naval Station and Marine Corps Base Hawaii, both less than a 30-minute drive from campus, allows us to receive unprecedented administrative and logistical support for our active-duty personnel - easily mitigating pay and other admin issues that many MECEP and STA-21 students face and allowing us to conduct realistic training to prepare you for the next step in your career. Additionally, with bases for every branch of service on island, Hawaii is ideal for dual military families or those seeking to live in the luxurious base housing offered locally.
-Overseas Pay Incentives: Because Hawaii is considered an overseas duty station, there are numerous pay and leave incentives offered to Marines and Sailors. For example, all personnel stationed in Hawaii receive a Cost-of-Living-Allowance (COLA) to help offset the costs of living overseas. Additionally, those personnel who were already stationed in Hawaii or overseas, are eligible for incentives such as free leave days, monetary bonuses, or free flights to their home of record through a Consecutive-Overseas-Tour (COT) incentive or an Overseas Tour Extension Incentive Program (OTEIP) bonus.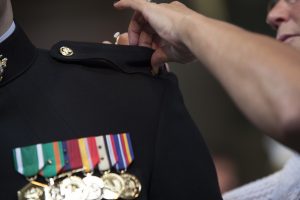 Contact our Navy Recruiting Officer or Marine Officer Instructor for more info about completing STA-21 or MECEP at the University of Hawaii.