Hours
Monday – Friday
10:00am – 4:30pm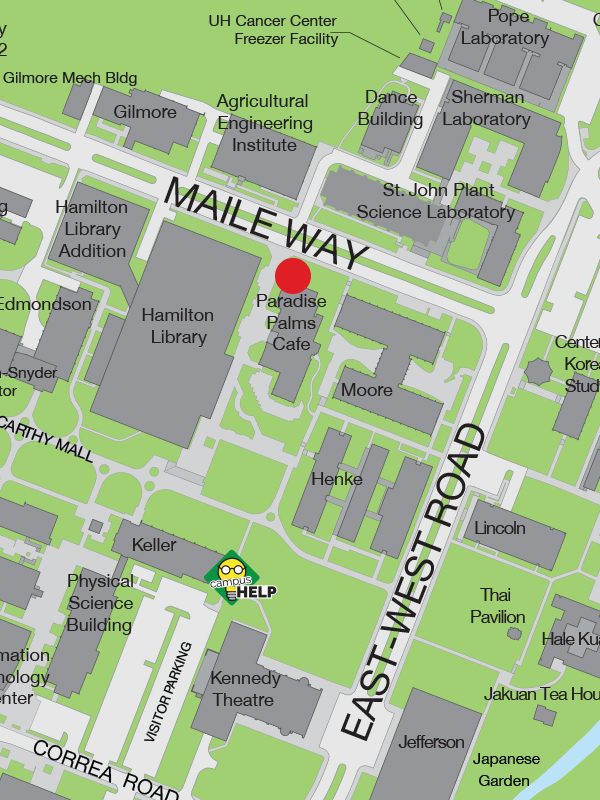 Paradise Palms Café
Panda Express serves gourmet Chinese food made with only the freshest ingredients. Famous for its Orange Chicken, they also offer a number of Wok Smart entrées that contain less than 250 calories per serving, such as Shanghai Angus Steak, Kung Pao Chicken, and Broccoli Beef. Other favorites include Beijing Beef, Sweetfire Chicken Breast, and Honey Walnut Shrimp.
Panda Express' offerings can be enjoyed in Panda Bowls, or two and three item plates. Perfect for lunch, dinner or as a pick-me-up snack between classes.
Menu
Create Your Plate
Step 1: Choose your side
Mixed veggies
Chow mein
Fried rice
Steamed rice
More Choices
Panda Bowl
Any 1 Entrée & 1 Side
Family Feast
3 Large Entrées & 2 Large Sides
A La Carte
Any Side (large and single sizes)
(Large side serves 2, large entrée serves 3-4)
Any Entrée (large and single sizes)
Entrée List
Orange chicken
String bean chicken breast*
Beijing Beef**
Broccoli Beef*
SweetFire Chicken Breast**
Mushroom Chicken*
Black Pepper Chicken*
Mandarin Chicken
Shanghai Angus Steak*
1 Chicken Egg Roll or 2 Veggie Spring Rolls*
Kung Pao Chicken**
Honey Walnut Shrimp
* WOK SMART™ entrées arae 250 calories or less per single serving
** "La" (spicy)
Menu rotates day to day and is subject to change. Not all entrées are available everyday.