The Department of Chemistry is supported by a number of core facilities designed to ensure the smooth operation of its research laboratories and undergraduate classes.
The facilities are regularly used by members of the Chemistry department, in addition to other research units within the University of Hawaii system and across the United States.
For further information regarding these facilities contact: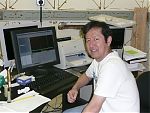 Wesley Yoshida, M.S.
NMR Specialist
Office: Bilger Addition 108
Phone: 956-7503
Email: Wesley Yoshida