The Student Activity and Program Fee Board is made up of dedicated and driven students that are proud to support activities for the student body of UH Manoa. We strive to represent the students on our Manoa campus and encourage participation in the variety of events that are planned throughout the academic year.
Interested in serving on the board? Apply here!
Shannon Manamtam, Chairperson
Major: Journalism and Communications
Bio: I'm a news junky, and I'm fascinated by the way communication has evolved along with our use of technology. I love the medium of the spoken word, and my ultimate goal is to work for the National Public Radio (NPR) as a producer on their radio and podcast show.
Fun Fact: I also work as a Manoa Peer Advisor for the College of Natural Sciences!
Kaytee Ching, Vice Chairperson

Major: Accounting and Management Information Systems (MIS)
Bio: I was born and raised on Oahu and am currently a senior at UH Manoa graduating this Spring 2019 semester. I am currently on the path to becoming an IT auditor/IT Consultant. During my free time, I enjoy dancing, rollerblading, online shopping, and hanging out with my cat, Keke.
Fun Fact: I started my own local succulent plant retail business last year called Kayt's Kactus Korner. (Follow my Instagram @kaytskactuskorner for more info!)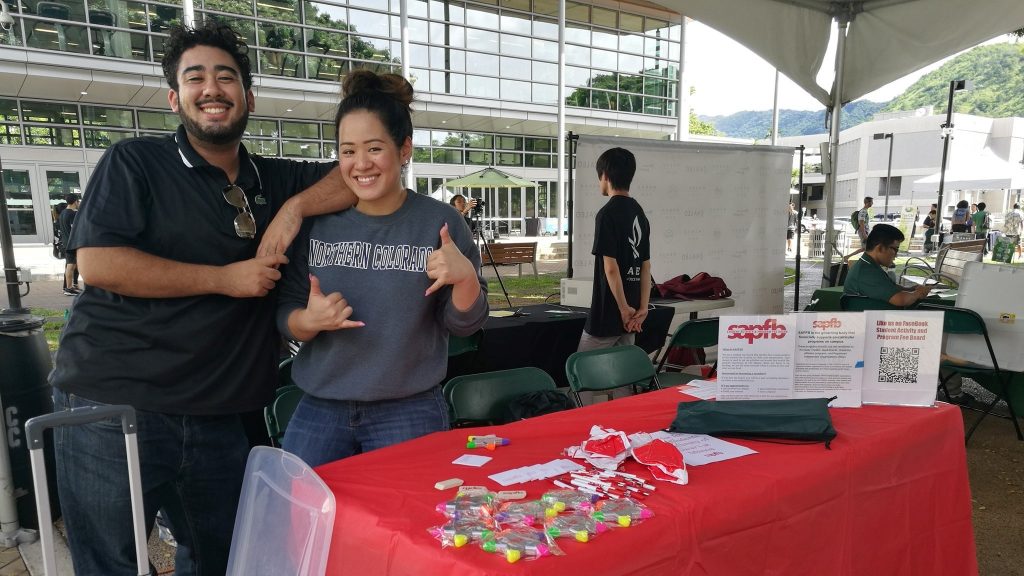 Sarah Onishi, Treasurer

Major: History and Political Science
Bio: I was born and raised on Oahu with strong aspirations to attend law school after I graduate. I intend to practice criminal law shortly thereafter. My hobbies include cooking, baking, and DIY home-improvement projects.
Fun Fact: I have a very unhealthy obsession with Labrador Retrievers.
Nicholas Reyes, Board Member

Major: Human Resource Management
Bio: I was born and raised in the San Francisco Bay area and currently pursuing my undergraduate degree at the Shidler College of Business and receiving a minor degree in Communicology. I love my bulldog, Maximus, going to music festivals, and I aspire to travel and see the world and all it has to offer. I enjoy being a part of SAPFB because of the opportunities provided to organizations, departments, and programs here on campus.
Fun Fact: I make all those cool posts on our SAPFB Instagram.
Anthony Silva, Board Member

Major: Molecular and Cell Biology
Bio: I am a pre-med senior at UH Manoa. I love volleyball, ping-pong, board games, and pretty much anything else that involves being sweaty, wild, and competitive. I would watch the sun all day if it didn't burn my optic nerves.
Fun Fact: This bio was taken from the first-year program's page because I didn't email Kaytee a bio.
Matthew Sun, Board Member

Major: Psychology
Bio: I was born and raised in Honolulu, Hawaii. I graduated from Maryknoll High School in 2017, and have attended UH Manoa since. Some hobbies and interests of mine include video games, weight lifting, volleyball, spikeball, hiking, cooking, going to the beach, theatre, and photography.
Fun Fact: I rode an elephant.
Eunice Bala, Board Member

Major: Biology
Bio: I was born and raised on the Big Island. I enjoy taking pictures, going hiking, trying new foods, playing the piano and watching fireworks in Waikiki on Fridays. I aspire to become an Ophthalmologist in the future.
Fun Fact: I have never cut my hair. Ever.